… or how to realize that there are so many differences and things I don't know about olives…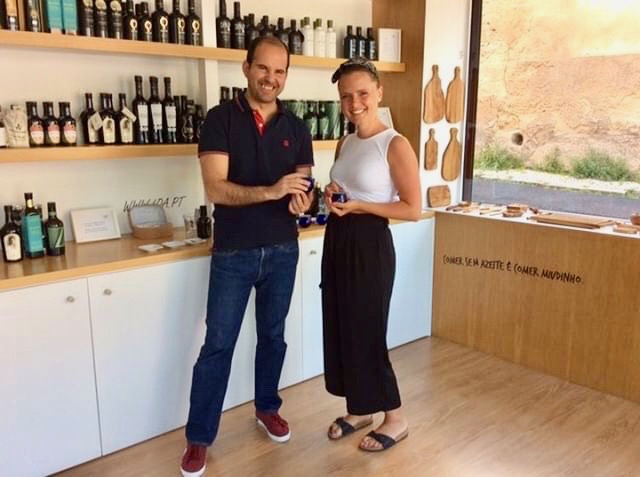 Before I came to Portugal I did some research to find other experiences than surfing and wine tastings. Of course it had to be related to food and the country. That's how I found the olive oil tasting in Lisbon with Ricardo in his own store called "LOA – The Olive World". I was curious about the things he could tell and the olive oils we would try.
(Un)fortunately I was the only one booking this class at this afternoon and was obviously lucky because normally those tastings are quite popular. That's why I had a personalized special tasting just for me.
Ricardo started explaining the process of olives being harvested, processed and bottled. There are already many different methods in harvesting those from picking up individually by hand up to a harvest via tractors which are actually grabbing the tree and shaking it until all the olives are falling down into a certain net. Bigger producers do just drive with specific machines over the trees and hoover everything into their collection tank (including breeding birds or other animals). Other bigger producers do just buy olive oil from various smaller farms from different countries and bottle it. Of course the kind of harvest makes a big difference in price but also quality.
Also the way of pressing those olives decides about the quality of olive oil. A cold pressed olive oil is much richer in taste, vitamins and antioxidants. But the process is not that efficient regarding to the outcome. It takes about 6-12kg of olives (depending on the type of olive) for 1 liter of oil. In comparison to a olive oil processed with heat (more than 27 degree celsius) gets out double the volume of the same amount of olives. But it destroys the structure and therefore the taste, minerals and vitamins. Cold-pressed olive oils with an oleic acidity of below 0,8% are called "Extra Virgin" and are not treated with chemicals. This high quality olive oil has a grassy green color and a nutty taste with peppery finish. The ones with an acidity above 0,8% up to 2 % are called "Virgin". These aren't treated with chemicals or heat either but don't follow the same strict process which increases the oleic acidity. Those are a bit lighter in taste and are slightly less green. Oils above 2% are refined oils which are labelled with "Pure Olive Oil" or just "Olive oil". Those are treated with heat and/or chemicals to eliminate the flavor, increase the cooking temperature (Extra Virgin Olive Oil does have a lower smoke point) and to optimize the production output of pressing the olives themselves. Often it's a mixture of refined and virgin oil.

Therefore it makes sense to use the high quality Extra Virgin Olive Oil mainly as an add on for dishes, soups, salads to underline their flavors or to give it a certain kick. However, there are many extra virgin olive oils which do have a very buttery and light taste as well if you prefer more a neutral but still high quality oil for everything else (even baking!). That makes them an allrounder in the kitchen. I would recommend Virgin Oils or refined oils just for frying food as they have a higher smoke point. But there is no other reason to use those oils for anything else. In any case it makes sense to spend a bit more money for high quality oils not just for taste but the kind of processing (harvesting method as well as treatment with chemicals).
After we talked about the processing of olives and the differences in quality we started tasting various types of oils. Of course we started with a refined and a virgin oil (which tasted like nothing or had an unpleasant bitterness). After that we started tasting five different Extra Virgin Oils from a light, buttery one with a light green color up to a stronger one with a peppery finish. It was amazing to see and taste the differences! To get the full flavor and character of each of them we used certain bowls covered by a plate. Therefore Ricardo poured some olive oil in those bulbs (see pictures) and closed it with a lid. After that we hold these glass bulbs in our hands and warmed them up so that the flavor could develop and circulate within the bowl. We took of the lid and smelled all the flavors of each olive oil first before taking a little sip. It's almost like a wine tasting but without getting drunk 🙂 We also tried each olive oil with some bread and neutralized the taste after every oil with some apple slices before tasting the next one.
Ricardo offers a hugh variety of high quality olive oils in his shop next to cookies and pralines made of olives, canned vegetables and sardines stored in olive oil, as well as products from olive wood. It's a harmonious concept and Ricardo brings it alive. During the tasting his wife assisted him and gave some interesting advice about cooking and baking with olive oil. All in all it was a fantastic afternoon and I gained a lot more knowledge and understanding for olive oils and their differences.
I highly recommend an experience at their place. Therefor just visit their website (https://www.loa.pt) or book a tasting via AirBnB.