I have been living in my new small apartment for more than a month now. It measures 30 square meters and is incredibly cozy. That makes it somehow easier not to miss the van life so much.
I share a few furniture hacks here today, since so many asked for one or the other piece!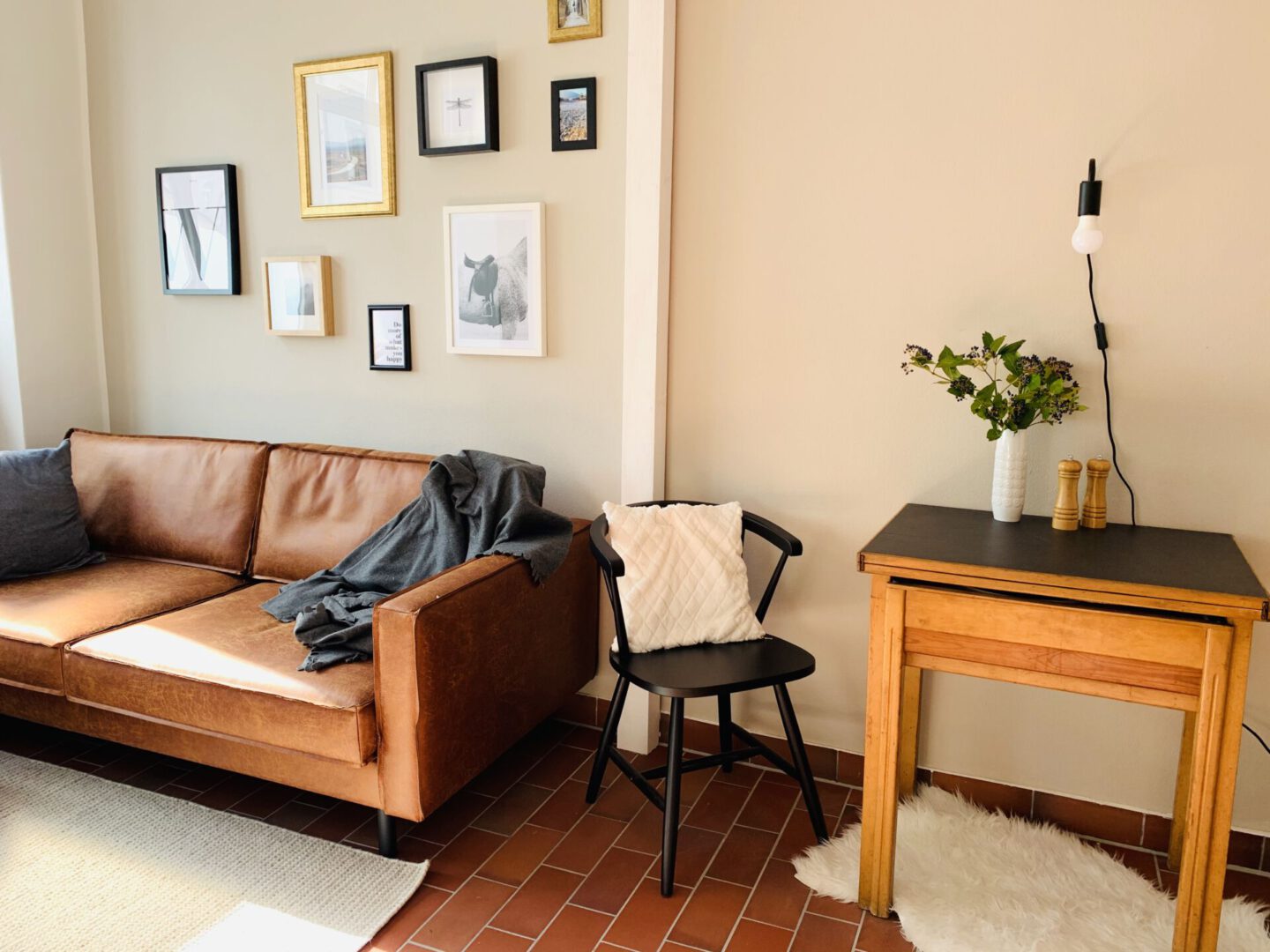 My apartment measures 30 square meters and has one room. Because of the ceiling height of 3,60m I took the chance and installed a loft bed. Therefore I connected four corner posts (11cm) with beams and fixed a batten on top of them. Pretty simple and works great. The ladder is one from a vintage store here in Wismar (Brausekontor) and was once a fire engine ladder in Hamburg.
The newly created sleeping level has a comfortable mattress (160x200m) and enough space for a night cabinet and a chest of drawers (both flea market finds). A string of lights and a few plants complete the area.
The living area consists of an imitation leather couch (Home24, see below) and numerous poufs and stools. These I also got second-hand or from a well known Swedish furniture store. The carpet is made of wool, consists only of natural materials and is handmade (by Urbanara, https://www.urbanara.de/products/teppich-sandstein-melange-naturweiss-wolle-udana-rec). The chest of drawers is by Westwing, as are the chairs at the dining table. The dining table used to be a washstand, which makes it very practical to fold in and out. I got it from Ebay and painted the surface with table varnish. This allows me to write down greetings, menus and notes individually.
The shelves above the dining corner are handmade and made of former railroad planks (https://www.tiptoe.fr/en/product-category/shelves/). Thus old wood receives a second life.
In general, I love to reuse things to avoid excessive consumption. They also tell a story which makes them even more individual.
In the kitchen I have placed my beloved Smeg appliances. On the one hand there is the cooking center "Victoria" (nice name, isn't it) and the refrigerator in retro style. I already treated myself to these a few years ago and saved a long time for them. It wasn't easy to find an apartment without a fitted kitchen in which the two appliances would squeeze in. Therefore I am glad that they fit so well into my small apartment. The built-in cupboards are from IKEA and the worktop is from the local hardware store. I chose the lamp to match the open brickwork in industrial design (Westwing). The string shelf is actually also used and from ebay. With some new varnish and new shelves it is as new again.
And for the individual note, as well as cosiness, I have of course put up plants, hung up beautiful pictures (www.desenio.com) and draped many cushions.
In my sleeping area I got cuddly soft flannel bed linen from "Seit1832", which is handmade and of a very high quality (www.seit1832.de)
And with that the 30 square meters are already explored. Small but nice – I feel very comfortable 🙂
Shop the look: