When you think of vanlife, camping or outdoor activities, you don't necessarily associate it with winter with its cold temperatures and wet rainy days. However, this time of year has its own special charm. I have been to the far north of Scandinavia over the winter months and experienced temperatures as low as -15 degrees. I also drove through snow-covered areas and also had to endure a whole 7 days of continuous rain. It is possible and it can even be beautiful!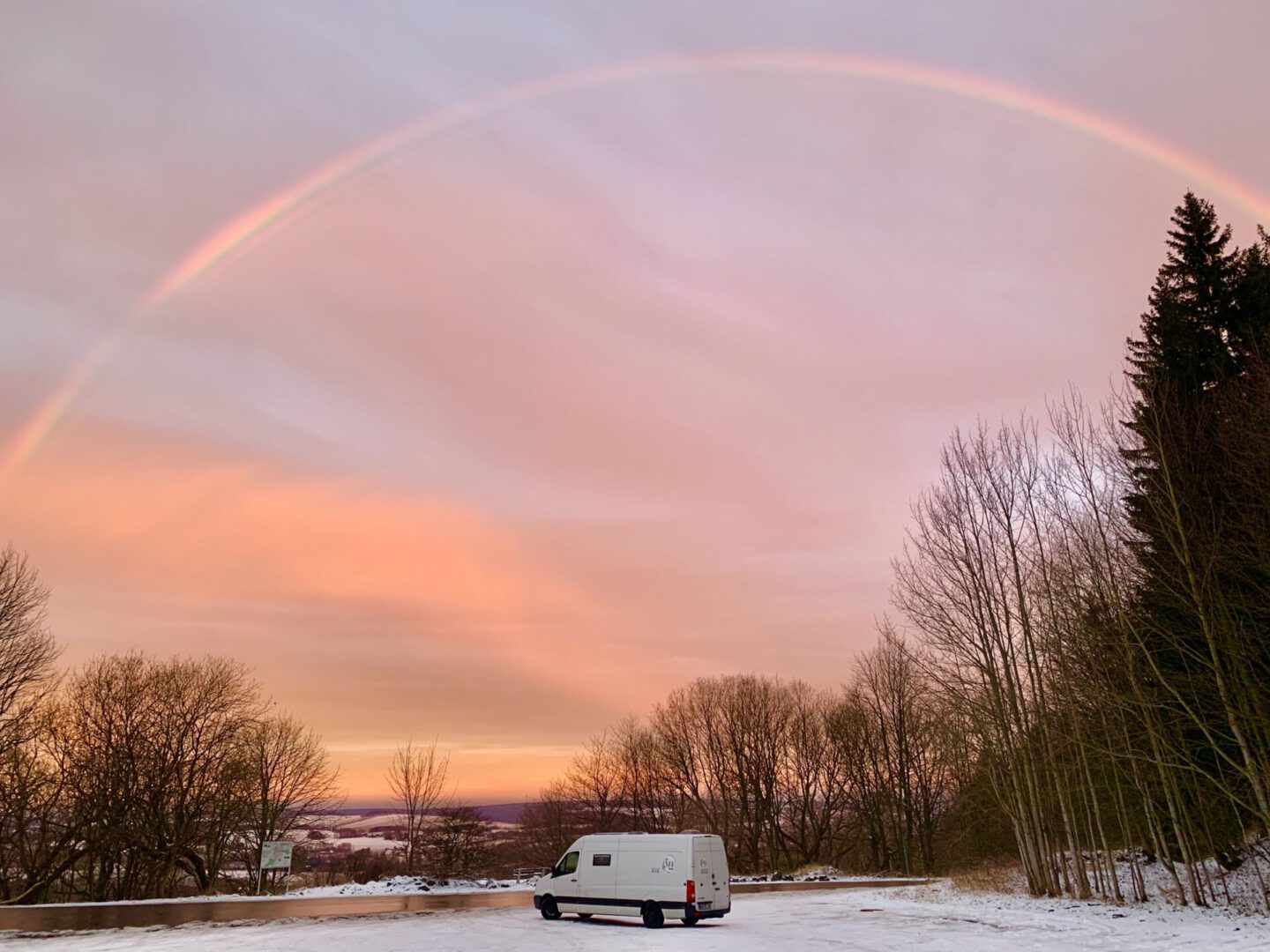 Of course our possibilities of vanlife are limited at the moment, but at least winter should not stop us from going out with the van and spending some nice days.
For me, it's the cozy time when atmospheric candlelight, a steaming cup of tea, and relaxing music in the van are almost permanently a part of it. Beyond that, there are definitely other items that simply can't be missing for vanlife in the winter:
1. Snow chains
Let's start with the extremely practical, if not life-saving items. And these are snow chains! Should you really be on the road in the snowy winter, these simply can not be missing. Your rolling home brings several tons of weight and therefore needs every grip on the road.
2. Fairy lights
Okay, this is the classic. Also important in the summer, but just has a much higher value in the winter when it getting dark early in the day. I have two decorated in my van at once so there is always a nice cozy light and a warm atmosphere.
3. Hot water bottle
Simply heat up a little more water when brewing the tea and fill the remaining hot water into a water bottle. They work wonders! Even though I have a heater, I still like to use it for example when snuggling up in bed or when I have the heater off.
4. Warming soups
Soups are not only great for warming up in winter. They usually only need one cooking surface and can be eaten over two days. Also, leftovers can be wonderfully processed. In my cookbook I have several delicious recipe ideas for this, so that there is not always the same tomato soup served.
5. cuddly soft bedding
I actually had my flannel bedding from "Seit1832" in my apartment and now took it to the van this season. And it's fantastic! No cold bedding that you have to warm up first at the beginning. The difference is actually big and I don't want to miss the cozy soft bedding anymore.
6. a large tea selection incl. thermos flask
A nice cup of hot tea is simply indispensable from vanlife in winter. To save gas I usually make myself a thermos. I can then easily take it out for a hike or a walk by the sea. I actually prefer drinking chai tea with its wintry aromas or herbal teas.
7. draught excluder
Below a certain temperature, you notice the cold coming in through the doors. It helps tremendously if you put draught stoppers in front of them. I have these on the back doors and on the sliding door. This actually keeps some of the cold out and doesn't take up any space.
8. Tablet/mobile phone storage & books
Winter time is great for reading books or watching series. Since most of us don't have wifi in the van, downloading beforehand is essential. I like to combine that with a visit to a cozy cafe.
9. Carpet
Much of the cold comes through the floor, as the cold wind and frost gets under the car unimpeded. Even if the floor is insulated, it radiates some cold. That's where small rugs come in handy.
10. Slippers
In the same breath, I recommend a pair of fluffy slippers or extra thick socks. That way, your feet will never get cold.
11. Additional insulation
I have sewn an additional insulation of insulating material for my windows in the van. I position this between the window and the sunshade at night. I also sewed this insulation into my curtain that separates the driver's cabin from the living area. From there also comes a large part of the cold, which is thus kept away a little better. The windshield and side windows are of course equipped with the appropriate insulation mats. You should also consider an additional insulation of your water tanks, so that they can not freeze.
You should also think about keeping your electrical devices warm. The battery of the cell phone and other devices can discharge much faster in the cold.
12. Candles
Sure, they are not only romantic but actually have a warming effect! At temperatures in which the heating is not yet absolutely necessary, just candles can already provide enough heat.
13. Suitable clothing
I love long winter walks or hikes – even when it's raining. However, nothing is worse than wet clothes in the van. Rarely do you have the space to spread them out and let them dry. That's where a good rain jacket helps, which you can shake out and which keeps the clothes underneath dry.
14. Porridge
I love porridge in the winter! With nuts and dried fruit, some cinnamon and berries, it makes a great breakfast. I usually snuggle back into bed with this and start the day invigorated afterwards.
15. Calm down!
Last but not least, it's important to take things a little easier in the winter. Most of the time you drive even slower than you already do. Visibility and road conditions are often worse, the weather wet and the days short. Accordingly, the few hours with daylight should be well used. For the rest of the time, it's called: cozy up, relax and enjoy the small cozy home.
I have put together a shopping list of all the stuff I mention above and which made Vanlife in winter even better for me 🙂