The year 2020 was definitely an extraordinary year for me. Although I have always traveled a lot and often tried new things, 2020 with its events has an extraordinary character.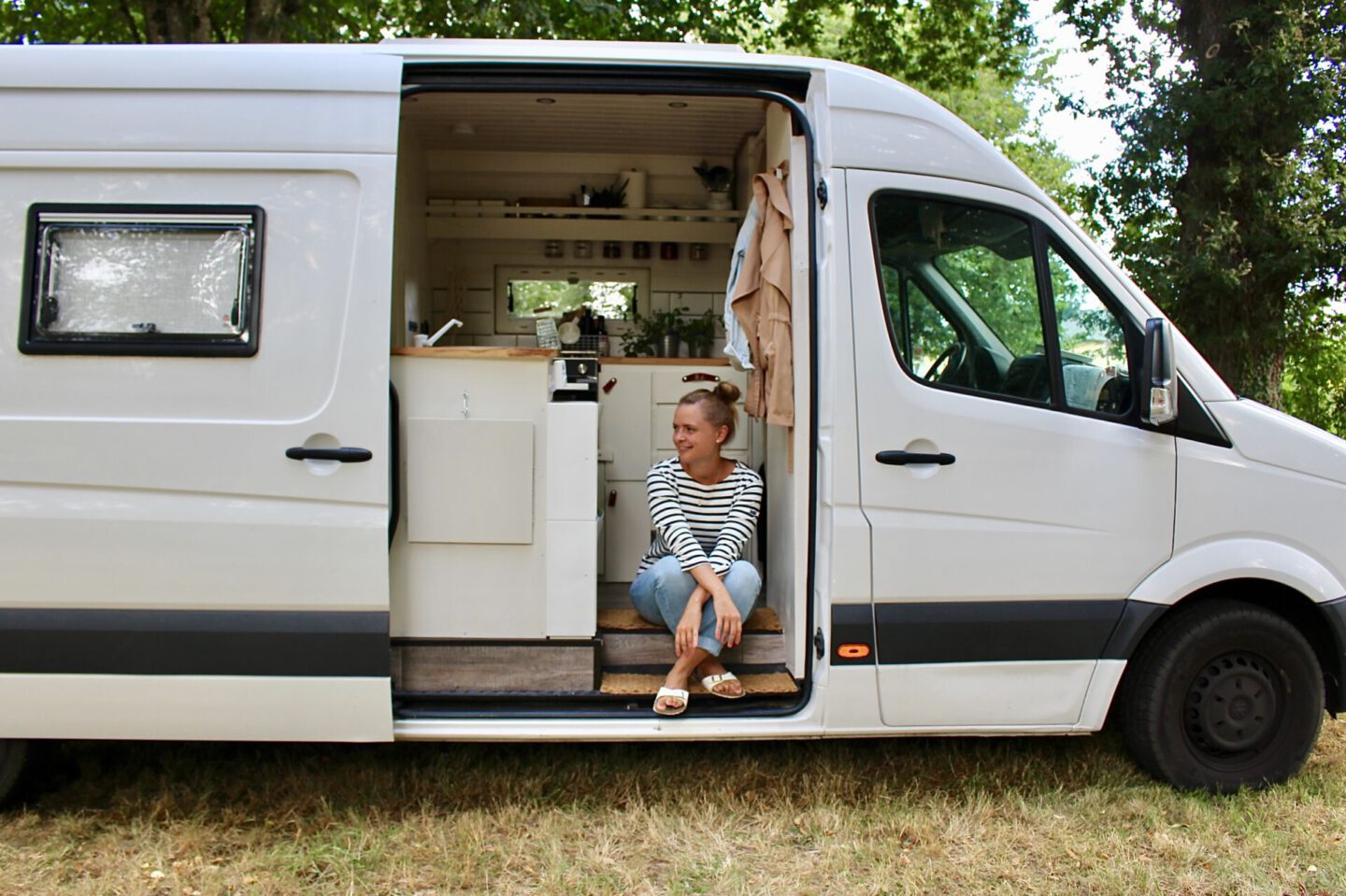 Right after New Year's Eve, I set off with Spencer for my last part of my journey and drove through Germany to Prague. After that, I worked my way further via Vienna and Zagreb to the Adriatic coast, where I enjoyed the first warm rays of sunshine. Croatia was like in hibernation and the villages at the coast were dreamy. I took my time and enjoyed the mild temperatures and the peace and quiet in the villages, which in summer are teeming with tourists.
Along the impressive coastal road I drove further to Greece and could also enjoy a wonderful peace there with only a few vanlifers. I found the most wonderful and secluded wild campsites there. In contrast, the lively Athens impressed me very much! Such a beautiful city with a great combination of tradition and modernity.
Further on my way led me to the Peloponnese peninsula, where I found at one go many other vanlifers who spent their winter there. It was a great time with many unique encounters, evenings around the campfire and conversations.
I then took the ferry overnight to Italy, touring the last country of my year-long culinary journey. I started with bustling Naples and worked my way through stunning Rome to picturesque Tuscany. Again, I enjoyed the warmer temperatures and the tranquility of typical Italian alleyways (in addition to good wine and lots and lots of pasta). It was an absolutely worthy end to my trip and I enjoyed every sunrise and sunset and every kilometer driven and all the more.
Only a few hours after my return in Germany, the borders were actually closed and Corona would have made it difficult to continue anyway. I was therefore insanely lucky!
I used the time of the imposed isolation to finish writing my unique memory of the trip – my cookbook. And that was far more work than I had anticipated! I spent three months finishing the book – not only the German, but also the English version. I was also already working on the conversion guide.
I also used the time to plan my future after the trip. During my sabbatical year, I had visited numerous manufactories and made cheese as well as wine and beer, harvested salt and pressed olives. I also roasted coffee and this craft captivated me from the first second!
I wanted to do work in my future which had an actual output at the end of the day and where I could feel as well as see an immediate result. I didn't want to go back to the desk world and juggle numbers.
So in the summer I started a one-month internship at a coffee roastery in Hamburg and learned all kinds of things about the exciting craft. I did a ton of reading and had many a sleepless caffeine-fueled night. Along the way, I was looking for a new place to live. The goal of the trip had also been to find a "home", as I really had no idea where to go after my last job in London. During my trip I took the time to explore numerous areas and to "listen" to myself. I wanted to find a place where I felt at home and wanted to stay. And through crazy circumstances I found it this summer in Wismar. A stone's throw away from my hometown Greifswald. Who would have thought that? I drive 40,000km through 18 European countries with the openness to live abroad and finally end up in the tranquil town of Wismar. And here I feel so incredibly comfortable! Never before has a place felt so "right".
So I looked for a job and an apartment, moved out of my van after 1 1/2 years and settled down again. This was not only a particularly exciting time in which there were numerous things to organize, job interviews to have and apartments to visit, but it was also a sudden change in my usual everyday life. After all, I hadn't had a job for 2 years and enjoyed the freedom of traveling.
I wanted to keep a part of this feeling of life and on the one hand start only a part-time job and on the other hand do a job with which I can identify myself. I was lucky enough to have exactly these wishes fulfilled with a job at the Innovation Center in Wismar, where I advise startups and do public relations. I am very happy about this job and I had four busy months ahead of me in which I was able to help build up the new startup center.
In the meantime, my cookbook was published at the end of the summer and I was so proud! (more at: https://www.wnj-verlag.de/bücher/the-van-taste-english-version/) Unfortunately, this event and the departure from my beloved home on four wheels marked the end of this wonderful time. It was an intense adjustment and it took me a while to arrive at my "new" life.
A little later, the extension guide was published and then the English version of the cookbook. There was a lot to do here as well….
And because all this was not enough, since the summer I was planning to open my own small coffee business`. So I spent a lot of time creating the concept, planning packaging, testing green coffee, designing a brand message, setting up an online store, looking for premises for a packing station and much more. Opening your own business is so much more complex than some would assume. I had many nights where I couldn't sleep and just started my "work day" at 3am. There was so much to think about! But it was fun, electrified me and brought me closer to my goal.
On 01 December I then opened my business and (fortunately) with it a turbulent month with numerous sales (more at www.fika-collectmoments.com).
Looking back now, I realize once again how eventful this year was for me. I have closed an important and revealing chapter in my life, found a home and a new meaning in my life. I have made a result of the new path that I had taken two years earlier when I resigned from the large corporation for which I had worked for 10 years. I had chosen a new center of life and completely turned my life around. I found a place where I wanted to live and which was not defined by my job. I found an occupation where I do work that reflects me and has a purpose that I am proud to stand for. And beyond that, I have turned a passion into my profession. I have had the courage to create this new life and take all the necessary steps. I am grateful for all the companions and all the support.
It has been an insanely exciting year and I look forward to the next 🙂