After one year of traveling around and exploring culinary worlds there are a few items within the van kitchen I wouldn't wanna miss. Within this post I share 10 important utensils which make your (van-) life easier and which literally sweeten your day.
I gathered all the products at a "shop the list" section to make it easier for you to find those.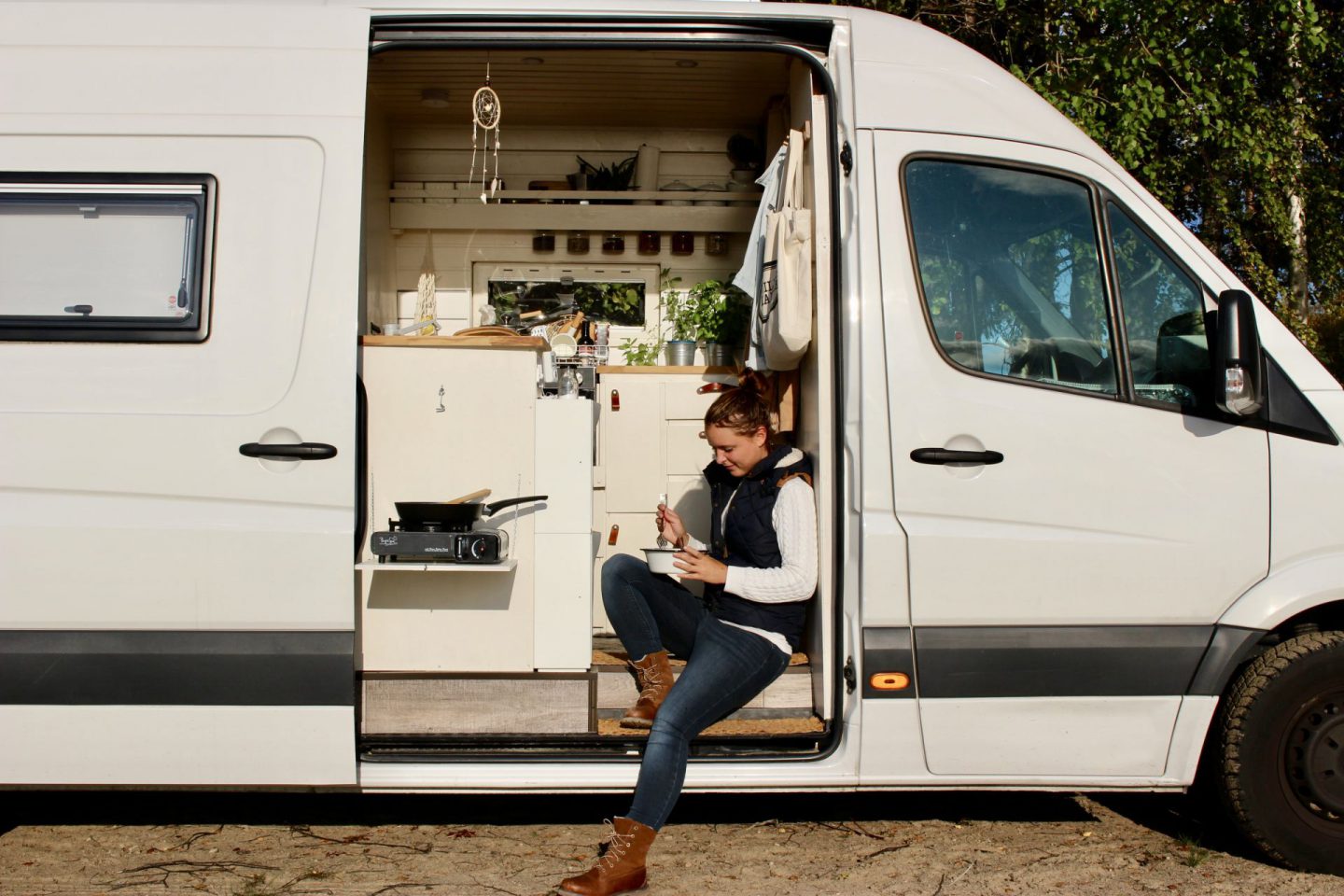 Number 1 – Sustainable bowls made of bamboo or wood
Traveling with a van means spending lots of time in nature. You don't just witness it's beauty but realize it's need for protection. That's why I replaced almost all of my plastic items in the van and especially within the van kitchen. I rather bought tableware made of enamel, wood and bamboo. It's not used sustainable but also stylish! I simply love my wooden bowls.
Number 2: The Outdoor Cooker
Many of you might have an installed hotplate in your van as I do. But in addition to that I also have a portable stove, which makes my (van-) life so much easier. I'd rather cook outside when there is beautiful weather or when I intend to cook something smelly (like fish). It's also easier to gather with other people or simply to enjoy a sunset!
You get so much more flexibility with just a little money. And sometimes it's worth having a back-up, of your main stove is running out of gas..
Number 3: Various spices
Spices are very important for the van kitchen. They don't need much space but offer you an amazing variety of tastes. It's so easy to verify recipes and bring some color as well as flavor on your plate. I even installed a little spice rack with enough space for about 10 different spices. Next to salt and pepper I have spices like curry, chili, paprika a.s.o. I also labeled those jars to make it easier to identify.
Number 4: A romantic light chain
Even though a light chain doesn't necessarily belong to the van kitchen it does definitely belong into a van. It always creates a lovely atmosphere in your tiny home – especially when having a lovely dinner and enjoying a beautiful sunset with a glas of wine.
I recommend using one with a battery, which makes it obsolet to have a power socket of 230v but also gives you the flexibility to attach it indoor or outdoor wherever and whenever you want.
Number 5: The Omnia Oven
During my culinary journey I cooked with the Omnia a lot – it actually became one of my favourite items. It's so easy to bake bread or cakes with the Omnia oven and it offers you such a variety in recipes. The potatoe wedges or the cinnamon rolls are just amazing! The latter often came with new friends who were attracted by the seductive smell out of my van kitchen. Definitely a must-have!
Number 6: A dough scraper
Now you'll probably think: "What on earth shall I do with a dough scraper?" Well – the most annoying topic of vanlife is dishwashing! And cooking or baking can turn out to be a real nightmare when it's about doing the dishes afterwards. A dough scraper makes your life much easier by removing every bit of the dough / sauce / soup out of the bowl or pot. That means – less dish washing, more fun, more time and less waste of resources! Definitely an allrounder!
Number 7: The mocha pot
The daily cup(s) of coffee are life saving for most of you. Therefore the mocha pot is one of the easiest ways to enjoy a proper coffee in your van kitchen. You simply place it on a hotplate, add some water and ground coffee – e voila – the coffee is made.
The Bialetti mocha express is the one I felt in love with. It isn't just super handy but also stylish. It's also a tribute to Alfonso Bialetti who invented this tiny coffee maker in the 30s.
Number 8: Angular storage jars
I have been so grateful for my angular storage jars when putting all my stuff in the van! They are so handy, offer loads of space and are easy to stack! They also come in various sizes and colors, which made me go for metal jars with a wooden lid in black and white. I even labeled those for a stylish look.
Number 9: Manual waffle iron
My manual waffle iron is definitely a highlight in my van kitchen! The smell of freshly baked waffles in the morning or during the day as a snack is unbeatable! Furthermore it's so easy to modify the recipe by adding cheese or dried tomatoes for a savory version or by adding chocolate chips or sliced apples for a sweet meal. You simply need the iron and a hot plate to place it on. Fill in some dough, close it and turn it once to get a soft but crispy waffle. With a little money and a little space you definitely win the hearts of your travel mates and neighbors!
Number 10: Electric lighter
Last but not least – the electric lighter. Might sound trivial, but it rescued my life (and even the one of my neighbors) several times. It's annoying to fumble with matches and also dangerous at some point. It's much easier to lit the oven with an electrical lighter through the longish shape. It also lasts much longer!
(… my secret number 11: The multifunctional hand blender)
I have to admit – electrical devices which are dependent on a power socket of 230v are kind of luxure in a van kitchen. BUT I wouldn't wanna miss my hand blender! It doesn't need much space or electricity but offers loads of different functions. It's so easy to beat cream, puree soups or chop herbs for a tasty pesto. It also comes in handy for prepping (pan) cakes!
Without a hand blender things like whipped cream, creamy soups or home made pestos are simply no option in a van kitchen, which is in turn no option for me.
Definitely within my top 3 for the van kitchen!
Shop the Post