Italy itself already speaks for good food but Rome might be the best place to discover the culinary side of the country. So did we – my mom was joining this time 🙂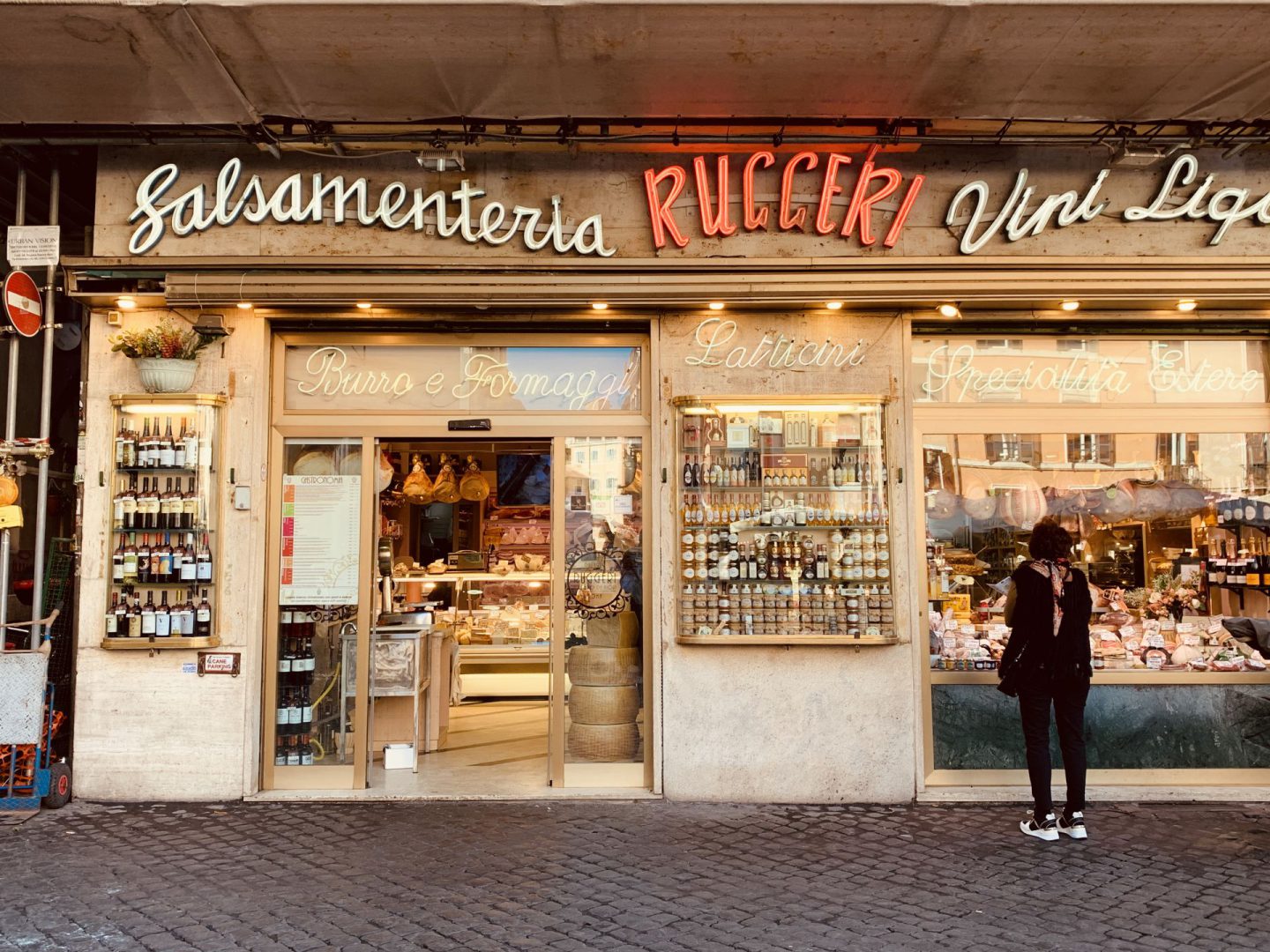 As Italy isn't known for it's breakfast we enjoyed our granola in the van and slowly made our way to the city center. We stayed at a campsite nearby, which made it possible to have wine all day long as I haven't had to drive anymore.
Our first culinary stop had been a very big market hall called "Mercato Trionfale", where we strolled through the small corridors and admired all the colorful fruits and vegetables. It was such a great choice! On the side corridors were offered fresh fish and meat, which were looking as delicious as the rest of the hall. Really a nice place to breath in the Italian market flair where all the moms and grandma's are doing their shopping. From there we did some sightseeing and started with the "Citta de Vaticano", "Castel Sant Angelo" and headed over to the other side of the river Tiber where we visited the "Piazza Navona". Just around the corner waited a nice Osteria called "Cantina e Cucina" (Via del Governo Vecchio, 87, Rome) where we had fried artichoke and the typical Rigatoni Carbonara, which is quite famous in Rome. Of course we enjoyed a glass of wine as well which simply belongs to the Italian lifestyle. Nice place with great service.
After that we had to stop for a typical Italian espresso at "Roscioli Cafè" (Piazza Benedetto Cairoli 16, Rome), which must be drunk at the counter whilst standing. All the Italians are doing that (and the price is much lower when standing instead of sitting – Overall Rome its 1,20€). Besides that we enjoyed a typical "Martozzi", which is a sweet pastry filled with various ingredients. The classic one comes with whipped cream and it was absolutely awesome! At Roscioli it's homemade and just tastes like heaven.
After lunch and the stop over for dessert we definitely had to walk for a bit and continued the sightseeing by visiting the "Foro Romano", "Colosseo" and "Fontana di Trevi". We dropped at a fancy cafe called "Ex Circus" (Via della Vetrina 15, Rome) for a "Aperol Sprizz" and to rest our feet. It's been a long day so far and we walked more than 12 kilometers. Great place to stop by!
We just popped in a typical Osteria a few feet away from the cafe o finish the day. It's called "Saltimbocca Ristorante" (Via di Tor Millina 5, Rome) where we enjoyed some simple but very delicious Fettucchini with tomato sauce and a good red wine. We were sleeping perfectly after the long but delicious day!
The next day we started with the visit of a market again. This time it was open air and located on a cute place called "Mercato dei Fiori". So many charming stalls with loads of good food and a great choice of products. There were a few specialty shops, butchers and cheese mongers located around the market. So a perfect way to buy groceries for a proper meal!
We continued our way for some sightseeing and climbed up to "Terrazza del Gianciolo" where we enjoyed a fantastic view over town. We decided to follow the same way back as there has been so many great restaurants and cafes. We stopped by at a restaurant called "Ditta Trinchetti" (Via della Lungaretta 76, Rome) and were overwhelmed by the individual design and the great choice of meals as soon as we were entering it. We went for a cocoa pasta with boar ragu as well as lemon pasta with shrimps and both were delicious! Definitely a place to enjoy Italian cuisine in a different way.
A bit outside of the city center is located a rare-to-find place offering specialty coffee called "Faro – Luminaries of Coffee" (Via Piave 55, Rome). We enjoyed a hand brewed coffee from Kenya and El Salvador and both have been very interesting. It's a really relaxed place and normally Italians best barista is performing there. Unfortunately he wasn't there when we enjoyed our coffee but it's a good reason to come back some day.
As a great close-up for our culinary days in Rome we joined a class at the cooking school "In Rome Cooking" (Corso del Rinascimento 65, Rome) where we made homemade pasta and tiramisu. First we were introduced to Davide, Valter and the rest of the team who were guiding us through the culinary evening. We have been 14 people in total from all over the world and we were all curious about beginning the cooking class. We started with the tiramisu and whisked some eggs, added mascarpone, sugar and whipped cream. After that we put the cream in layers with lady fingers soaked with coffee and covered it with cocoa. As soon as we finished it went into the fridge and we started prepping for the homemade pasta. Therefore we mixed some flour, oil, eggs and an "italian" pinch of salt (which means a "three fingers pinch") and started to knead it until it became a shining dough. Davide and Valter were always giving helpful advice and supported in every step. It was easy to follow so that we were soon proceeding with the dough. We were flattening it with pasta machines and filled part of it with a ricotta-spinach-mixture. We formed some ravioli afterwards and cut the rest of the dough into fettuccine. After both had been cooked the ravioli have been served with butter and fresh sage whilst the fettuccine came with fresh tomato sauce and basil. We were all coming together at a massive table and enjoyed the pasta with a good glass of wine before finishing the evening with a heavenly tiramisu and some good chats. A nice way to finish the culinary trip to Rome! Thanks to the team of "In Rome Cooking" for a great evening!