Oslo has been the very last culinary stop on my journey through Norway. After more than 8 weeks of traveling and meeting so many great people and places I was curious about the capital of this fascinating country.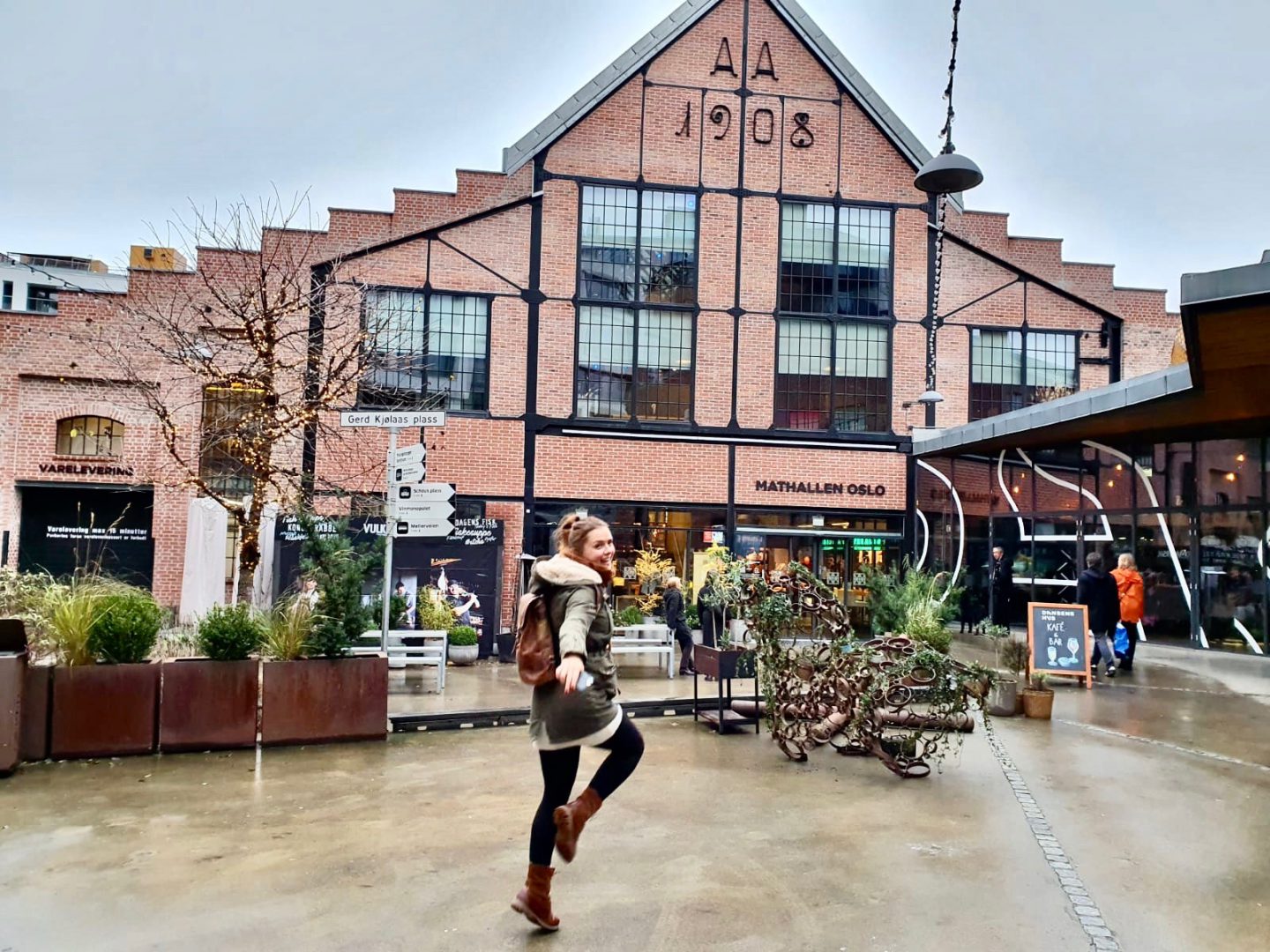 This time I haven't been by myself as a very good friend of mine was joining for the weekend. Right after I picked her up at the airport we made our way to the Oslo Håndverksdestilleri "OHD" (Nils Hansens vei 14, 0667 Oslo, Norwegen) to meet Grim. We planned to meet that day as there was an open evening of the destillery and a tasting of Christmas beers going on. Perfect to get to know their place and products! OHD is dedicated to create high quality artisanal spirits enriched with nordic botanicals. Those spirits are different kind of akvavits, bitters and gins. It was established in 2015 by four guys who all were already working in the alcohol sector. It is located close to Oslo's longest river, the Alna in a long-established industrial district. Traders first came to Oslo and settled in the area in the 1880s, the distillery's original red-brick building dates back to this time, too. So Grim and the head distiller Matt showed us around and explained all the different spirits and approaches. So for example they were storing an Akvavit in old casks from Cuba or the Christmas Akvavit was partly stored in old wine casks. The also add cherry and plum to the latter. They experiment a lot with ingredients and time. Sometimes both together as Matt explained. Sometimes they are adding some herbs or fruit right in the middle of the distillation process. They are always up to new combinations in order to create unique spirits. There is an upper level within the distillery where the lab is placed. There were a few mini-distilleries and loads of spices, aromas and other ingredients to create new stuff. They are also offering events where people can create their own spirits and follow their own taste, which gives a great experience on the one hand and opens the communication with the customers and their needs on the other. Right next to the lab is the entrance to their own bar, where we had the pleasure to meet Ingrid. She introduced us to all the different spirits and created a very special and interesting tasting. She filled it with lots of information and stories behind. We had different sorts of akvavit, gin as well as a bitter. All of them tasted very unique and reminded of Norwegian nature. I enjoyed the Christmas Akvavit and their Rose Gin the most. Definitely worth a try! Thanks to you guys for making the beginning of the culinary time in Oslo so special!
So after a successful evening at the distillery we were looking forward to the next day.
We started with a proper breakfast at a cafe called "Liebling" (Øvrefoss 4, 0555 Oslo), which is German and means "sweetheart" or is an expression for someones favorite. And it actually has been a favorite of us – we loved the breakfast a lot! It was a set combination of a hot drink, a freshly baked croissant with either an avocado or ham sandwich. It was a lot but it tasted all sooo good! Bit shabby but very charming place right in an upcoming neighborhood with many small restaurants, individual shops and lovely cafes. So we just had to walk a few minutes further to drop into the cafe of "supreme.roastworks" (Thorvald Meyers gate 18A, 0555 Oslo), who call themselves a "micro roastery and bean hunter". I talked to the people behind the counter about coffee and their roasts and they all have been very friendly and of a very good mood. It was a lot of fun chatting with them. Unfortunately the head roaster wasn't in as it was weekend. But the hand brewed coffee from Colombia tasted a lot anyway.
After that it was time to walk around for a bit. Not just to breath in the atmosphere of Oslo but to stretch the legs and get some fresh air. We were walking around that district and strolled through a little park, visited the prettiest streets in Oslo and made our way to the Mathallen ((Vulkan 5, 0178 Oslo) – a food hall with a passion for good food and drink. Many individual shops and stalls were framing an open space in the middle where people can meet and eat something together. Light chains were creating cozy atmosphere and it was great just walking around and inspecting the stalls. There were many locals products next to Italian sausages next to French cheese or Turkish food. A great place to come together! Since we were still full from the paper breakfast we decided to come back for dinner and continued our way to the very center of town. After walking through some main shopping streets we were having a break at "My Ugly Baby" (Youngs gate 9, 0181 Oslo), which is a tiny place serving colorful donuts and delicious coffee. This place was as colorful as their philosophy. "We're dancing and singing while rolling doughs, and popping those dough babies in the frier and glazing them with love. We're meticulously slurping, roasting, brewing to bring you unreal, delicious coffees. We're committed to you and to bringing you unparalleled quality, seriously fun quality." And thats true… the donuts and the coffee was just amazing and were lightening up the mood immediately as the place was as well. Nice stop over!
Walking down the main shopping street it suddenly hit us that we were actually in the capital of Norway. So many people! It was so crowded and It didn't get any better when we entered the Christmas market right in front of the castle. The christmas market was quite nice but nothing compared to German ones. It's almost impossible to keep up with those – I am sorry 🙂
So we were escaping to the harbor side to walk around and have a look at another castle of Oslo, which is placed on a hill and surrounded by a massive wall. Right behind that one the ferry terminal is located. Next to that is the Fish Market, which was closed, and another food court called "Vippa" (Akershusstranda 25, 0150 Oslo), The food court is made of old containers and give a very industrial and modern charme. There are 11 food stands, offering sustainable and diverse food from all over the world. The focus of this place lays on creating an ethical and multicultural environment with high standards. It was a very lovely place and much less crowded. I guess it's even more charming in summer when it's possible to set next at the Fjord.
We slowly made our way back through town and stopped at the Mathallen for another snack. It's been a packed culinary day but each and every part of it was very delicious!
It's been a great day from a foodie perspective even though I can't say that Oslo has a lot more to offer. I was missing the typical Norwegian landscape of wooden colorful buildings as well as narrow streets and hidden places. But maybe the rain, which was accompanying us the whole day, had a negative impact. Anyway – it was a pleasure for us eating through town!