Todays room tour is about my tiny terrace which is installed on hit summer days in no time. As usual you'll find below the "shop the post" of all the products and material I used.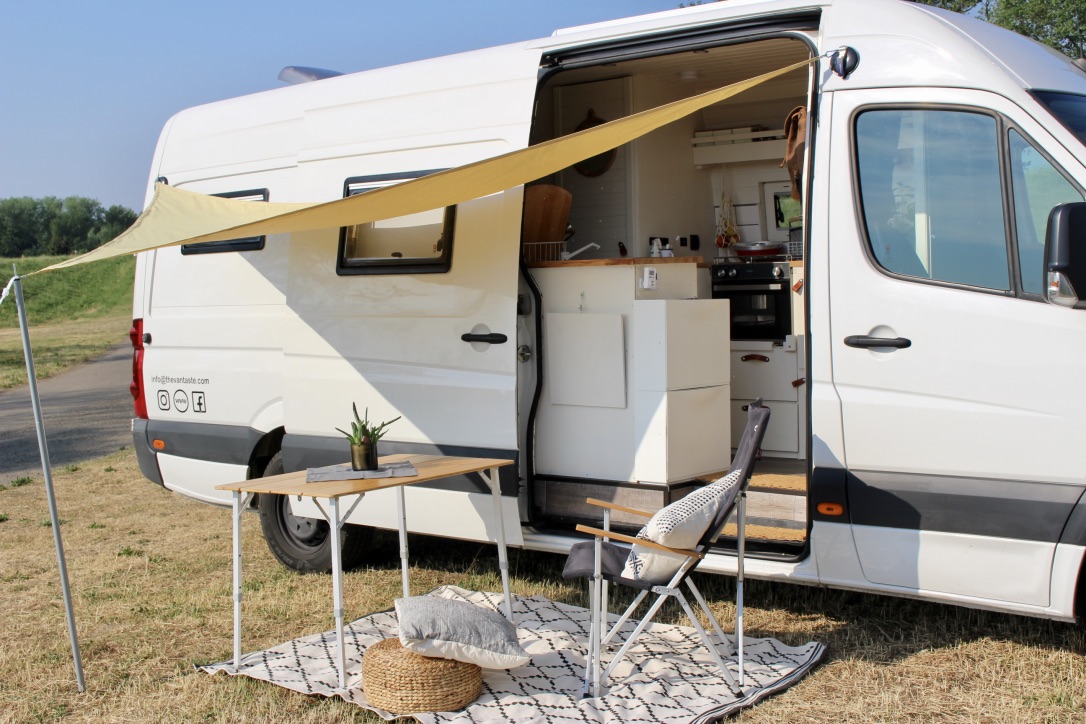 In summer each van build looks even more spaceous as the doors are wide open and some seating furniture is placed in front. I have chosen two robust chairs from Outwell which do have some wooden details, too. The table from Outwell with it's wooden surface is matching and provides enough space for two persons. It's foldable and in the end in a size of a bigger roll. Also the chairs are foldable. The whole furniture is ultra light and therefore perfect for vanlife.
I combined the furniture with a robust rug, which creates a cozy atmosphere and keeps the feet clean. It also works as a picnic blanket. In addition to that I often use a pouf as an additional chair or just to put the feet up. Add some nice cushions, a blanked and decoration for the table and you are done with a stylish and cozy terrace.
When the sun is shining high and the heat isn't bearable anymore I also install a sun sail. Therefore I attach two vacuum hooks at the outer walls of the van and connect those with the corners of the sail. The third corner of the sail is attached to a pole which is fixed with two hooks to the ground.
In the evenings it's also nice to attach a light chain for a romantic atmosphere!
Shop the Post