This is just a must-have within a van kitchen! Even if you don't have an oven inside your van it's worth preparing it before starting your journey at home. It's also working with an Omnia-Oven to put on top of your stove. This crunchy granola makes the perfect start into every day full of van-adventures. Easy to combine with every kind of fresh fruits, milk and yoghurt. Put some chocolate on top and enjoy!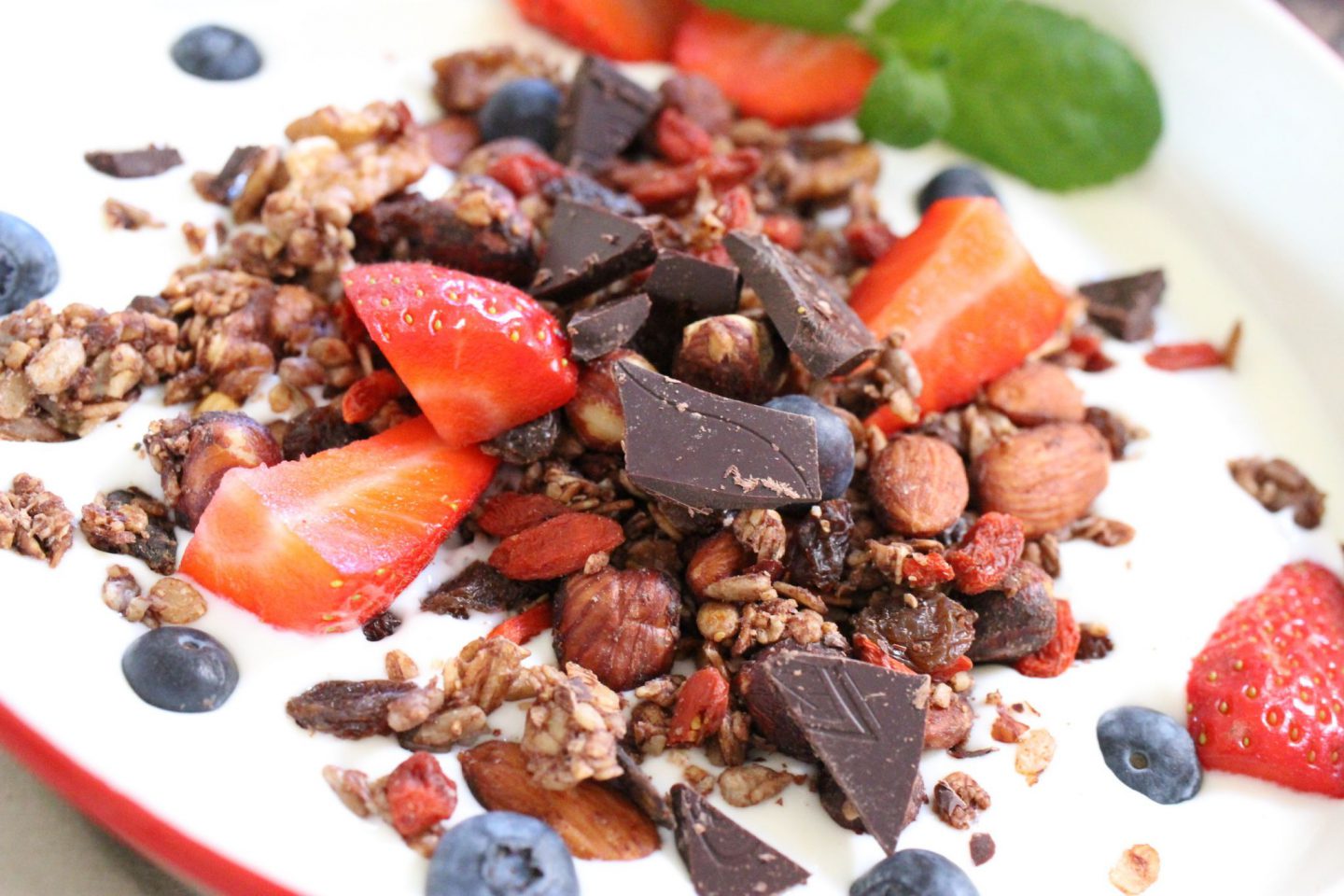 Shopping List (for two baking sheets)
350g musli base (oat flakes etc.) (4C)
200g hazelnuts (2C)
200g almonds (2C)
100g walnuts (1C)
100g sunflower seeds (1C)
100g pumpkin seeds (1C)
50g chia seeds (1/2 C)
100g raisins (1C)
100g goji-berries (1C)
200g coconut oil (2C)
2 ripe bananas (1C)
25g cocoa powder (5 TS)
15g ground coffee (3 TS)
2 TS vanilla sugar
Steps
First take a big owl and mix all the dry ingredients together (starting from musli base to chia seeds)
Mix the coconut oil, bananas, cocoa powder, ground coffee and the sugar in a separate bowl by using a fork (works best). Mix it until it becomes a homogene creme.
Add the cocoa-mixture to your bowl of dry ingredients and mix it carefully until everything has a homogene moist texture.
Allocate the granola mixture on two baking sheets (or your omnia oven). Preheat the oven to 180 degree.
Bake it for 10-15 minutes until the rim becomes golden and the moisture is gone.
Let it cool to room temperature and add the raisins and berries.
Filled in clean jars and stored dry and cool it's edible for a month.
Feel free to clarify the ingredients! For example: coconut flakes, cinnamon, dried apples, honey, maple sirup or whatever you like for an individual character