Before coming to Croatia I tried to remember all the good food I ate all the other times when I've been to Croatia. And of course – cheese and ham first crossed my minds. So I started my research soon I found the famous "Gligora" cheese on the isle of Pag. An isle which hosts 80.000 sheep and 3.500 people.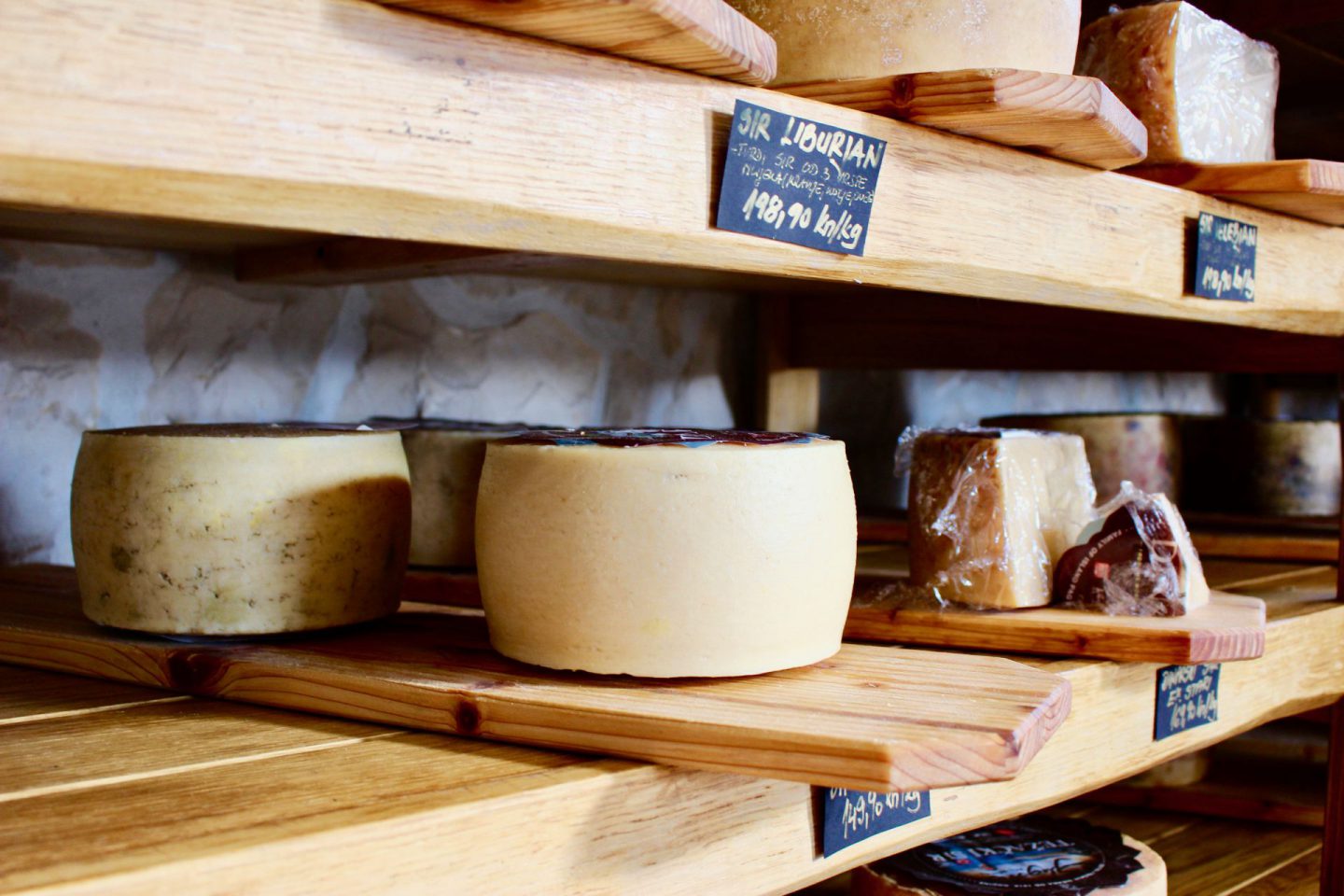 Gligora cheese was founded by Ivan Gligora and his family in 1995 first with a different name. His grandfather already produced the Pag cheese in 1917, so the tradition of cheese making in their family has been much longer. Also Ivan himself was much into dairy farming and visited different schools to learn about the milk production, dairy farming and cheese. He worked at different milk houses before he opened his own business together with his wife. They faced many challenges within the first years but with the first international acknowledgement in 2002 the beginning of a series of awards and their success was made. Gligoria cheese settled its name for quality and taste. The dairy was re-newed in 2009 and is the most modern in such size in Croatia. They are producing 450 tons each year of hard and semi-hard cheese as well as curd. 50 tons of those are for the traditional and famous Pag cheese, which is only made of sheep milk from Pag. Other cheese types are also made with milk from other Croatian farms, mainly from regions like Dalmatia, Lika and Kordun.
But back to the famous Pag cheese. The recipe follows the saying: "The bora, the sheep, the man" and describes the typical climate of isle Pag which is dominated by a strong wind called "bora". It brings a lot of cold and rough winds to the isle, which causes a very specific vegetation. Just strong plants and herbs are able to survive, like sage, immortelle, cistus, Jerusalem thorn and fennel. Following that the sheep are very robust, can easily move between all the rocks and digest the specific vegetation. And the man is the one, who created a unique product out of two main characters of the isle – the Pag cheese. That tradition shall be as old as sheep farming which is dated back to 800 BC. However, first written evidence gave a report of a traveller in 1774.
Next to the award winning Pag cheese Gligora is also producing about 60 other sorts of cheese made of cows, sheep and goats milk. They are experimenting a lot in order to gain new tastes and excellent cheeses. Whilst walking through the maturing area I've smelled so many different ingredients like lavender, truffle or chili. Many different sorts which were spreading so many different scents that my mouth was watering. But tasting them was even better! Of course I had to try the famous Pag cheese, one matured for about 24 months and another younger one with an age of 2 months. Both tasted delicious and mirrored the landscape and it's vegetation. It's strange how cheese or better said milk can adopt such a flavor. I definitely have to agree that bora, sheep and man did a great job!
I also tried skuta, which is a cottage cheese made of sheep milk. It's almost like a ricotta and tastes delicious! You don't even need bread or anything else to enjoy it. Next to that I also tried olives stuffed with cheese and a hard cheese with a cherry flavour (gained by the craft of "affinage").
All in all it's been a great pleasure to get to know Gligora cheese and to learn more about the isle of Pag. Thanks to Toni, who showed me around – I enjoyed it a lot!