First of all I have to thank Tore from "Arctic Salt" for arranging those amazing 24 hours. When I asked him for a meeting to get to know him and his salt factory I would have never expected to get a whole culinary day with many of the specialities this area has to offer. Had a great day full of exciting facts and good talks.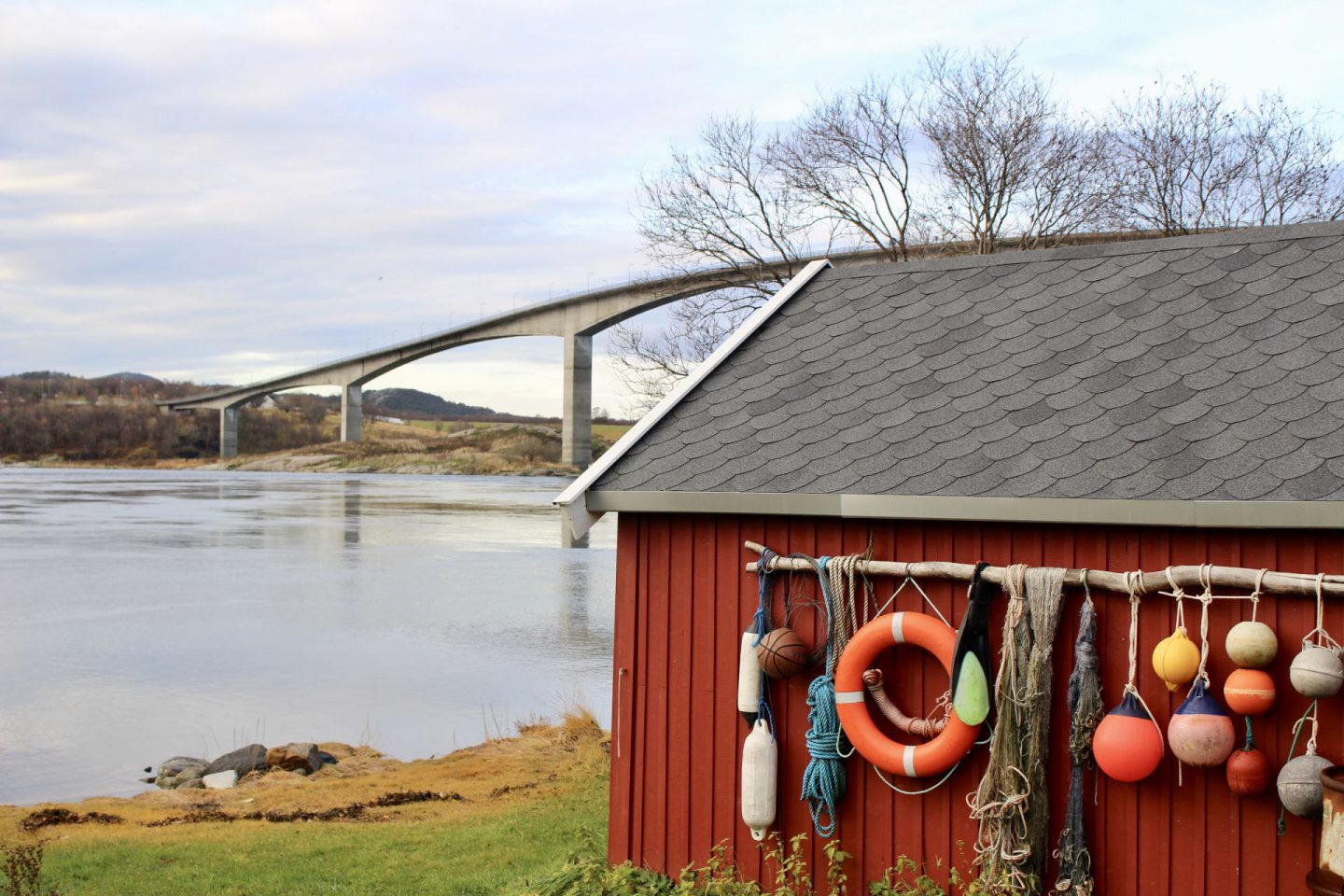 My day started at "Arctic Salt" where I meet Tore and his father. The factory lays directly next to the strongest current in the world (!) and is called Saltstraumen, which ist just a 20 minute ride away of the city of Bodø. Actually "Saltstraumen" doesn't mean "salty streaming" as it might sound like, but "strong streaming/current". Which definitely made sense as the surface of the water was moving so fast in different directions when you simply looked at it. So many impressive whirls bringing up the water. The current has a speed of up to 40km/h depending on the phases of the moon, the weather and the surface of the fjord. Of course it goes with the tide and brings a lot of salty water from the ocean. The percentage of salt is about 3,5% when Tore is pumping it out of the fjord. He is leading it into a big tank which will be heated for several days. The perfect temperature for increasing the percentage of salt and for harvesting it in the most efficient way would be 75 degree. As his system isn't that efficient (yet) it takes a bit more time. So there are several chemical processes whilst the level of salt is increasing. At a level of 17-18% it's finally ready to be harvested. Therefore Tore takes it out and drains it. After that it will be spread on a tray and dried by blowing hot air over it. After a few hours it's ready to be transported to the packaging area. This whole process takes up to 10 days.
After that the salt gets scanned for any impurities or other objects (by hand!) and is is ready to be packed into nice boxes afterwards. Some parts of the salt are used for further processing. Therefore Tore is either smoking it with different kind of wood or adding some herbs as well as sea weed. We also entered the smoking area where he set a little part of bark of a piece of birch on fire and encouraged me to smell it. It just smelled fantastic – like a sweet but strong smoke. He explained that he likes that flavor the most which goes directly into the salt. He is using a certain smoker for that where a fire is lit on it's bottom and several layers of trays topped with salt are placed above it on different levels.
The products are either packed in small jars closed by a cork or in cardboard boxes, which are designed in a very funny way. They have a map of the area on them and funny caricatures of Tore, his team or animals of the region (like Ole the reindeer). There are also other funny details on the packaging which makes it very unique. In combination with a very elegant and strong logo it gives a good combination of a young and high quality product. Although Tore isn't working on that business full time (It's more a "hobby") but producing non stop and packing new batches all the time the shelves are never full. There is a high demand via online shopping, local stores are reselling them as well and local businesses are using them as gifts for customers and partners. There are also bus companies who use them as a gift for tourists using their services. He also delivers salt to restaurants. By that he already gained a high popularity and there are already many opportunities to expand the business. The popularity speaks for the high quality product. I tested the smoked salt in the evening and added it to some pasta with shrimps and it just gave it that special kick! Loved it! For more information check out his website: www.arcticsalt.no.
After that I made my way to Bodø to meet Andreas from "Bådin Bryggeri" – a brewery which was found by 5 1/2 guys about 8 years ago. Why 5 and "a half"? Well, the 6th guy wasn't very sure whether to enter the business or not. But the success of the present day speaks for itself. Last year the brewery produced 80.000l of beer. 20% of it is delivered to Oslo, where two of the founders are based. The remaining liters are delivered to local stores and supermarkets. They are mainly brewing beer in an American or Belgian style, which means beers like Lager, Stout or Pale Ales. They are using hops from all over the world (depending on the flavour of beer they are going for) but enjoy using american and Australian hops which have a fruity almost tropical flavour. They are importing their malt from Belgium and their yeast from Germany or America. They also took local producers into consideration but because of the small amount of suppliers and the high taxes it's simply not economically effordable. Even importing from other countries or continents always include very high costs for shipping. That's why they are taking advantage of a local factory which is shipping goods to Belgium and on their way back is filling up the empty space on the ship with resources for the brewery. That's not just economical but sustainable.
They are always inventing new kind of beers, which are telling their own story. One of them is flavoured with coffee and coconut. Another one has the taste of cayenne pepper. They are always trying to invent new sorts to meet the younger market who is always up to new stuff. But they also offer various kinds of regular beer to serve in bars or at restaurants.
From now and then they are organizing events in their brewery to meet with partners and for networking. The brewery itself is already expanding. This year they invested in a canning machine which produces up to 30 cans per minute. They also bought new fermentation tanks to increase their production. After tasting their beer I understood why – it tastes fantastic!For more information check www.baadin.com.
In the late afternoon I drove back to the area of Saltstraumen to meet Elisabeth, Trude and Ingrid who are running "Tuvsjyen" – an event venue inspired by the stone age. There were archeological finds just a few meters away from their location. They also offer guided hikes to that point. Besides that you can have the full experience – from catching fish to having a roast of reindeer made in the fire. They have huts imitating the life during stone age. So no electricty or water. Just the hut made of wood and covered with the fur of reindeers with a fire in the middle. The events taking place in those huts contain loads of stories, an authentic atmosphere and a very traditional menu. I was allowed to join such a ceremony partly.
The menu contains home made buns made of spelt with butter, jam and smoked whale. There are a limited amount of mink whales which are hunted every year and used for scientific researches. The meat is sold all over Norway. First I was a bit vary to try the bun but to be fair – as someone who eats pork, beef and other meat shouldn't make a difference just because whales might be more "beautiful" animals. So I tried it and I have to confess – it was really good!
Next to that they are serving fish which was preserved in salt for at least one year. This has a very long tradition and is made of pollack. I tried one which was preserved for 18 months! To make it edible again it's stored in fresh water for some hours and boiled afterwards. They combine it with creamy carrots and bacon. Delicious!
Then the big moment came when a piece of meat was taken out of a hole in the earth right next to the fire. Two hours before the meat was placed there and surrounded by hot stones which were heated up in the log fire before. Those stones create a temperature of 500-800 degrees in that hole which is covered with ash as well. After just two hours the reindeer was cooked and had a nice texture. They served it with spelt and vegetables, some sauce and lingonberry jam. Lucky me I was allowed to try that as well and I loved it! It was a very unique experience and it felt like entering a different world! Thanks for that! For more information check out: www.tuvsjyen.com.
So at the end of the day I had loads of colorful memories in my mind of a perfect culinary day. Thanks again to Tore for enabling this!!