Lisbon is exploding of new coffee places, restaurants and bars. I spend a few days eating through the capital of Portugal and would like to recommend a view locations.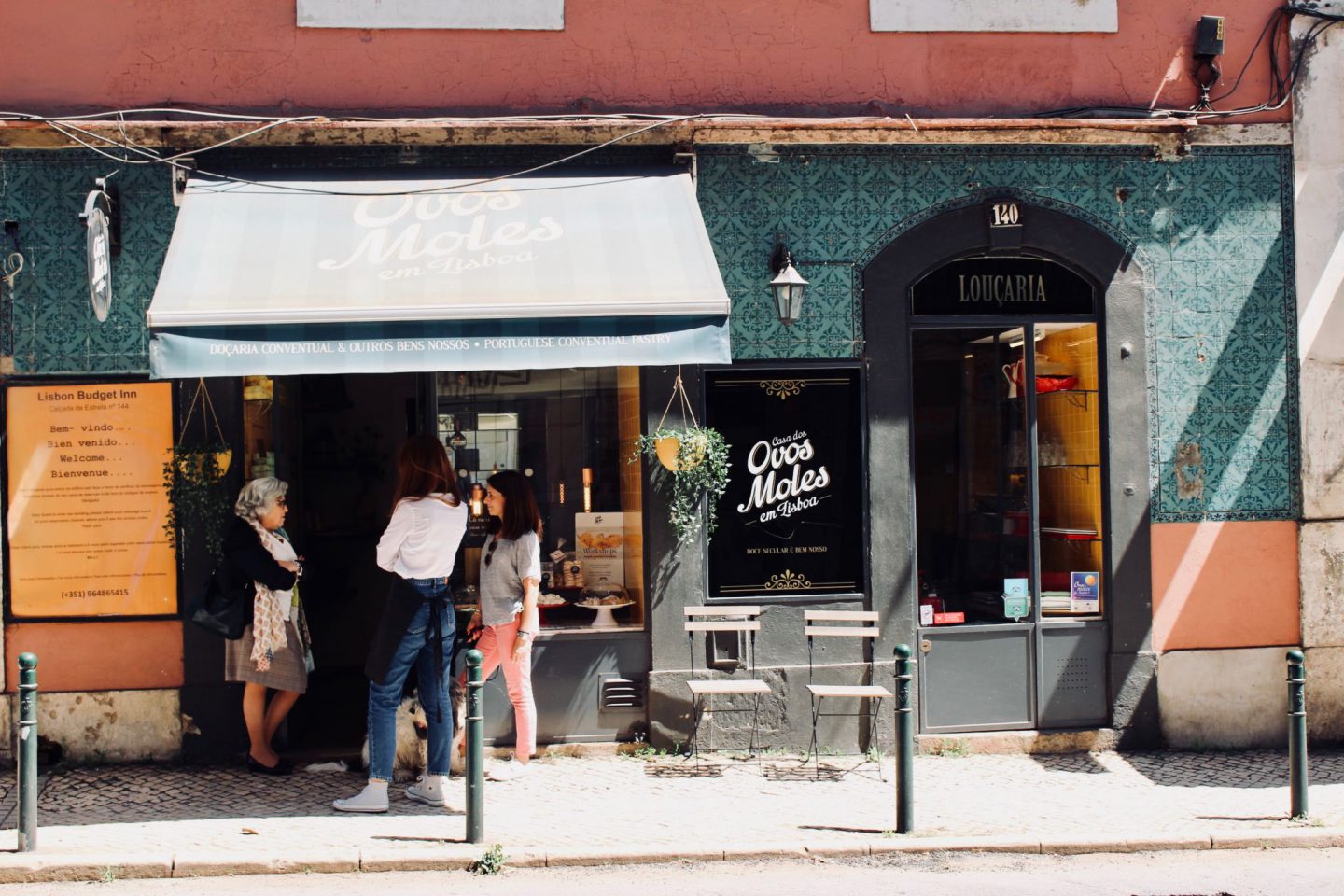 First of all – there are many many places to visit and it's more about strolling through certain districts and get yourself lost somewhere to have a "bica" (kind of espresso), glass of wine or some Portuguese bites. I will just recommend good places I've discovered at my stay.
Starting with breakfast I highly recommend the place "Heim Cafe" (R. Santos-O-Velho 2 e 4, 1200-109 Lisboa).They have very friendly staff, cozy seating areas and the best breakfast I ever had! I just had a few days to discover places and I've been there twice – that definitely means something. Besides this place I enjoyed having breakfast at "Flora&Fauna" (Rua da Esperança 33, 1200-655 Lisboa, Portugal) – nice atmosphere and great food. Next to those international and fancy places you should visit an authentic Portuguese place, too. Just step in a "Pastelaria" next to you and order sandwiches with the toppings of your choice. Round up your breakfast with some sweet pastries.

For lunch I definitely recommend places like the "Time Out Market" (watch your step, might be crowded) as they offer loads of different options like Sushi, Burgers and Pasta. There is also a nice organic shop in the middle area with salads and snacks! If you fancy burgers in general I recommend the place "To.B – To burger or not to burger" (R. Capelo 24, 1200-442 Lisboa, Portugal) in the city center. Otherwise there are many bistros and little organic supermarkets which offer a great choice of lunch menues. For both a lunch and good products to shop I recommend the place "Prado Mercearia" (R. Pedras Negras 35, 1100-404 Lisboa, Portugal). They also have an own restaurant around the corner.
The best place for something sweet in the afternoon is "Pasteis de Belem" (R. de Belém 84-92, 1300-085 Lisboa). It surely will be crowded but it's worth it. They make the best "Pasteis de Nata" in Portugal, which is a fluffy pastry filled with custard creme and served with cinnamon and icing sugar. If you fancy a more quiet place you should have a coffee at "Cafe Magnolia" (Calçada de São Vicente 97, 1100-572 Lisboa). They also offer lunch besides cakes and sweet pastry.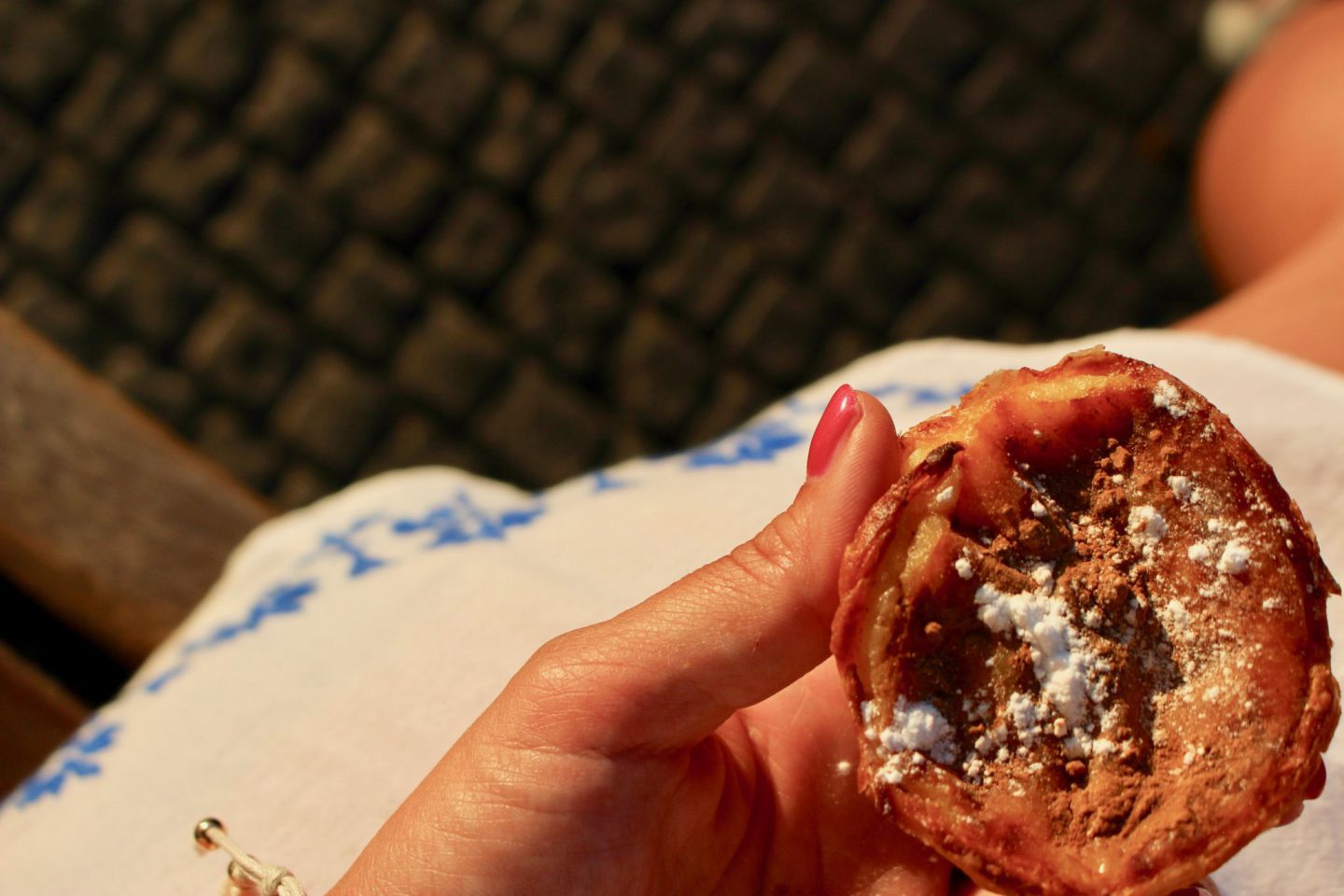 In the evening I recommend the places at the old docks next to the river called "Docas" to have cocktails or dinner. There is also a place called "By the vine" with glass bottles covering the vaulted ceiling. They have a great choice of wine with a cozy atmospere!
For authentic Portuguese food and a brilliant view above Lisbon I recommend a place at the other side of the river called Farol de Cacilhas (Largo Alfredo Dinis, 1, Rua do Ginjal). Take the ferry (terminal Cachilas) and have a perfect view over the river included at sunset.
You should definitely stroll around Baixa at night and enjoy a glass of wine or beer just on the street. Everyone is meeting there and comes together at the weekend. Great atmosphere! Try some "ginjinha" – a Portuguese liquor made of cherries.
If you fancy a local market to cook your own meals it's the "Mercado de Ribeira" to be next to the train station Cais do Sodre. Be there early as many stalls like to close before noon. They offer great fish and fresh fruits and vegetables.
If you want to stroll around on your own I'll definitely recommend the districts Baixa and Chiado, as well as Alfama. Besides that the area around Jardim Principe Real and the old docks at the river are nice areas to discover restaurants and to breath in the atmosphere of the town.
Have fun and enjoy!
(This blogpost includes the unpaid promotion of several places)