One of the most important and interesting topics for vanlifer is about the sanitary equipment in a van build. The focus of this room tour lays on my solution for the sanitary equipment – the bathroom. It includes a separate toilet and an outdoor shower with hot water.
At the end of this post will be a "shop the post" – section for you to find the items much easier.
Within my van build I was going for a separate toilet with it's own tiny room to create some privacy. I also wanted to avoid any unpleasent smells in my van.
Therefore I installed a separate are with measurements of 0,80×0,90m with a skylight (Dometic Heki Mini) in order to gain natural light and a sufficient ventilation. I covered the walls with wooden panels (0,8mm) and attached at some of them a robust wall paper. As a door I used a wooden Louvre door which fit perfectly in the door casing. It didn't cost much and is very light. For a better closing of the door I installed two magnets – one at the top and one at the bottom of the frame.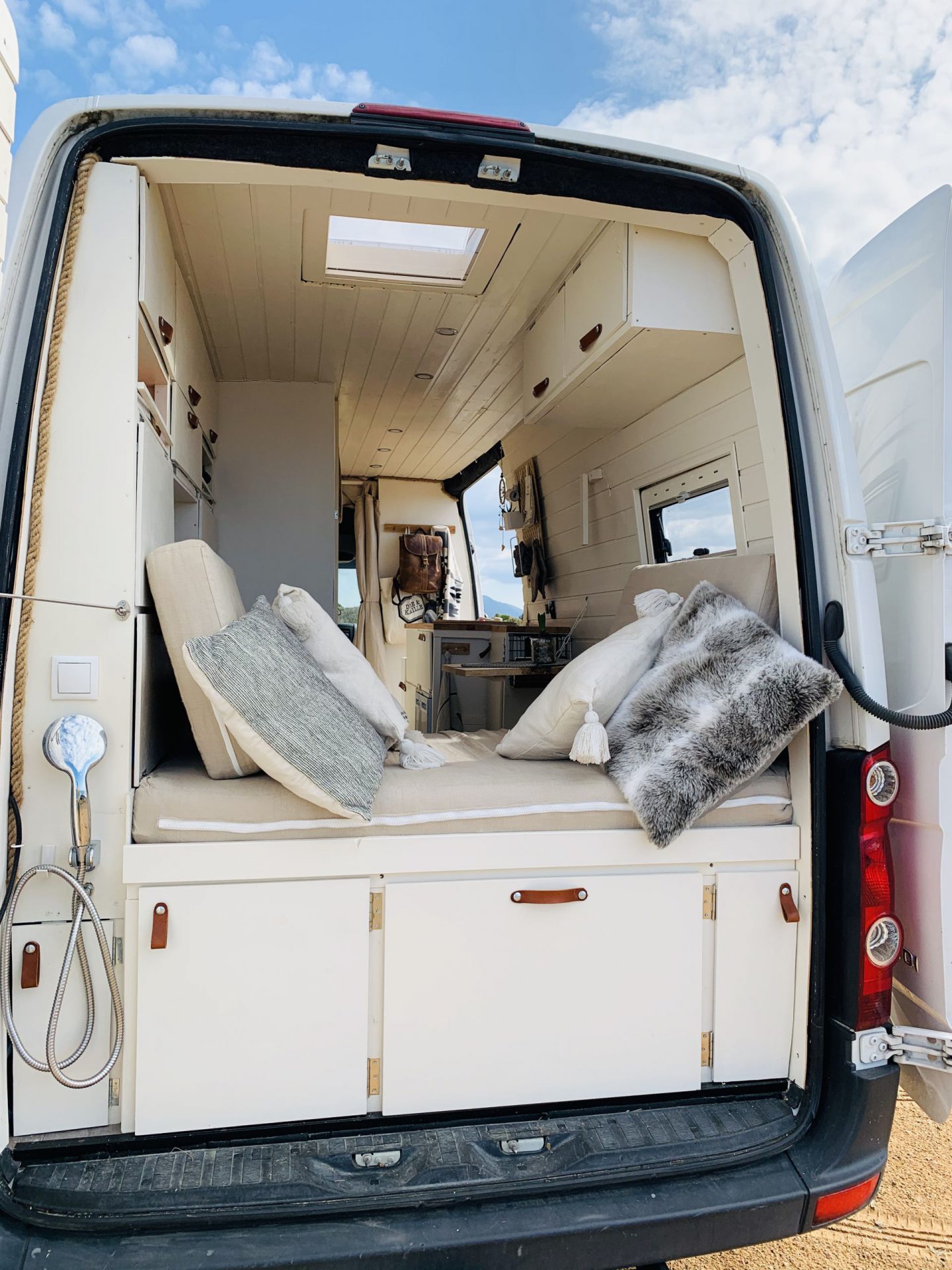 I installed a shelf and several hooks inside the bathroom. I used those to hang towels as well as some baskets for additional storage.
I have chosen the "Porta Potti 565" as a solution for the toilet. It's more elegant than the previous model and has a nice design. It contains two tanks with 15 litres each for fresh- and wastewater. It works in a simple but robust way.
I decided not to install a shower inside the van as I had been afraid of leaks or any water damage. Furthermore it didn't work with the layout of my van – I wouldn't have had sufficient space for the fresh- and wastewater for the shower either. So I decided to install an outdoor shower which is located at the back of the van between the closing doors. When having a shower I open the doors and use a hook to fix those in a certain angle to be covered against wind and gazes.
The shower is even supplied with hot water, which comes really handy when doing dishwashing, too.
The boiler works with 12v and has a volume of 6 liters (Eugena, small boiler for camping). Thats just enough for a quick shower and absolutely sufficient for vanlife. Next to the boiler I installed a water tank of 45 liters, which is connected directly to the boiler via a water pump.
I am absolutely happy with the solution described above and never had problems during my journey. It gave me the flexibility to stay independent for about 10 days before I had to empty and refill my tanks.
Shop the Post