When thinking about the Normandy it's obviously Cidre, Calvados, Camembert and fresh mussles. Well, I tried all of them and created a perfect culinary route through the Normandy. Let's start!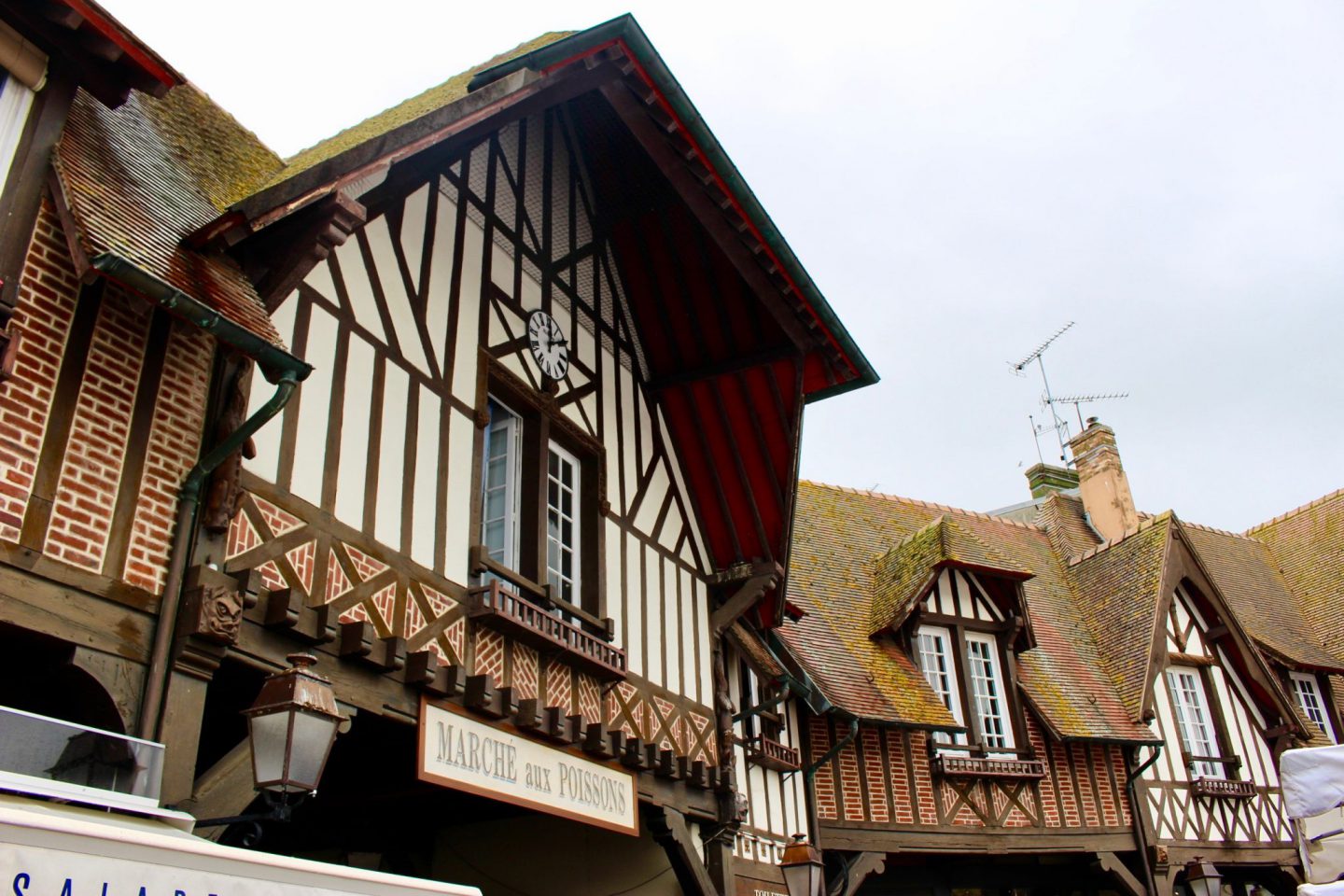 Starting in the Deauville – quite in the heart of the Normandy – you will find a lovely market which is taking place every Tuesday, Friday and Sunday at Place du Marché. It's located under a beautiful half-timbered hall of a typical Norman architecture. It's surrounded by lovely buildings following the same shape so that the whole market is giving a romantic picture. You will find cheese mongers, butchers and farmers selling their products. Products of a really wide range – have you ever seen purple peppers? I loved the colorful and monstrous tomatoes the most. Next to them were displayed onions and salads of every color as well as sweet oranges and melons. There was almost nothing you couldn't buy.
After spending the morning strolling through the strands I drove to Honfleur – a lovely little town next to Deauville. There is also a market taking place with a similar unique atmosphere (Wednesday and Saturday). Honfleur has many narrow streets with delicatessen shops and products from the Normandy. There is one sweet shop next to another one, where you can try different sorts of caramel (hmmm caramel with salt flakes is my favourite) or various chocolates. Honfleur also has nice places to eat fresh mussels boiled in wine with some crispy chips. It was the first time I tried those and I was surprised by their good taste. To be fair – I won't become a great fan of those but they belong to a vacation in France anyway.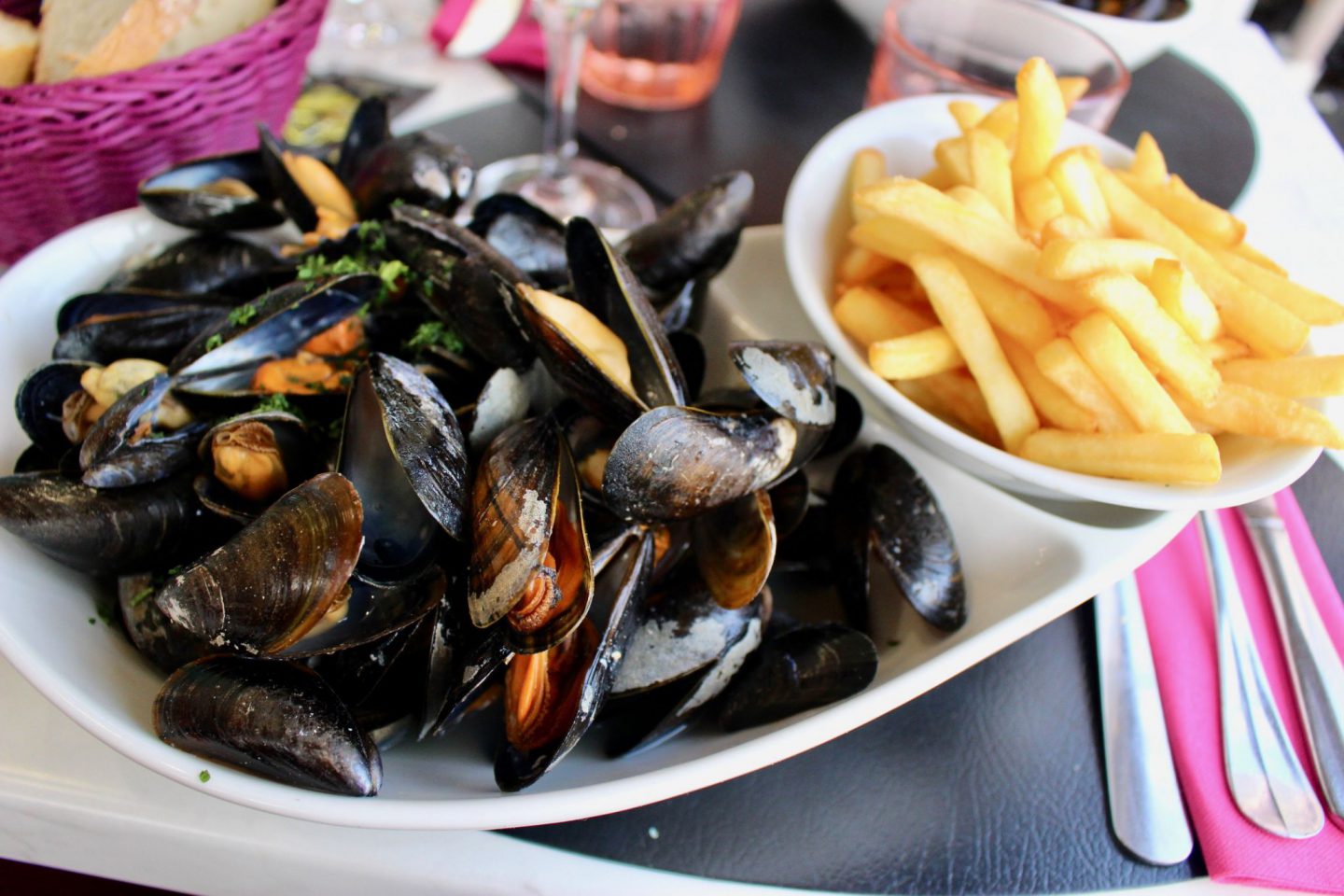 Back in my van I was searching for a place to stay for the night. There is a really good camping guide existing called "France Passion" where organic farms offer places to stay for the night for camper vans. They often have an own production and offer tastings. So I chose a cider farm along the famous route of cider. As soon as I arrived a friendly man showed me my place for the night right next to the fields and he invited me to try his cider. He has a very small production but offers a wide range of products – from sweet, semi dry and dry cider to Calvados and Pommeau. I tried almost all of them and enjoyed the dry cider the most. It was the perfect end of a perfect culinary day.
Early in the morning of the next day I drove to Cambremer to visit the distillery from Pierre Huet (https://www.calvados-huet.com) producing cider, calvados and other products, too. It has a long tradition and is managed by the 5th generation right now. They have 30 different sorts of apples on 30 hectares of orchards. After the harvest the apples are selected, washed and pressed. Depending on the sorts of apples the juice is either suitable for sweet, semi dry, dry cider or for the distillery. Juice suitable for the the ciders is stored in fiberglass tanks for 1-5 month (depending on the cider) and will be filled in bottles afterwards. There the second fermentation is taking place and through the closed bottle neck the gas is remaining inside so that the bubbly cider is developing. That's also the reason why cider has to be drunken within a few months as the fermentation in the bottle is still ongoing. In the worst case and after some time it turns into vinegar.
Juice suitable for the distillery is stored in big barrels for one year before it's distilled either once or twice. There are two different methods out of tradition which are allocated to restricted areas in the Normandy. The Distillery of Pierre Huet is allowed to produce In both ways.
After the distillation process the calvados is stored for another couple of years in different barrels. The duration of the maturation has an impact in colour and of course taste.
There is another alcohol existing in the Normandy which is called "Pommeau" – it's a mix between Cider (2/3) and Calvados (1/3) and is therefore a bit stronger cider.
I tried all of them at a tasting after the guided tour and I was impressed by all the differences. All in all I had a great time at the distillery and learned a lot about those typical products.
After the tour I made my way to Camembert, which is just about an hour away. It's the birth place of the famous cheese and was invented by Marie Hevel in 1791. Today there is a production of 145.000 tons per year! It became kind of famous during the first world war when Camembert was also sent to the front to feed the soldiers. It got quite an enormous emotional meaning to French people. Nowadays it's exported to over 150 countries. Camembert has to follow a certain recipe but doesn't have to have a certain geographic origin. The original Camembert from the Normandy is named "Camembert de Normandie" and is still made of a specific race of cows giving that full and flavory milk. There is a shop and a museum existing which reveals everything about it's history and the characteristics of that cheese (http://www.maisonducamembert.com). I really enjoyed dipping into the story and a tasting afterwards.
In the evening I parked my van right next to the coast and enjoyed some Camembert and Cider to celebrate those two culinary days in the Normandy.