When I was contacting all those small manufacturers I was wondering why all of them has been so busy and didn't have a free time slot until one of them told me about the food festival, which is a big event on the Lofoten. So it all made sense and of course – I had to go there!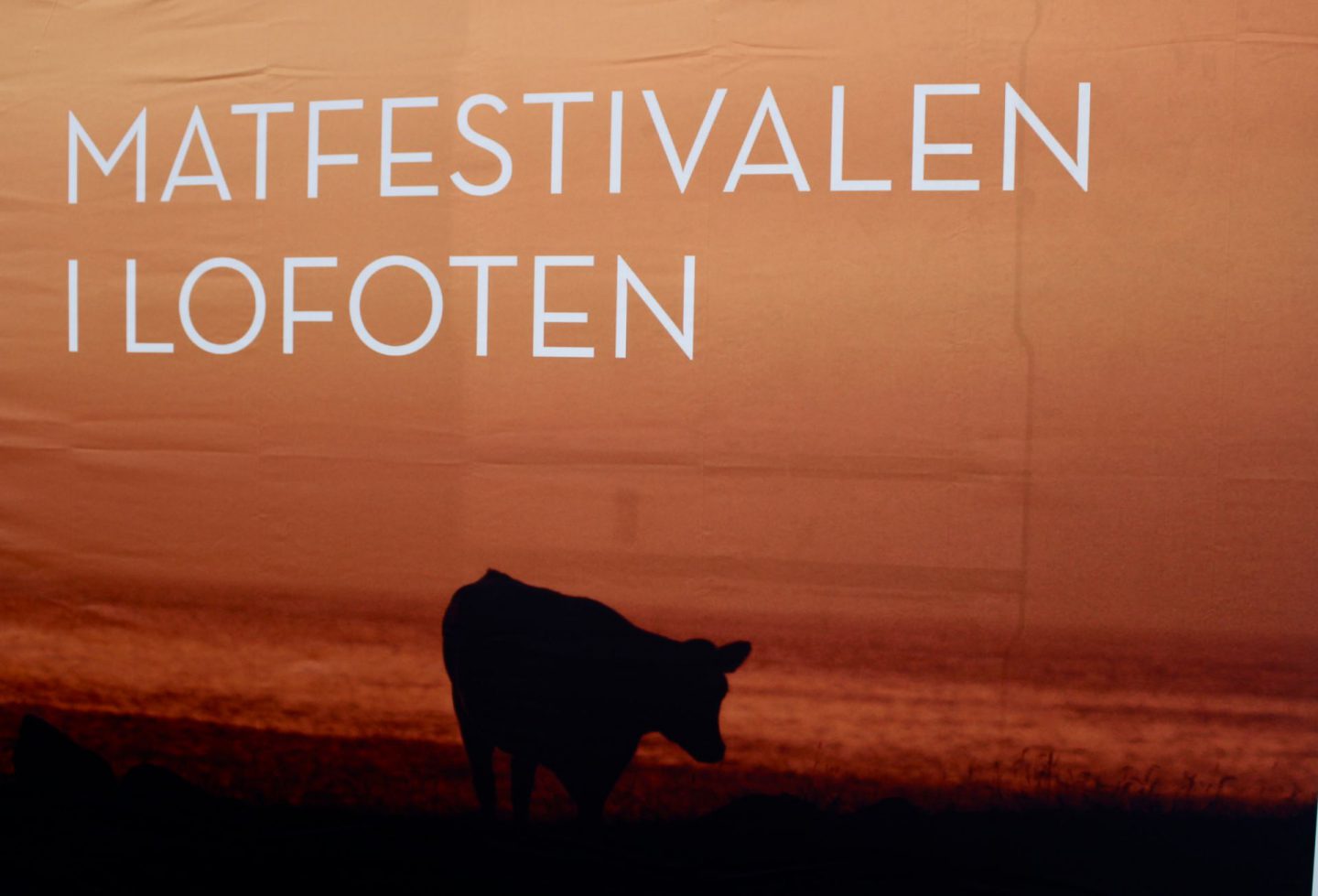 I was so looking forward to the event – on the one hand to meet the people I already contacted and on the other hand to get the chance meeting other manufacturers which I haven't found yet. This fair is taking place once every year and gathers all the small producers from northern Norway. It was taking place at the Lofothallen in Laknes and big flags were showing the way when entering the small town. It was a sunny day and many people were joining me walking up to the Lofothallen from the parking lot.
The first part of the hall was converted into a seating area with food stalls and a stage for the daily program as well as for the awarding (product of the year etc.). The second part was about all the manufacturers with their stalls. So I slowly made my way from one stall to another. I was relieved that I already read about most of them beforehand which gave me the impression that I've done a proper research before.
Already the first stall was catching my attention – the brand is called "Lofot Kyss" and produces healthy snacks containing loads of healthy and natural ingredients "bursting with flavour, good fats, protein and vitamins. Kissed by the sea". Thats also where the name is coming from. So the products are mainly from the region and do contain ingredients from the sea like sea salt, sea asparagus and sea weed. It's also about a healthy snack which is satisfying, heathy and tasty. I've tried a few of them and was surprised but the good taste! (more info: www.lofotkyss.no)
After that I stopped at a few stalls selling meat and typical sausages. But I have lost interest quite quick after they weren't able to tell where the meat is coming from. Those weren't private manufacturers but reseller for bigger companies. Those may be typical for the north but that's not the kind of product I am interested in.
So I was happy that I found "Keans Beans" – the guy who is running the cafe I visited a few days ago. Although he is a pro in coffee roasting he made a perfect chai latte for me as a decaf-option (unfortunately I can't have coffein). He also recommended a good coffee I want to give a friend as a gift.
After that I was happy to finally meet the girls from "Lofoten sea weed" which I wanted to meet desperately as I am in love with their product and marketing. "Lofoten sea weed" is about (as the name says) products from the sea. The sea weed/tang is wild harvested in the cold Arctic waters surrounding the Lofoten. After that it will be processed to salt, umami (asian, the 5th dimension of taste next to salty, sweet, bitter and sour) and other seasonings. "Lofoten Seaweed" was founded by two lovely girls, called Angelita and Tamara, who I was meeting at the festival. Both very nice and positive girls who are passionate about their products. Even the mom of Tamara was there, who is kind of an inspiration for them. She was the one who paved the way to their business and the way of harvesting as well as processing sea weed. They have already won a lot of prizes and customers although it's just about three years ago that they founded their business. I am sure the reason lays in their passion but also the whole concept of connecting traditions with a healthy product and the area of the Lofoten. I definitely enjoyed meeting them and I am already creating some recipes with their products. (more info: www.lofotenseaweed.no).
After that I noticed several people on the fair carrying a bag from "mimi" and of course I had to find out which kind of manufacturer is behind that name. So I have meet the relatives of "mimi", which means "Granny" in norwegian. And granny was the one, who invented certain types of mustard and graved sauces for fish about 1950. Back then she was already selling her products following her own secret recipe. Nowadays the products are still made with the same recipe and also the brand name reminds of her. I tried a few of their sauces with smoked salmon and I just loved it! (more info: Mimi Sennepssaus www.arcticmustard.no)

I finished my visit of the food festival with the stall of Lofoten Gardsysteri who are producing cheese on their goat farm. I have meet Hugo and Meg and we were talking about their different sorts of cheese as well as the process of cheese making. Newest innovation: Haloumni! I loved listening to them and trying their products – I loved the young cheese with an age of 3 months the most – very mild! (more info: www.lofoten-gardsysteri.no).
So packed with loads of tasty stuff I made my way back to Spencer and was happy to meet all those passionate manufacturers in person. That's what is so great about my current lifestyle! Thanks to you all.