After visiting the Normandy and Brittany I made my way further to the south of France. I checked out the map for some culinary highlights and most of the town names spoke for themselves – Cognac, Bordeaux etc… it was time to discover them!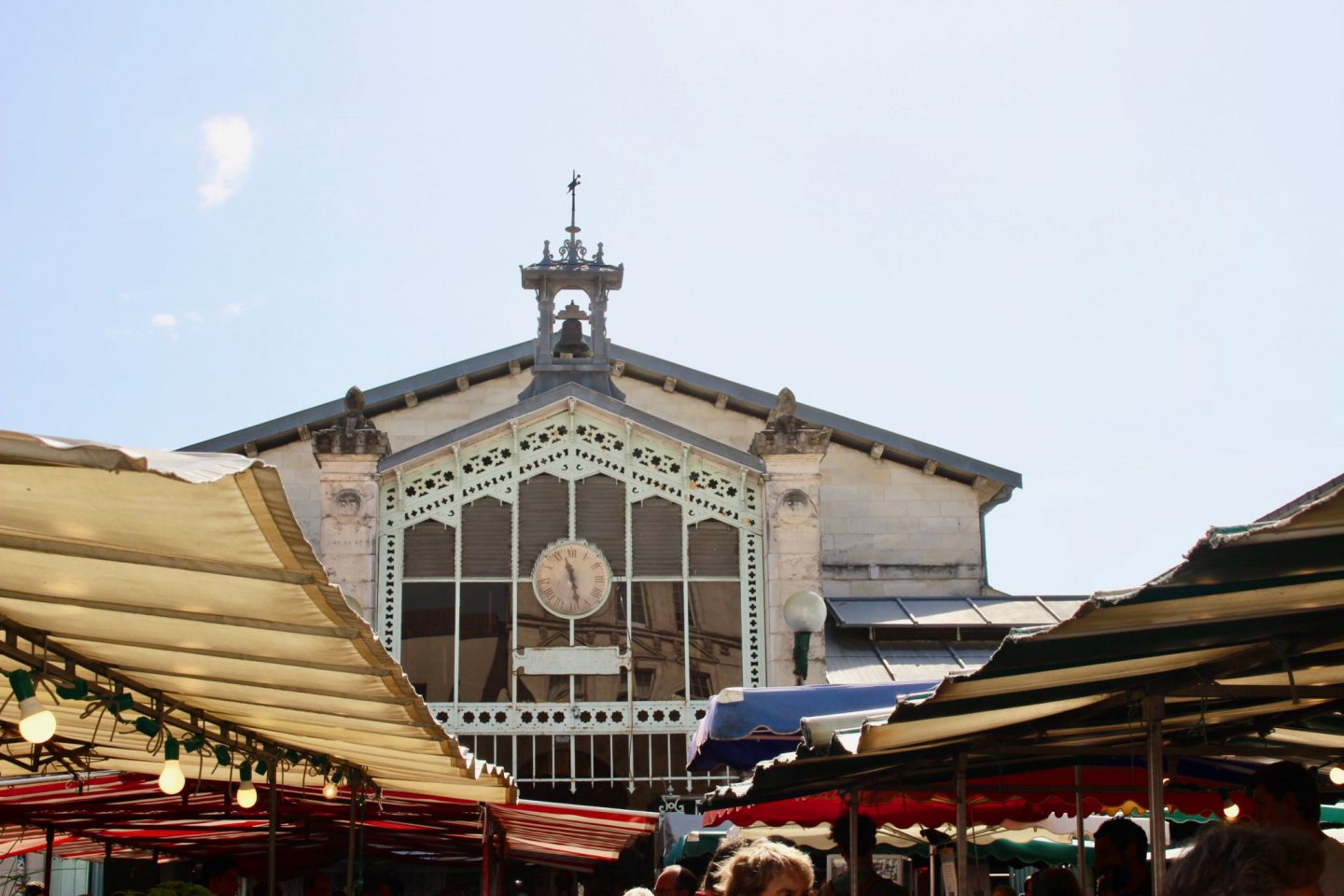 La Rochelle is a beautiful town at the sea right after entering Nouvelle-Aquitaine in the north. It has a beautiful harbor with some old gates and the old town is even more pretty. Many narrow streets with charming building kea out the character of La Rochelle. I have visited the town on a Saturday as there is a bigger market in front of the market hall taking place every week. I love the atmosphere of a vibrating town in the morning hours when everyone is strolling through the market, buying fresh food for the weekend and meeting friends, chatting with the producers and asking them for advice. The market of La Rochelle was all of that and more. I loved the building itself with a small clock tower as well as old facades. The stalls inside were mainly selling meat, cheese, fish and other food that need to be cooled. Vegetables and fruits were sold outside on many different stalls spread around the market hall. Although it was packed I enjoyed the atmosphere. It's definitely worth a visit and don't forget your empty basket to buy some fabulous food of the region.
My next stop was the countryside of Cognac which is just about one hour drive from La Rochelle. To be honest – I never tried Cognac before or even spent a thought about that beverage. But when I entered that area it got quite clear that Cognac is also made of grapes like all the great wines from that region – I didn't know that! I made an appointment at a Cognac Distillery "Raison Personnelle" in Angeac-Champagne (https://raisonpersonnelle.wixsite.com) to learn more about it. I've meet Sabine who explained me patiently everything I need to know about Cognac. She showed me around their Disitillery and started with the fields full grapes. Only white grapes are allowed for the production of Cognac and just six certain sort of grapes are permitted. The three most popular and processed ones are: Colombard, Folle blanche and Ugni blanc. Cognac is just allowed to be distilled in a certain area between the department Charente and Charente-Martitime. It measures about one million hectares. The wine Cognac is made of (called eaux-de-vie) must be matured in oak casks for two years minimum and it has to contain an alcohol level of at least 40%. All these restrictions enable the brandy to be called Cognac. Therefore it owns the AOP and AOC certificate (Appellation d'origine protégée / Appellation d'origine controlee).
The production of Cognac is simply said the distillation of white wine in two steps. Of course it has to follow certain restrictions as partly mentioned before and requires a lot of knowledge and experience. The taste and quality differs every year and is also dependent of the time of maturation etc.
After the tour Sabine poured me four different Cognacs to try. Already the first one blew me off as it was surprisingly tasty! It wasn't of an aggressive taste at all. It had a fantastic smell and tasted of chocolate, vanilla and had some peppery notes as well. It left a warm feeling from the mouth to the stomach which wasn't burning at all. I enjoyed it a lot! When I asked her for food-drink combinations she recommended having Cognac with chocolate and dessert. But it's also suitable to use in sauces or in stews. Therefore I just have to make sure to use the right quality of Cognac. There do exist three different qualities – VS (Very Special) declares the youngest Cognac which is between 2 and 5 years old, VSOP/VO cognac has an age of at least 4 years (up to 12 years) and XO cognac at least 6 years but mostly 20-40 years. The older it is the better the taste and the higher the quality. Thats why VS cognac is mainly used for cooking, VSOP for mixed drinks and XO to enjoy as a pure drink.
I enjoyed the afternoon with Sabine a lot und recommend a tasting of Cognac to everyone who hasn't tried it yet!
The following day leaded me to Bordeaux, which is probably the most famous area for wine in France. There I visited the "Cite du Vin" which is a very modern and impressive building containing the whole world of wine to explore. It's very interactive and uses modern techniques to describe everything about wine. There is a permanent exhibition with everything there is to know about wine in general. It explains the different regions, grapes, it's history and origin. Furthermore there is an area describing the different colours, flavors and characters a wine might contain. There were also different movie areas with different topics – like wine and senses, the culture of wine in France or the history of wine. It's also possible to "meet" different vineyards or to discover the process of fermentation. Everything was highly interactive and animated. It's easy to spend 3-5 hours in there without getting bored.
Next to the permanent exhibition exists a terminated exhibition which was displaying wine in Argentine right now. In the basement is the so called wine cellar which is a quite impressive room storing wine bottles up to the ceiling from every country producing wine in the world. There is also a wine bar at the 8th floor and a restaurant at the 12th floor.
The "Cite du Vin" also offers daily workshops and tastings both in English and French. Of course I had to take part in one of them. I was joining the "Bordeaux workshop" which was obviously about the region of Bordeaux, it's different areas and the related grapes and types of wine. In the end we tasted three different wines (white, rosé and red) which had either a historical meaning or are of high popularity. All in all it was quite interesting but I would have expected it to be a bit more lively and of a higher input. But I assume that's almost impossible within one hour.
However, the city of wine is definitely worth a visit and even enjoyable for kids. Bring a bit of time so you don't have to rush through it.
All in all I've spent three fabulous days in Nouvelle-Aquitaine and learned a lot about their local products. Positive side effect that most of them contained alcohol, which made it much more funny and interesting 🙂