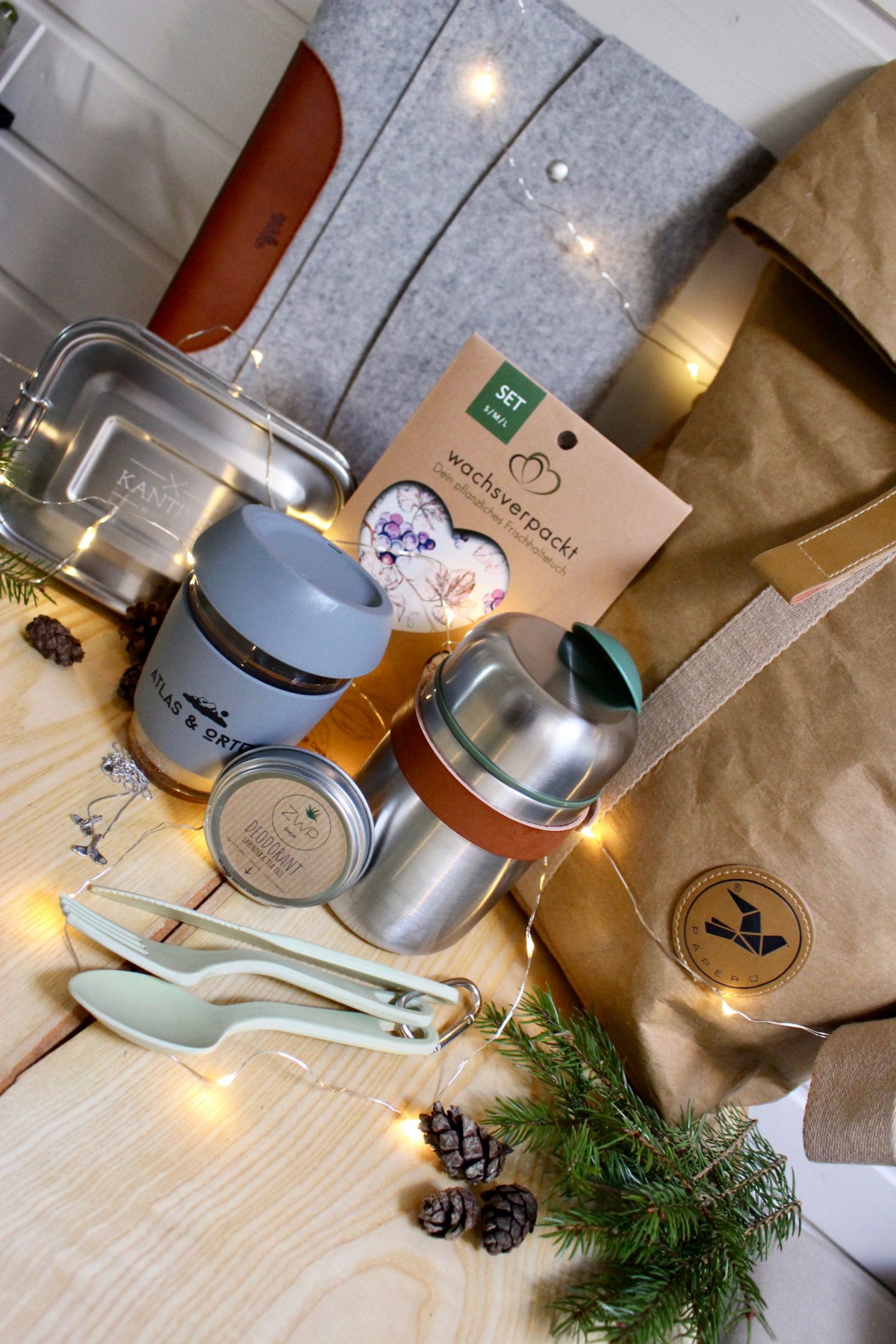 Last year I had the resolution to focus more on sustainable Christmas gifts in order to convince friends and family of a sustainable lifestyle. There are already so many products existing, which makes it easy to live in a more environmentally friendly way and to make the world a little better. Turned out my gifts were a huge success and it also felt much better spending money in a "good" way without supporting all the craziness of mass-consumption.
This year I want to share those sustainable Christmas ideas with you and encourage a more conscious lifestyle in a larger scale. I want to show alternatives and give some inspiration for gift ideas which combine a environmentally friendly and ethnical correct origin with design and usefulness.
Therefore I made a lot of research and contacted brands around vanlife, traveling and lifestyle which are focussing on the same values as I do. I gathered a wide range of products on the one hand to prove that there are sustainable alternatives for almost everything and on the other hand to give a colorful choice for Christmas presents. None of these products lacks in quality or design either! They are even more unique, all handmade and have a story to tell. Of course (!) all of those cooperations are unpaid as I simply want to make the world a little better. Think about the gifts you make this year and replace one or the other with a sustainable one. You will support small companies who are paying attention to a sustainable and fair production and spread an environmentally awareness amongst your friends and family. Especially on Christmas, where it is about gratitude, appreciation and friends&family.
So let's start with those amazing products, which all could be laying under your Christmas tree. I will share more information within the next days and some discount codes as well!
Cases and Accessories from Pack & Smooch
Nowadays everyone has so many electrical devices which aren't just multifunctional and high-tech but also very sensitive. Who wasn't bothered by a broken screen yet? But there aren't many pretty cases existing to protect your phone or laptop. Especially not sustainable ones. So I was happy to find Pack&Smooch and Matthias, who introduced me to their philosophy and products!
Pack & Smooch was founded about 9 years ago in Hamburg in the north of Germany. Clemens Burkert and his brother are designing and manufacturing cases for your MacBook, IPhone, iPad and Accessoires like etuis, cable bags and much more. They pay high attention to exclusive materials and a high quality. Therefore they established an individual material containing wool and filt which isn't just the perfect protection for your device but also feels soft and looks nice. The leather comes from Europe and well selected farms, which is also tanned on a vegetable-base.
All their products are handmade and act as a "second skin" for the electrical devices. Through the high quality and the best workmanship they gain long lasting products with high functionality.
The production is in Hamburg but they are already exporting their products to many countries in the world.
Lunch Boxes from Black&Blum
Sometimes it's so simple to live in a more sustainable way! Lunchboxes are perfect proof for that. They are replacing the use of plastic boxes, which aren't just environmentally unfriendly but also unhealthy! The also make aluminium foil or cling foil obsolet!
Black&Blum put their hearts and souls into every product they make. It was founded in 1998 in London. Their aim is to become design leaders and innovators in that product sector with the steady focus on customers needs. They pay high attention to details and a focus on sustainability. They design original products that inspire a sense of well-being as well. Of course their products characterize by their re-usability and sustainability and are ensuring that they have a long life using eco-friendly materials where possible. And just by the look at their products I can only agree that they created products which are meeting their mission in every point! Thanks to Dan for supporting my mission!
Cuttlery and Pottery made of Bamboo from the Saltwater Shop
As the name reveals the Saltwater Shop is inspired by the sea and is also connecting that with the passion for traveling as well as boardsports. They pay high attention to local products with an individual and stylish design and focus on authentic, sustainable and small brands. The team is highly involved in the products and their quality as they are enthusiastic travelers and into board sports as well. They also pay high attention on a good service. Their shops hosts brand slike "Hydrophil" (Tootbrushes made of bamboo etc.), Passenger (Hoodies and other cloths) or Zuperzozial (Cuttlery and pottery made of bamboo). Also this gift-set is from Zuperzozial and made of a mixture between bamboo and corn! It's dishwasher safe and long lasting. And it comes in different colours! Thanks to Jana for the great collaboration.
Papero Bags – washable bags made of paper
"It's time for a green rebellion" – that's what Julia and Tim had in mind when they designed their product. They wanted to forego animally produced goods and focus on a minimalistc and sustainable lifestyle.
They wanted to create a product which isn't just attractive but vegan and made of robust and renewable raw materials. The solution: bags made of washable paper!
But it isn't just that – they also support a charitable company with each product they sell. It's called "Primaklima" and fights for the reforestation in the world.
But more about their products: They are all made of recycled paper, which is produced by a company following sustainable values. They are free of any chemicals and any artificial covering. That makes their products recyclable, environmentally friendly and health compatible.
I was simply overwhelmed by their concept! What a great idea and what a fantastic product! Thats definitely a unique Christmas gift which tells a (sustainable) story 🙂 Thanks to Julia for sharing this idea with us.
Handmade natural granola by Rolla Granola
I, as a foodie, always love to get gifts around around and about food. And I love to try out new products! So whats about granola from Rolla Granola? It's a brand from the UK which focusses on healthy eating, a nutritious outlook and healthy ingredients. It contains loads of nuts, seeds and fruits providing fibre and natural oils. They offer a great range of healthy granolas, which are either vegan, or with no/low sugar. Besides that they offer healthy snacks for when you are on the go. It's all about healthy food which is as close to nature as possible. They also use fully compostable bags to stock their granola to avoid any plastics. So this granola is just brilliant from the in- AND outside. Thanks to the team of Rolla Granola for working again with me.
Wide product range from jewelry to travel goodies from the Oceantale Shop
The Oceantale Shop was found by two girls who are travelers by heart. They have seen a lot from the world and realized that there is so much going wrong with all the pollution and waste. So they founded the shop in order to reduce plastic and improve our environment especially in the oceans. Their products support local projects and organizations which take care about the wellbeing of the oceans. Most of the products are designed and manufactured by themselves. Besides that they host brands like Lamazuna, Hydrophil and Me Luna. They spend 10% of their earnings for organizations like "One Earth", who are cleaning the oceans. What do you think about the necklace? It's combining a great design with the symbolism for a sustainable attitude. It's a perfect match and definitely an individual piece to wear. Besides that they are offering products for traveling like the metal straws and cutlery. They are handy and sustainable as well! Thanks to Janna and the team for your effort.
Beewax-Wrappingpaper by Wachsverpackt
Wachsverpackt is a young brand which offers beeswax-products to minimize the overall waste. Their beeswax wrapping paper replaces environmentally unfriendly cling or aluminium foil. It covers your bowls or any food with keeping it fresh and delicious. They also work as as wrapping for your sandwich or other food to go. And they are re-usable for many many times!
The clear mission of Wachsverpackt is to reduce plastic as it takes many years to degrade it and as it pollutes our oceans intensively and kills many animals living in these. They are also aware of the fact that plastic desintegrates into micro plastic which is very dangerous for every living being on earth. Besides that plastic contains chemical substances which easily transfer to our food (by using cling foil etc.) and therefore in our bodies.
So there are many reasons to avoid any plastic packaging and to use beeswax-wraps instead! Naturally produced and without any plastic.
I just can't remember when I used aluminium or cling foil the last time! Beeswax paper is just so handy and fulfills all the necessary criteria. Something everyone should use! Small effort but big impact! Thanks to Katharina for joining!
Set of a lunchbox and water bottle from Kantine51 Grad
It takes about 500 years until plastic packaging is degraded although it isn't disappearing. It is just turning into micro pieces of plastic which are still part of our ecosystem. Therefore it is important to reduce plastic when- and wherever you can! Kantine51 Grad developed sustainable food boxes and drinking bottles which replace cling foil, plastic bottles and other food packaging. Their products made of high quality steel are long (even ever-) lasting and especially made for the food section. They aren't containing any toxic substances at all, are easy to clean and stay neutral regarding taste and smell. They also come with a unique design and every sell supports environmental organizations.
This is a great set to give away as a gift for every traveler, hiker or everyone else who carries has food on the go! Thanks to Julia for supporting my mission.
A great soap selection from the Zerowastepathshop
The Zerowasteshop is a brand that isn't just zero waste and sustainable in the ingredients and final packaging but along all the production chain. It was founded by a young couple a few years ago and offers products like soap and shampoo bars, lotions, deodorants and balms. They want to be as transparent as possible for the customer. They manufacture all the products, handle the website and emails, select their suppliers and take care of every other aspect by themselves. This is because they prefer to have direct control over all those aspects to make sure that everything is as sustainable as possible. They care about finding the best natural ingredients out there, and in having the most sustainable possible plastic free packaging. They also put great attention into the production phase, ensuring that all of their supplies and production processes respect their values, and every little choice up to the smallest detail is taken with a view of having the greatest possible sustainability in the final product.
They newly invented a 2 in 1 soap bar which works as a shampoo and body soap at the same time! This is really handy for any traveler or van lifer but also for everyone else, as it reduces the amount of soap bars in your shower, which could become quite dangerous sometimes. The smell is just incredible and I have been very happy about the results after using it several times. Good job! Thanks to Bianca for your support!
Atlas and Ortus – Set of drinking bottle and coffee mug
Atlas & Ortus was founded in 2018 by the sisters Evie Calder and Francesca Watson. They took up the responsibility against nature and wanted to share that attitude with their customers. "We could all be doing more to help reduce the use of single-use plastic in particular. We hope that Atlas & Ortus will help build a more sustainable, conscious and caring culture that puts the needs of future generations first – and one where eco-friendly and ethically sourced products are the norm." A statement that says everything. Being aware that it isn't easy to live in a "green way" at all they want to make it a bit easier.
Their products aim to help to cut down and cut out the unnecessary plastics in our life – and do good at the same time with every purchase.
And some things are just meant to go together – like the reusable glass coffee cups and isothermal bottles – perfect for keeping you hydrated throughout the day, whatever you're drinking. Available in multiple colours. Thanks to Evie for joining my mission.
I want to thank each single brand for supporting a sustainable Christmas and for the trust again! It was such a pleasure working together for you on a concept to make a sustainable lifestyle much easier!
I hope I encouraged you guys spending some thoughts and money for sustainable Christmas presents by presenting ten companies and ten different gift ideas supporting all the same values. Lets make this world a better place all together!