Or about getting lost at a beautiful place on a plateau surrounded by the Pyrenees.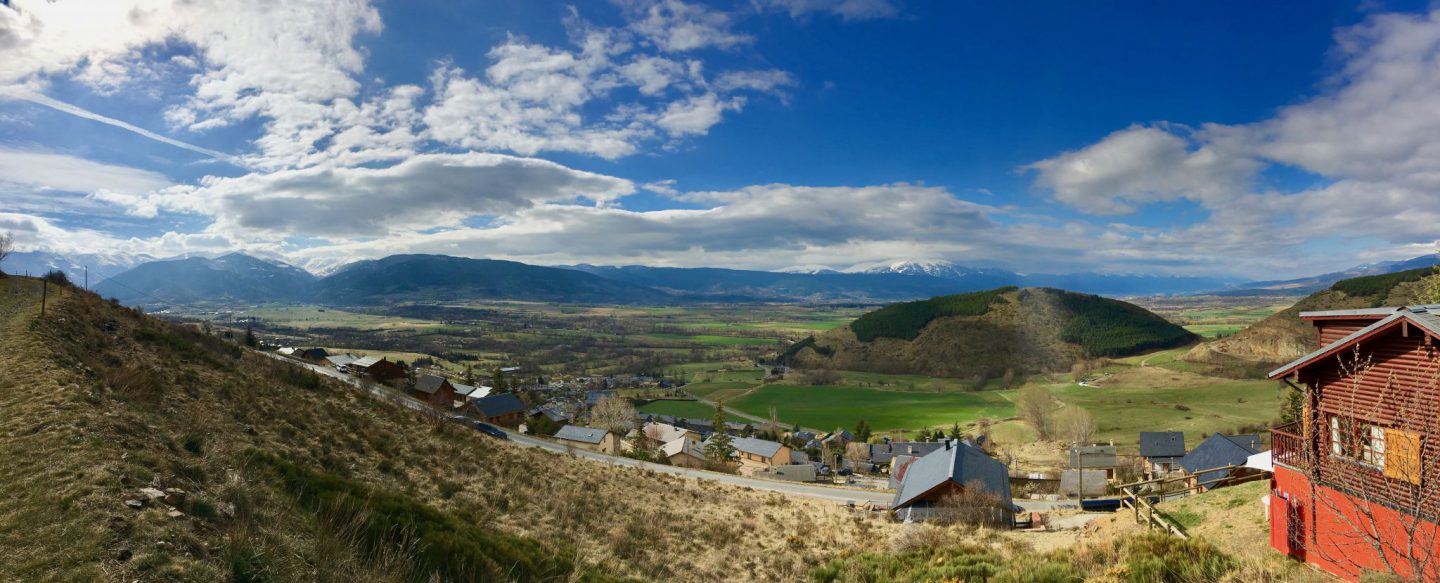 After traveling for 2 weeks in my van the feeling caught me that everything is passing way too fast and that I haven't arrived in that new part of my life yet. That made me thinking about a way to decelerate and to make it easier for myself to settle in that new chapter. So I came to the conclusion that I probably have to spend more than just one or two nights at the same place.
I knew that I wanted to spend as much time as possible on farms and with local producers to gain experience in that business for future plans. So I started my research and pretty soon I clicked through several WOOFING offers in France. Woofing connects people who want to live and learn on organic farms and smallholdings with people who want to share their lifestyles, teach new skills and welcome volunteer help (www.wwoofinternational.org). That was pretty much the perfect concept for me. Soon appeared an organic dairy farm in the south of France and I was immediately on fire as they don't just have cows and sheeps but goats and donkeys! Lucky me Guillaume (the host) was happy with my spontaneous application and to be with him in just three days.
The day I arrived was sunny but cold. That gave pretty much a perfect glimpse to the following days. It was much colder than usually and heavy clouds were hanging at the sky. Fortunately I have bought some additional jumpers just a few hours before to prepare myself working outside. The wind was freezing but the panorama simply stunning. All those snow covered mountains in every direction but a green plateau in the middle. And in between about 20 donkeys, 180 goats, 30 sheeps, 20 cows and 3 pigs (of course a few cats and dogs, too). Guillaume showed me around immediately after I arrived and the initial uneasiness (which is normal between people who don't know each other at all) was blown away within minutes. He showed me around and gave me a feeling about the dimension of such a farm and it's complexity. Soon we talked about how faith brought us together and what each of us two did before. It was pretty much the same story as we both worked hard in big companies for years and suddenly realized that this isn't "it". So Guillaume founded a sub business on the farm of his parents about 10 years ago and bought 8 donkeys for a start. Today he is taking care about much more of those and 30 sheeps as well as the cows. He also supports his father with the goats. That means feeding, milking, cleaning etc. Unfortunately the cheese-making season hasn't started yet so I couldn't assist with that but instead of that we made some very delicious yoghurt! Damn I loved it! It's made of sheep milk and follows a very strict process of heating up and cooling down with certain bacterias. There wasn't a day I didn't eat that yoghurt! So light and creamy that I couldn't resist 🙂
I stayed for 4 days and learned aspects (I underline the word "apsects" as its just a little piece of the whole business) of milking, feeding, breeding and taking care about the animals at an organic farm where the animal itself is playing the major role. I was allowed to feed the little ones with milk and even to milk the donkeys (wasn't that good – too scary to hurt them :)). We also wormed all the goats and therefor each of them had to be caught by it's horns (Thrilling!) and built a fence by hand which is a really tough job! I was also part of new baby goats being born and unfortunately of a lamb to die. That gave a complete picture about the daily highs and lows on a farm!
What I loved the most (but almost equally as all the other topics) was spending time with the family at the dining table. We've spent almost every lunch and dinner time together so that I not just got an impression of the French cuisine (interesting!) but the French open- and friendliness! Although Guillaumes parents almost didn't speak a word in English or German they were very eager to have a conversation with me. That often ended up in strange noises and wild gestures with hands and feet! But it was so much fun! Every time was stuffed with laughter and joy. We had a really good time. One evening we tried German wine and my home made pesto I've brought with me and I was totally scared that I will dismissed the French taste! But fortunately everyone liked it and I was really relieved. To be honest it felt strange to be a part of a family (from 0 to 100) and share their very personal daily life without any restriction, to eat with them and spend time in their house! I definitely wanted to give something back and show my gratitude.
Although I've only been there for 4 days and nights I felt a strong connection to the family. It all felt so normal and comfortable! That's why it wasn't easy to leave them and I tried to sooth myself with the thought of coming back. When Spencer and myself were leaving the farm I had tears in my eyes. Tears of a certain thankfulness that I was allowed to be part of a great family in a great business in a fantastic landscape with animals that are valued and living an appropriate life!
All in all I am totally happy that I made that decision! It was the first time of woofing for me and it definitely won't be the last time. And I learned another lecture – it's worth to leave the comfort zone and be open minded for other cultures and different people. If Guillaume and his family wouldn't have been that positive about woofing I wouldn't have meet so many lovely people! Thank you!