[:en]
An absolutely delicious pesto straight from the fields brings a bright colour, loads of flavour and a unique freshness to your pasta. A great vegetarian and light dish in the early summer days for a low budget.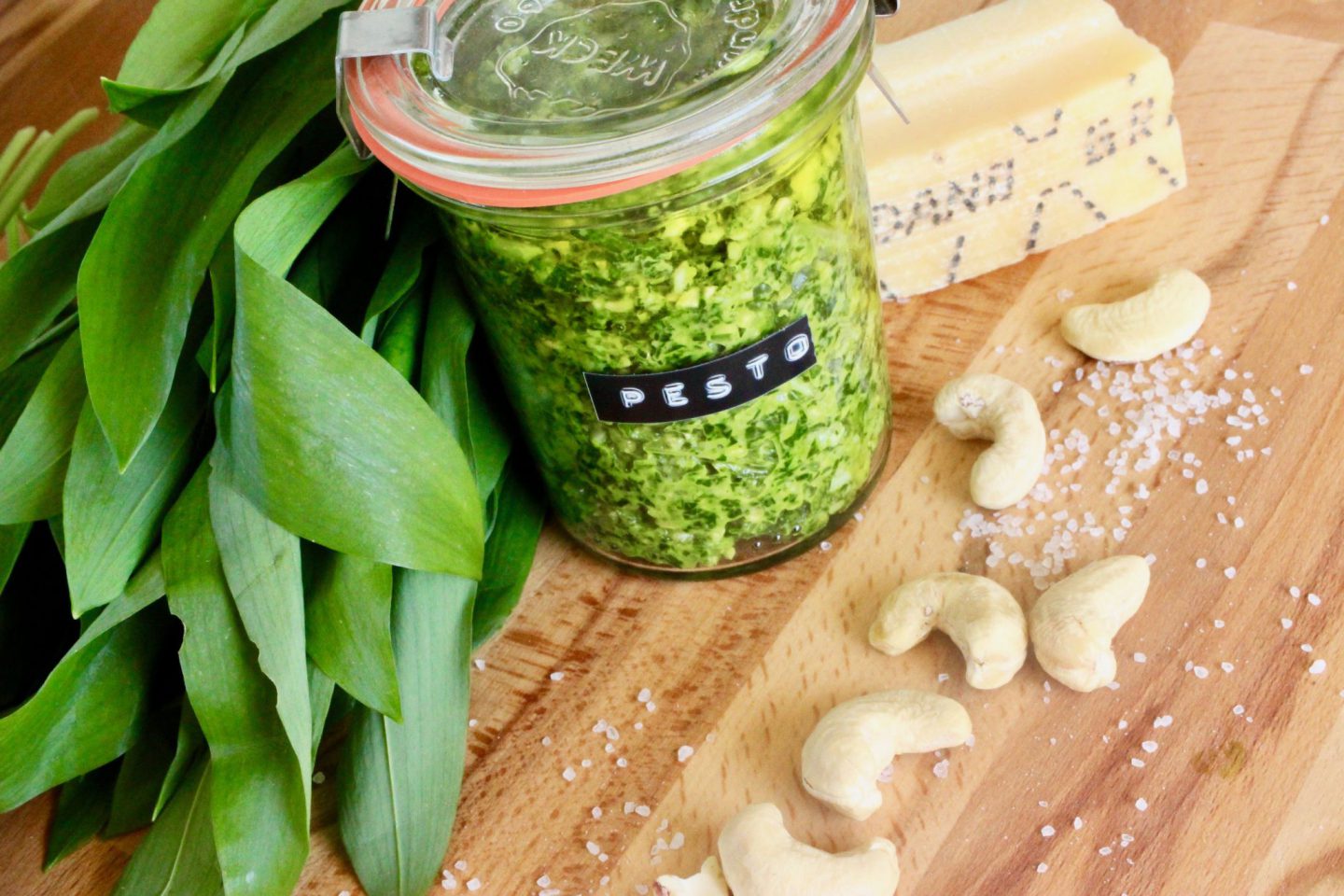 Shopping List
One handful (about 100 grams) of fresh wild garlic straight from the field (2C)
100 ml mild olive oil (1C)
75 g Cashews (3/4 C)
50 g Parmesan (1 C)
1 TS Salt
Pepper
300g Pasta (I prefer Bavette or Spaghetti)
Options: fresh tomatoes, parmesan on top
Steps
First the pesto needs to be prepared so that it's flavour has time to maximize. Therefore the cashews needs to be chopped into smaller pieces. Feel free to use a processor, a mortar or a slicer. Even a sharp knife with a long blade is fine.
Add the wild garlic and chop it until it has a creamy but still chunky consistency.
Rub the parmesan separately and add it together with salt and pepper to the herb texture. Mix it carefully and add the olive oil slowly until the different ingredient start to become a homogenous pesto. Make sure that the pesto is always covered with oil – Especially if you want to storage it for another time and want to put it in a jar. It can be used for 2 weeks.
Boil 1 liter of water in a wide pot and cook the pasta following the instructions.
Drain the pasta until almost the whole water is out of the pot. Leave a bit of boiling water inside and add the pesto. Mix the pasta and the pesto properly. The remaining starch of the boiling water will thicken your sauce and make the pesto even more creamy.
Put it on the plates and add some freshly rubbed parmesan and chopped tomatoes on top.
Enjoy!
Info Box
Wild garlic grows in spring and has this very individual smell and a white blossom. It's easy to identify with it's long and very green leaves which grow to heights of between 45 and 50 cm. There are several strings within the leaves. Wild garlic is formed by a single leaf base. Leaves and flowers are edible.
[:]