My way up to the north of Europe brought me to Munich. Of course I had to stop over for some culinary highlights.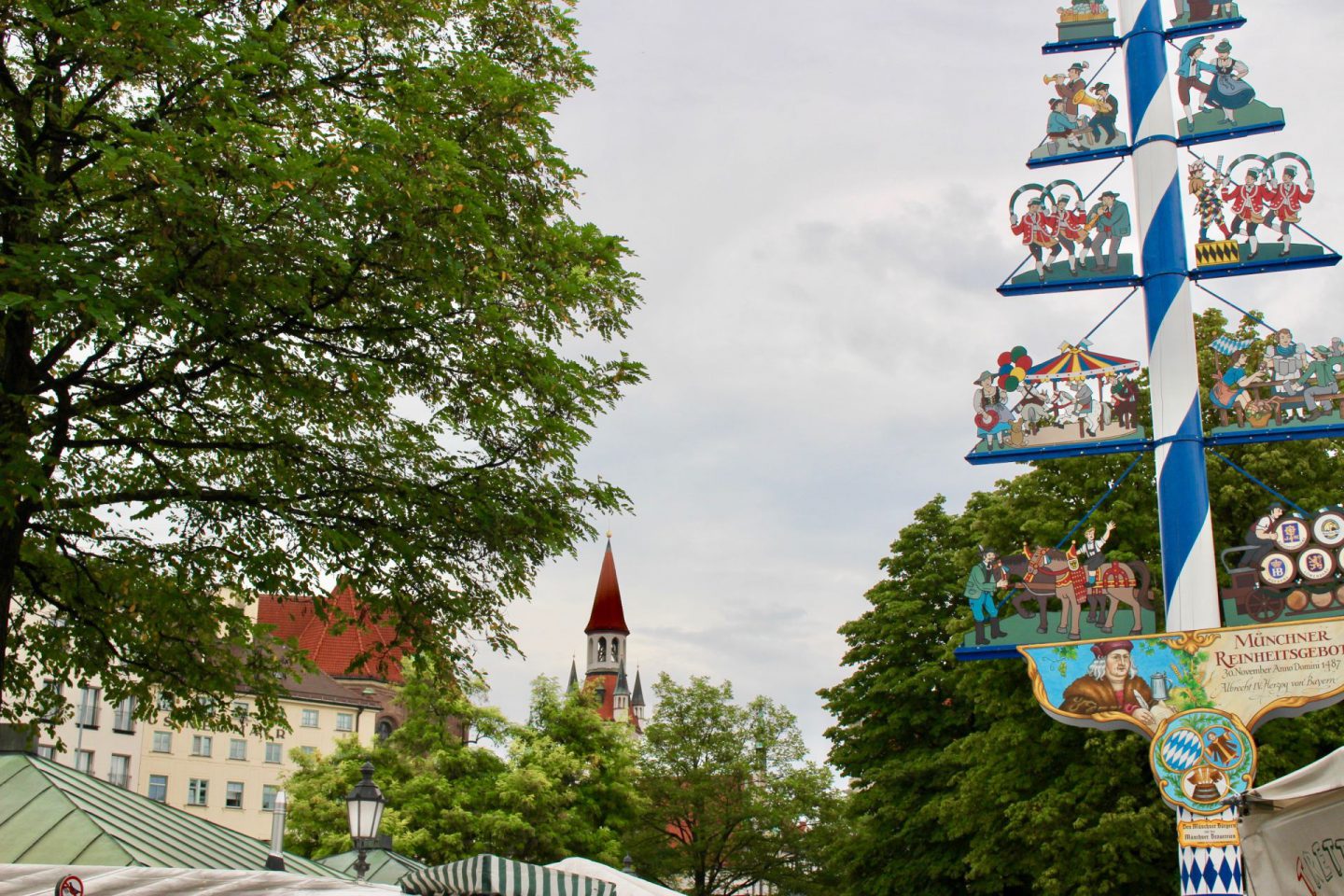 I've been to Munich a few times before and because of that I was pretty relaxed strolling through town just hunting for food. There wasn't any need to discover sights or historical stuff. So I started my day with a typical Bavarian breakfast consisting of a specific white boiled sausage with sweet mustard and a "Brezn". Of course I had to drink a beer along with it so that my day started very relaxed. I enjoyed the atmosphere in a big brewing house (Hofbräuhaus – Platzl 9, 80331 München) and listened to live traditional music.
After that it just took a few minutes to enter the famous "Viktualienmarkt" which is taking place since 1807. It started as a smaller farmers market and developed into a big market place with roofed market stalls with loads of specialities, fruits & vegetables, meat, fish, bread and snacks. It measures 22.000 qm today.
The citycenter lays right next to it. If you fancy a great view over Munich and the market place as well I recommend to climb up the clock tower of the Peters church (Rindermarkt 1, 80331 Munich) . It's just around the corner of the market. After that there are many stores to discover – for example the "Dallmayr"-headquarter (https://www.dallmayr.com/de/). It's one of the most popular coffee producers in Germany and is a family business since 300 years. It's a great place to discover and taste coffee and other delicatesses.
Also the "Käfer-store" (https://www.feinkost-kaefer.de/feinkostladen) is quite an institution. It's a shop full of specialities – they offer about 300 sorts of cheese, 800 different wines and 69 different kinds of mineral water! It's nice to have a look around.
So after doing some shopping and sightseeing it's time for a good cup of coffee. I visited "Café Bla" (Lilienstraße 34, 81669 München) with a lovely Scandinavian design and a great knowledge of coffee. Just around the corner the river Isar is flowing through town. It's great to have a walk along and to enjoy the atmosphere. People are meeting for a picnic or just for some glasses of wine. So I enjoyed the sun and breathed in the urban but relaxed atmosphere.
After that I wanted to check out "Wagners Juicery and health Food" (Frauenhofer Straße 43, Munich) and had a great pasta salad with loads of vegetables. They play funky music and all the hipster people are going there. Nice to observe people and enjoy healthy food.
At the end of the day I had an appointment I was really looking forward to. I was supposed to meet Franz who is one of four people managing "Tilmans Biere" (www.tilmansbiere.de) who are brewing beer since more then 5 years now. So I meet him in a very authentic and relaxed bar called "Frisches Bier" (Thalkirchner Str. 53, 80337 München) where their beer is offered. They have nine different sorts of beer starting with a traditional wheat beer and ending with different ales. Franz explained general facts about beer and described their specific philosophy. It's about creating beer in other ways then normal (at least normal for the common people) and trying out different methods of brewing or different sorts of hops. It's about making old sorts of beer or beer which is quite normal in other countries fashionable. To open the peoples mind for new kind of beers which are definitely competitive. During the whole evening I've tried five different sorts of beer and I liked them all! It wasn't just the taste but also the design. Each sort of beer is designed of a different designer and tells an own story. It's simply an interesting philosophy and I was glad meeting Franz. Later that evening I joined Frederike (another team member) in another bar called "Geyerwally" (Geyerstraße 17, Munich) which is a very old but authentic bar found in 1957. It was a very relaxed evening and once again I was thankful for my current lifestyle because it makes me meeting so many fascinating people who are standing behind their own business with passion and love. Thanks to you guys for your time – I enjoyed it a lot!