After traveling through the Normandy it was quite obvious to visit the Brittany as well. So I made a few culinary stops in that area as well and made out a little culinary route for you.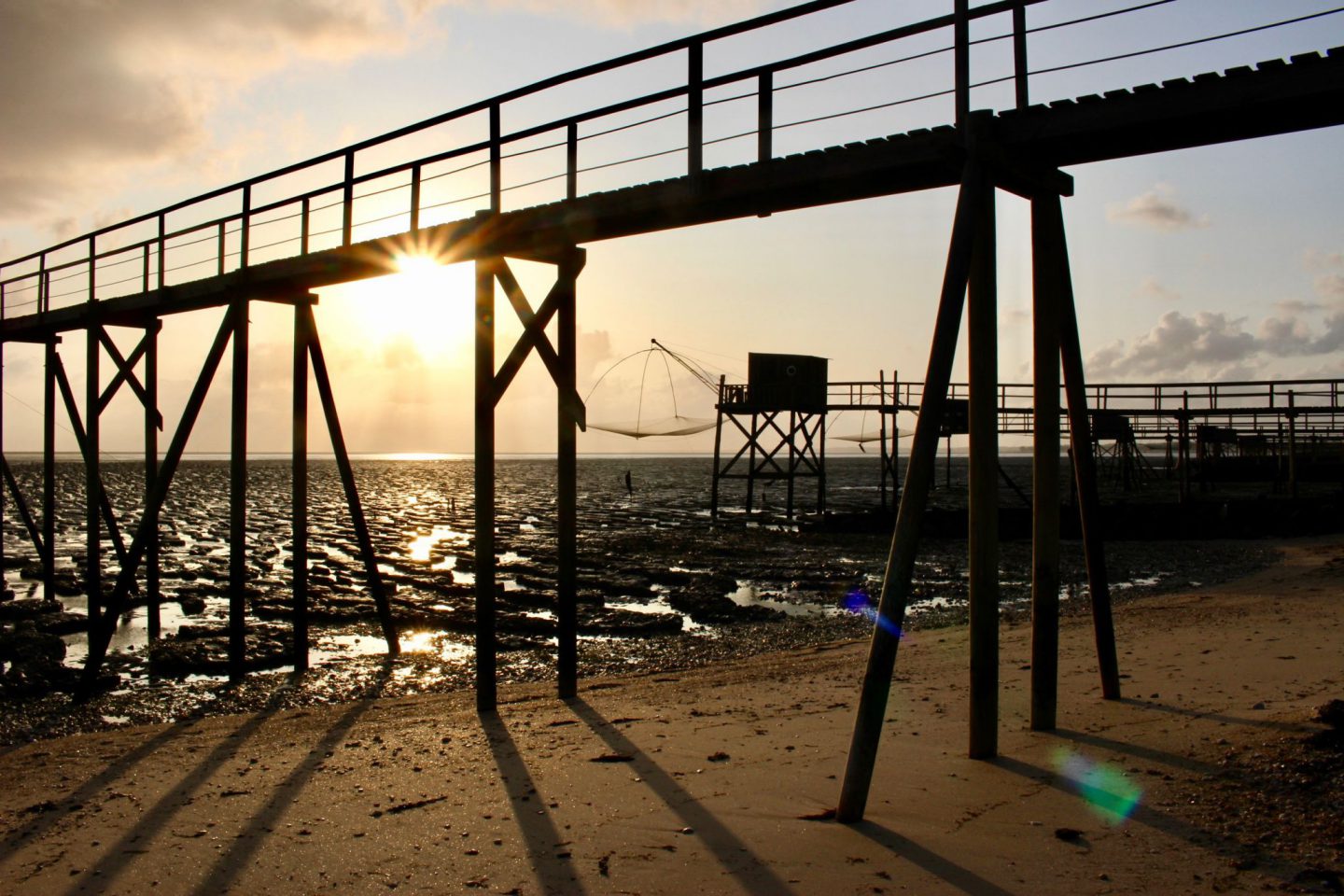 After spending two weeks in the Brittany I can definitely say that everything is about the sea… it's not just the people living with the tide, it's also the cuisine and the culinary highlights who are focusing on that. Everywhere you spend time along the coast you will see people fishing, digging for mussels or catching shrimps. Every region and every zone of the coast have their own delicatessen. Either try it by yourself or visit one of many local markets or shops selling the seafood right after fishing it. The most comfortable way is visiting a restaurant though… However – you have to try the taste of the Brittany in any case! I even joined an experience via Airbnb for some oyster-fishing.
Therefore I meet Tchikala in La Bernerie-en-Retz to learn all about oysters! After meeting all the other attendees we walked our way along the coast which was now abandoned by the water through low tide. We had to slalom around many people who were already digging for mussels or even searching for oysters. Tchikala explained everything we need to know to identify suitable oysters and showed us how to collect them. He described the different types of oysters and explained that every oyster could host a pearl which isn't that valuable if you are searching for edible ones. Oyters can be "rolling" which means that they aren't attached to the ground, other gather in an oyster reef and are attached to a rock. Those were also the ones we were looking for and to be fair it wasn't that easy to identify them as they looked like the rock they were attached on. So we have spent one hour, heads down, observing the surface and collecting an oyster from now and then. It was really interesting to sharpen the eye for something you've never noticed before. Oysters are growing at least for one year before they can be eaten. They are just opening themselves in a short period of time per day orientating on the moon and the sun. The taste differs from the area the oyster has been picked up, as well as it's age and sort.
After everyone of us had a basket full of oysters we washed them, searched for a nice place to sit together and started opening the valves. It wasn't that easy but Tchikala showed us how to proceed with a tiny knife and some skills. So a few minutes later we enjoyed our own harvested oyster with a bid of wine, bread and a squeeze of lemon. That was absolutely a nice experience I definitely recommend to you!
Traveling along the coast also makes you notice salt fields. I've visited the one of Guerande and joined a guided tour as well. The salt fields of Guerande are located at an area of 1700 qm and are cultivated by 300 farmers. Each farmer has one or more salines and harvests many tons of salt per year. In fact those farmers do just collect salt on 33 days in average per year as it depends on the weather and the quality the salines were prepared. During Autumn, Winter and spring the farmers are working towards the summer to be ready for the harvest by building the different lakes within the salines by using the clay. The area is predestined for salines as the soil contains a lot of clay which isn't just handy for building them but also prevents the water to seep through the ground. They are building several little lakes in different levels so that the water inside them becomes less and less with an increasing percentage of salt. That means that in the beginning sea water (with a concentration of 30g salt per liter) is leaded into the "deepest" lake with a depth of 5cm. That water will be left in there for a bit of time so that the sun and the dry wind is minimizing the proportion of water. Now the water is lead into the next basin, where it remains for a bit of time again. Following that procedure for several times the water reaches the center of the saline – the "eye". There the remaining water contains 300g of salt per liter which is 10th the amount as before. It's the area where the concentration of salt is the highest and where the actual harvest is taking place. Therefore they are using very specific tooling which exists since many hundred of years. The craft of a salt farmer is a very challenging and difficult one. There even exists a school to learn that craft, which takes 3 years of learning and even longer of practicing.
The "Eye" contains salt on the ground, which is mixed with minerals and sediments. This is called "coarse salt" and is very healthy. A farmer can collect up to 50kg per day and eye of coarse salt.
There is also salt on the surface of the water – so called "Fleur de Sel" – this is even more difficult to harvest and takes a known farmer. One eye might contain up to 3kg of "Fleur de Sel" per day. The whole area of Guerande exports 12.000 tons of salt each year to about 55 different countries. Quite impressing!
Besides the oyster fishing and the salt fields you might also notice many other sea related specialties from that region – scallops, caramel with sea flakes and shrimps. It's also been told that the Brittany is the birthplace of the famous French crepes! Either way its definitely worth a visit! So make a note on your bucket list and follow your taste 🙂