When I planned my culinary journey I simply had to consider italy. It's one of the best-known countries in Europe who stand for really good food and lots of specialties. So I have spend almost 3 weeks in the middle and north of Italy and discovered loads of delicious places. Join me!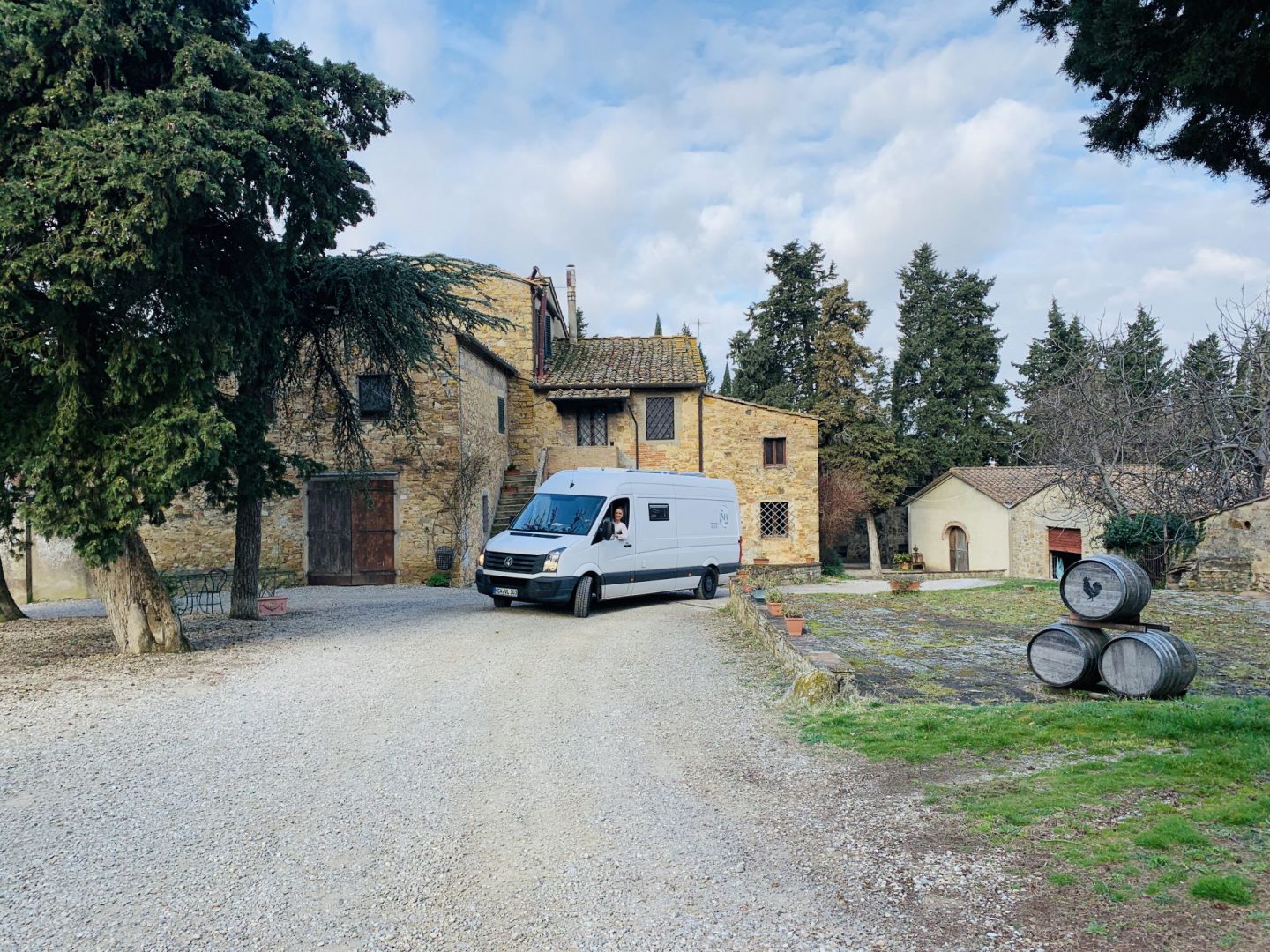 I arrived in Brindisi by ferry and enjoyed the day at the coast on my way to Bari. Along the coastal roads are so many beautiful little towns with a really nice atmosphere which made me feel warmly welcomed. At the end of my first day I stopped at an olive farm, which offers places for campers who have a membership of "Agricamper Italia". I have already been a member of those camper guides in other countries and wanted to test that in Italy as well. The guys from Agricamper are really supportive and I visited three different places. The olive farm was one of them. There I meet Letizia, who showed me around and explained the new and old production machines for olive oil. Already her grandfather was producing oil on the farm. After the tour I enjoyed a great tasting and had a walk through the trees. Really nice place, also to spend the night! (more information at www.agricamper-italia.com)
The next day I made my way to Naples and ate my way through town. I started with a very lively market (Via Pignasecca 14, Napoli) with lots of stalls along the street. In-between fish- and cheesemongers with a great offer. All the locals were doing their grocery shopping there between lots of cats, motorbikers and tourists. Right around the corner is a very delicious pastry shop, which also offers ice cream. It's called Casa Infante (Via Toledo 369, Naples) and there I tried the famous Sfogliatella – a pastry which looks like the tail of a lobster and has a cream filling – delicious! After I walked through town and had a tasty bite at Muu Muuzzarella Lounge (Vico Il Alabardieri 7, Naples), as the region is famous for it's buffalo mozzarella. Loads of dishes with that creamy delicious cheese – so goood!
I continued my way through town, walking through narrow streets and ended up in the only specialty coffee shop of town called Ventimetriquadri (Via Gian Lorenzo Bernini 64, Naples) where I had a nice chat with the owner Vincenzo. He is very passionate about coffee and runs this really cozy place. I enjoyed a hand brewed coffee out of a wine glass – very fancy 🙂
Of course I had to finish the day in Naples with an original Neapolitan pizza at L'Antica Pizzeria da Michele (Via Cesare Sersale 1, Naples), which is the most famous place. But both tourists and locals are going there and the pizza is really great! Even Julia Roberts in "Eat.Pray.Love" ate there!
My culinary tour lead me up north were I spent a few days in Rome with my mom, who also joined the following days. Look up the separate blogpost about all the culinary highlights in the capital of Italy!
Driving north we definitely had to stop in Tuscany and spent the first night in Montepulciano. There we entered a wine bar named Opificio 16 (Via di. S. Donato, Montepulciano) which offers wine menus containing various red wines from the region. Most famous ones are the "Nobiles", which are of an even better quality.
The next day we explored Siena, where we had lunch at Pretto Prosciutteria (Via dei Termini 4, Siena) – a very authentic place processing meat by themselves. Cured ham is hanging from the ceiling and they offer homemade pasta as well. Just great! After that we enjoyed an espresso in a typical bar called Nannini (Via di Citta, Siena) and ate some heavenly delicious pastries as well.
The following day we discovered Florence and visited the local market hall first (Piazza del Mercato Centrale, Via dell'Argento, Florence). It's been the biggest market hall I have ever seen and offered various stalls on two floors. The upper one is hosting loads of nice restaurants and is a great option for a quick bite. After a long walk we entered a really cute cafe called Melaleuca bakery + bistrot (Lungarno delle Grazie 18, Florence) and had a late breakfast as well as a handbrewed coffee. We had a really nice chat with the staff and definitely fell in love with the place! After that we already made our way back to the landscape to visit the second farm of "Agricamper Italy". It's been a vineyard in the middle of the Tuscany in a typical scenery. It looks like all the movies about that area and we were so looking forward to the tour and tasting. There we meet Maria who showed us around and didn't just have a tasting with us but also gave loads of advice about how to identify a high quality wine. We tasted several Chianti Classico and were surprised by all the differences in taste. After all the wine we had a proper nights sleep next to the vineyard and enjoyed a nice sunrise the next morning (more information at www.agricamper-italia.com).
We left early to make our way up north to a farm producing the famous Parmegiano Reggiano named Santa Rita Bio Caseificio Sociale 1964 (Via Pompeano 2294, Serramazzoni). There we had a great little tour and enjoyed a really good tasting with parmesan which aged 12, 24 and 126 (!) months! The farm produces a very special kind of parmegiano, which is made of the milk of the white modenese cow. The cow gives just a little milk in comparison to other breeds but it contains much more flavor and minerals, which makes the cheese even better! What a great experience. There they recommended a local restaurant where the "nonnas" (grandmothers) of the village are making tortellini by hand. Of course we had to go there and enjoyed an authentic Italian menu at Antica Trattoria Dei Cacciatori (Piazza Amelio Tassoni, Pompeano).
After I dropped my mom at the airport the next day I visited Verona and a specialty coffee place called "Steampower" (Via Guglielmo Marconi, 10, Verona). Funky place with a very friendly owner to have a chat with.
My last stop in Italy has been a vineyard close to Lake Garda, where I actually spend two nights. It's been a stunning scenery (again) and I had a really interesting tour and tasting (again). It's a family runned business and they produce red, white and sparkling wine. One son of the family called Emilio, showed me around and introduced my to the typical wines of that region. In the evening he and other members of the family took me out for dinner to show me real Italian life and also hospitality. It's been a great end to a great culinary tour through Italy! (more information at www.agricamper-italia.com).
I recommend a membership at "Agricamper Italia" to have a great choice of places on farms not just to have a park-up for the night but to get to know Italy from a culinary perspective and to discover local specialties.
All in all Italy is worth a (culinary) visit and offers many things to eat and do… Grazie Bella Italia!