Did you ever know that there doesn't exist a professional walnut production in Germany so far? About 50% of the walnuts we do find in supermarkets are from California followed by Chile and France. The cultivation of walnuts within Germany was supposed to be intense in time and costs and with a low outcome going along with it.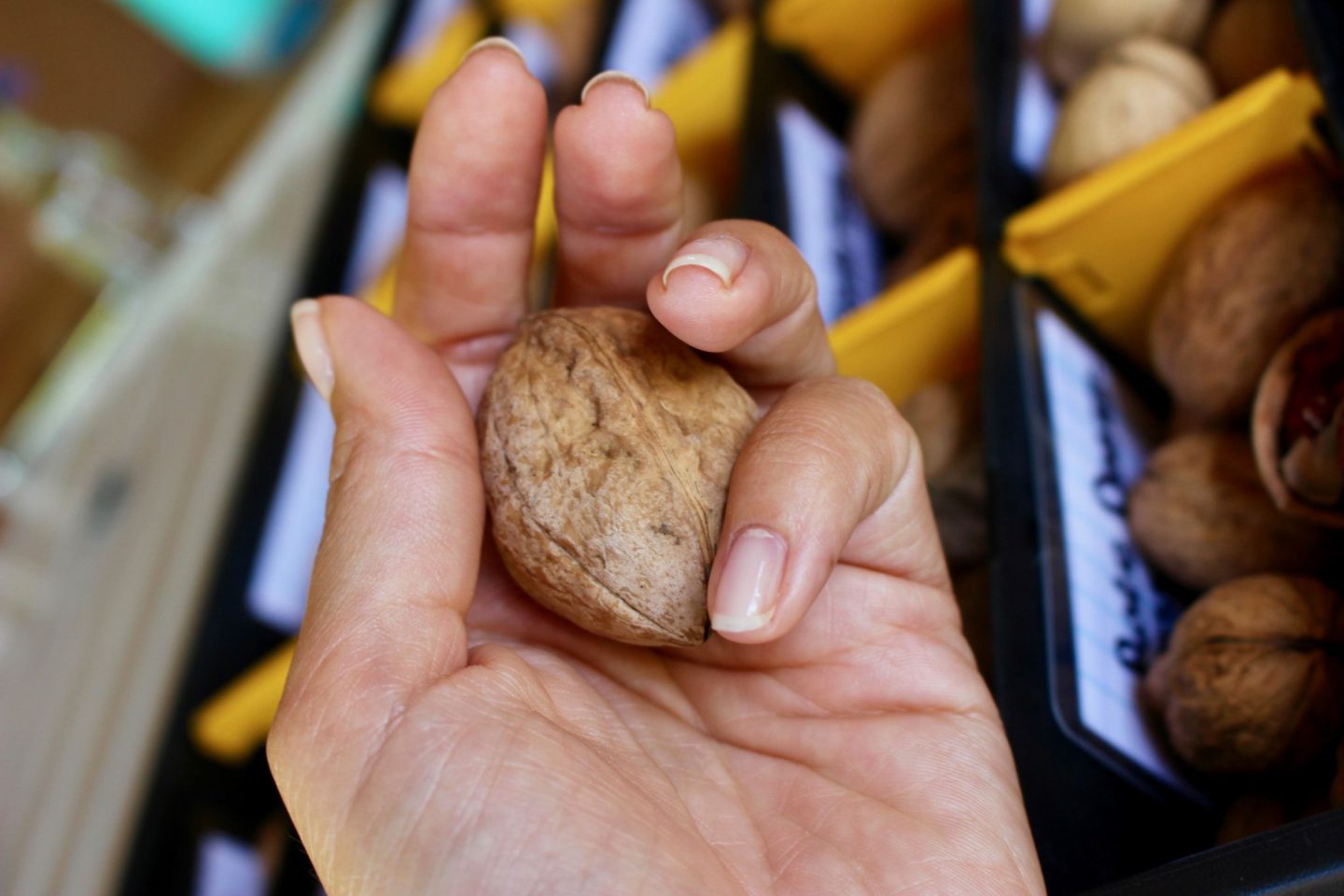 I meet Vivian, a women who dedicated herself to walnuts. After finishing her studies in agriculture she got straight into the cultivation of walnuts and started her own business right away. She already paid attention to these specific nuts within her studies and wrote her master thesis about that topic. She identified the lack of cultivation in Germany although it could be a promising business through the phenomena of the global warming and with the right choice of place, sort of walnut and business concept. That's why she planted the first walnut trees in 2015 and hence those trees won't have own walnuts for at least 10 years she is collecting nuts from private gardeners in her area. Last year she had 2 tons of walnuts through these private donations. She is also selling walnut trees themselves she did breed on her own.
Raising own walnut trees is simple but also kind of tricky. Growing young plants out of walnuts takes much time. Thats why Vivian is collecting young walnut trees (highs of 30cm and more) from private gardeners, who don't know which sort of walnut grows in their garden. With a certain technique she cuts that young tree and sticks a brench of another young walnut tree to it to make sure that she is raising up the correct sort of walnut. This process is kind of simple. But it has to be the correct timing otherwise the different plants won't connect and the young tree will die.

There do exist loads of different walnuts which differs in size, taste and the relation of nut and shell. Vivian said there are existing about 100 different kind of walnuts only in Germany and much more around the world. Of course big nuts with a thin shell as well as no hollow space between both parts are preferred. There are even walnuts existing with tiny fruits but massive shells around them. Other nuts do have such a strong shell that they aren't crackable at all. To underline the great variety of walnuts Vivian showed me a box full of different nuts and I really was surprised about all the differences they offer. Some of them are twice the size than others. There are also walnuts existing with red coloured nuts.
After walnuts are harvested they need to be washed and dried for several days. The drying process has a major impact on the cracking and processing. If the nuts aren't dry enough they aren't suitable of being pressed to oil or might be not suitable for cracking either. Thats why it's always a tricky balance between giving time to these nuts to dry and not wasting any effort. After that there do exist certain crack-machines which crack walnuts in two steps. After that the shells are blown out with pressure and the nuts remain on a production belt to be checked and selected by human. Vivian used the remaining shells as combustion material for her chimney. When the production increases she will process those shells as combustion material also for others in a professional way.
Knowing all that I realized how complex the cultivation of walnuts can be and I am glad Vivian showed me around. I will definitely try not to consume walnuts from overseas anymore and rather pick German ones to avoid emissions and support local businesses.
For further details and products check Vivians homepage: https://www.walnussmeisterei.de