I have already meet many different and inspiring people alongside my journey but Carl from the coffee roastery in Bergen ("BKB") was kind of outstanding. I have never meet such a creative mind with so many different projects going on but also with such a great inner balance. Normally that kind of variety in projects would end up in a hectic rush in order to satisfy each single one of them. But Carl is totally different and facing his own (seemingly never ending) creativity with an unique inner calm. Maybe thats because the Norwegian partly grew up in Italy?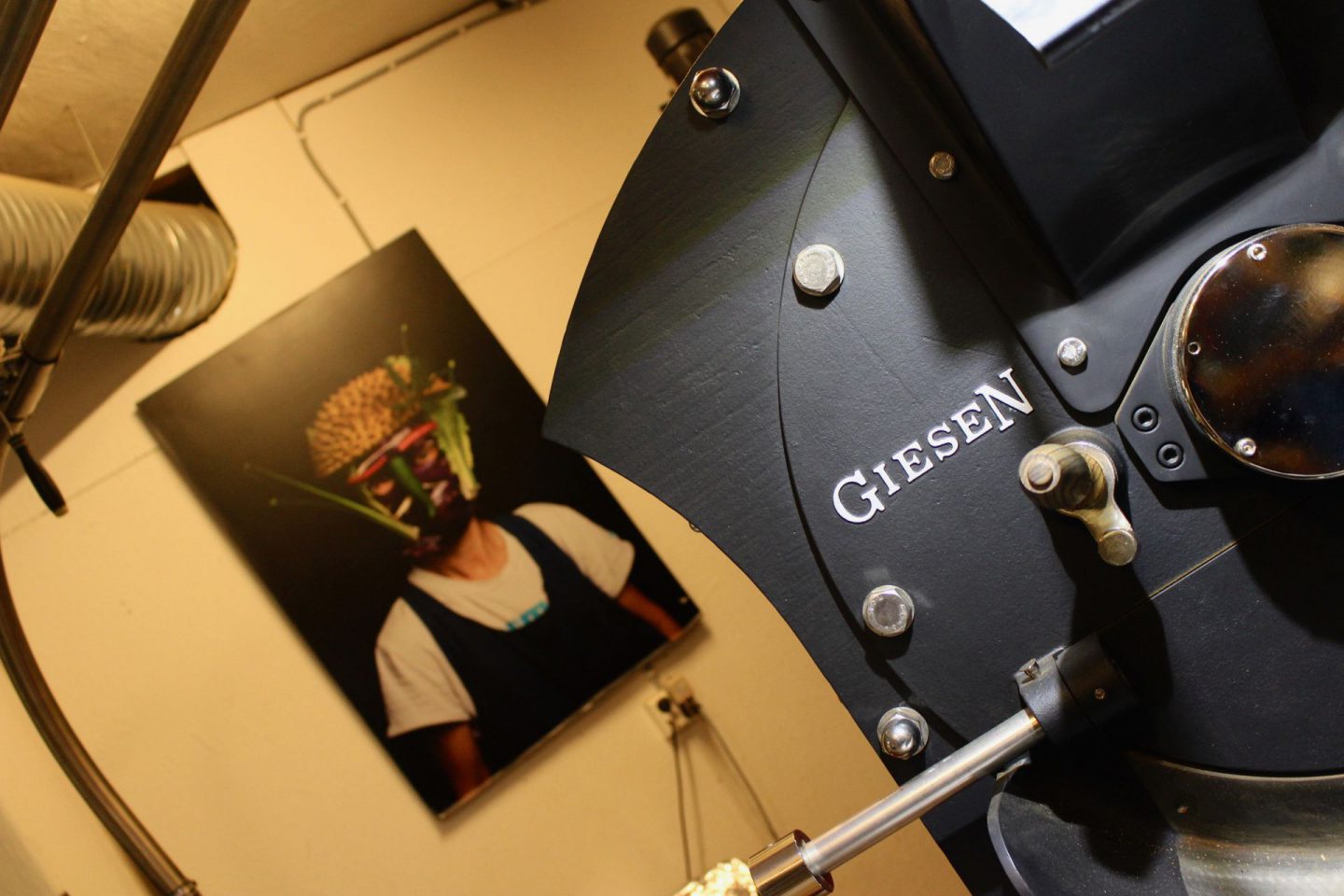 But back to where we started: When I asked Carl for a personal meeting to get to know his roastery he was answering very enthusiastic but didn't want to set a fixed day. I should rather just "pop in and say hello". So thats what I did a few weeks after. So I stood in front of a grey bearded man wearing a typical norwegian jumper, rainboots and a woolen cap. First he looked irritated but then he remembered our conversation via email and began to smile. After he had finished some stuff he joined me and we started diving into the world of coffee. Carl (or Carlo, as everyone calls him) opened the roastery about 10 years ago. He started in a very small corner of the present coffee place and enlarged it throughout the years. That was caused by the success of the roastery itself but also due to other projects he started working on. He isn't just managing the coffee roastery but also producing his own chocolate. Therefore he is importing cocoa beans and processing those via various steps into delicate chocolate. In addition to that he started producing Kombucha, a healthy beverage based on colonies of bacteria and yeast. He was proudly presenting those projects and you could tell from his face the enormous joy he is working in those. He seemed like a young boy with many colourful ideas in the coat of a mature man. He is supported by a great team, which seems to enjoy working with him and who are of the same positive mood as Carl himself.
After we were sitting down again and enjoying different sorts of his homemade Kombucha he brought me a mysterious box with many different vials. Those 32 vials were containing different aromas of coffee and where just marked with numbers leading to their origin in a little booklet. Although Carlo had to leave for another appointment we couldn't stop but opening most of the vials, holding them under each others nose and guessing the name of different aromas. It was so much fun! Before he left he invited me to a coffee tasting the next morning (my very first cupping!) and gave me a movie he produced and which was also shown in norwegian cinemas… of course, he also had to be a producer. Is there anything he didn't or doesn't do?

The next morning I arrived at the roastery again and was very excited about the cupping to start. Cuppings are coffee tastings to check on the taste and quality of several roasted coffees. So we were "cupping" 12 different coffees which were roasted at BKB a few days ago. Therefore the different roasted beens were grinded coarsely and put into different cups. After that we were starting with smelling on each one of them. Therefore we started with the lightest and ended with the strongest one. After that Kenneth (one of the head roasters at BKB) poured some hot water in those cups and we started smelling again. The next round was about tasting them. Therefore each one of us had a tablespoon that we dipped into the different cups. We slurped the small amount of coffee in order to mix it which as much oxygen as possible to accelerate the aromas. As it was my first cupping my "slurping" was mocked to be very silent and cute. Well, for my excuse – I am still a beginner! However, I really enjoyed my first cupping and it was revealing my own preferences. It surprised me a lot when we had a look at the origin of the beans and type of roasting. For example I didn't enjoy the light roasts of coffee beans from Costa Rica but loved the darker roast of the same beans. Crazy! After the cupping I got the chance talking to Carlo again and to ask a few of all those questions I had in mind. I was happy to talk to such an experienced coffee geek and enjoyed our chats a lot.

Even though I have just spent a few hours with Carlo he made a massive impression on me. It's not just his creative mind and all the different projects (which I am sure a much more than I am aware of) but the easy-going attitude and positivity he is living those. A combination and an attitude which isn't just desireable but the only one making sense. An attitude I am aiming for and which makes Carlo my personal idol. Many thanks for inspiring me in so many different ways!