Well, it's pretty easy to do all the outdoorsy activities during summer but in winter all that stuff requires a bit more effort. Whether it's more clothing, equipment or just mental strengths. But what is about vanlife?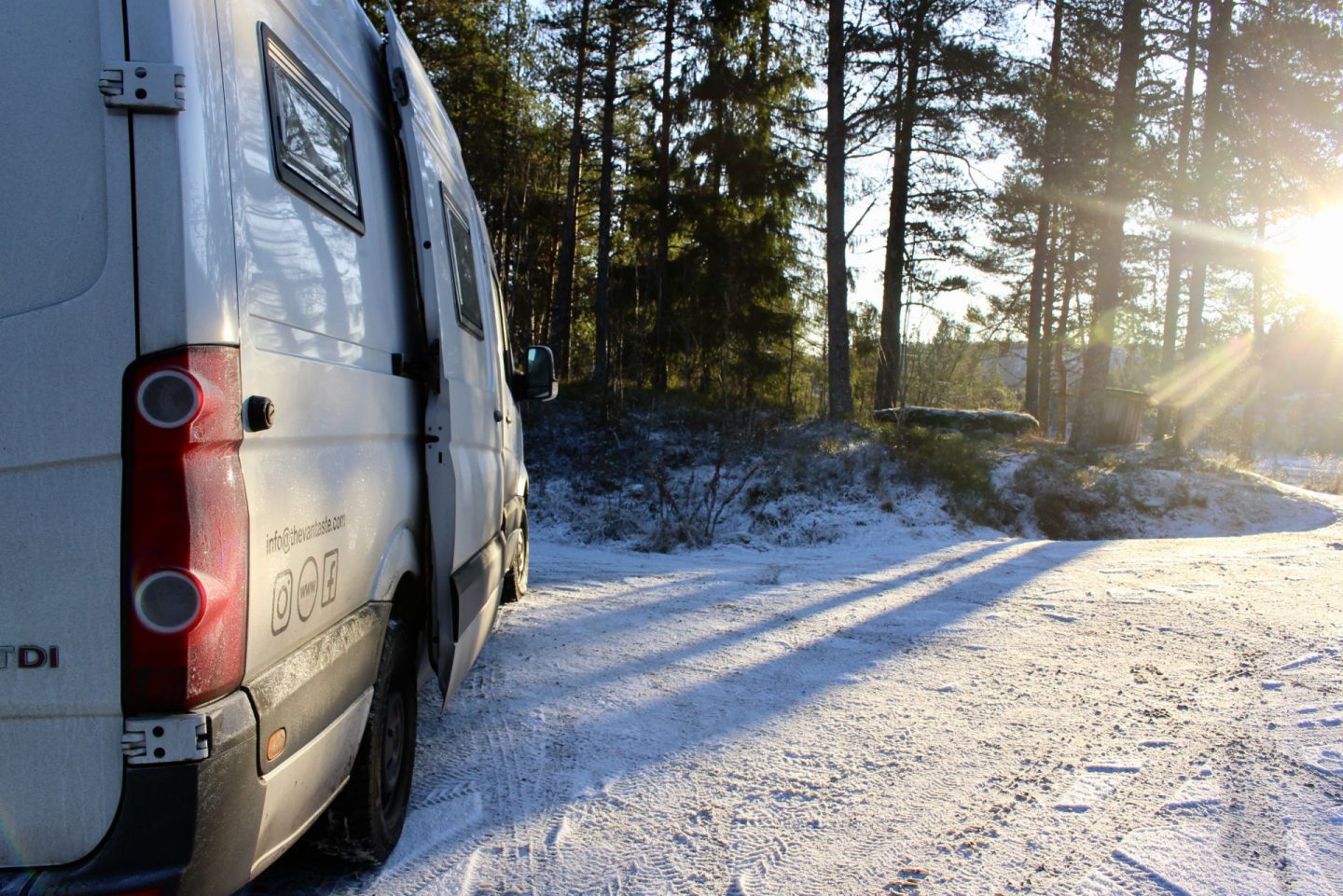 Vanlife in summer is a unique and great experience. Leaving the sliding-door open all day long and admiring beautiful sunsets in the evening. Parking up right next to the beach and listening to the roaring waves. Having barbecues in the evening and bonfires at night. Definitely a very good part about vanlife. I was a bit worried about driving up north in autumn after spending more than 7 months in the south of Europe. Will I feel isolated? Will I maybe feel claustrophobic? Or will I freeze inside the van? Fears I had before I made my way to the North Cape.
Now I am back to Germany and I've spent almost three months in Scandinavia beginning in September. I experienced temperatures between -15 and +10 degree, drove in the mountains and at the coastline, visited the northernmost point of Europe and entered a ferry countless times. And there wasn't a problem at all. I actually enjoyed every bit. Although there was a more limited space and even though the sunlight wasn't showing up before 9 am and left at 4pm again. It's a different kind of vanlife. A more cozy way of vanlifing with a lot of time for other things like cooking, reading, learning to play an instrument, knitting and so on. I learned to spent the day in a more efficient way to make the most of it. So I woke up before sunrise to be ready as soon as the day starts. And I've been hiking, sightseeing and driving before dawn began. I was kind of more efficient and that's why it was totally okay to spend the rest of the day inside the van. I lit up some candles, cooked something nice and searched for new hobbies. I knitted a blanked, learned to play guitar (at least a bit) and read a few books. The van felt like a little cozy cave and became even more my tiny home on wheels. I loved it. It's definitely a different way of vanlifing but not a bit less unique and great. With a working heating and the ambition to make the most out of every day there isn't an issue at all. Of course there is a bit less of social interactions as the amount of vans is simply less and those who are still traveling are cuddling up inside as well. But I found it quite enjoyable to have a bit of a quite season after the vibrant summer. Also regarding the cold there wasn't any problem. The good isolation and heating paid off. I also had some extra blankets with me to avoid any draft and wore some socks from now and then. Besides this there was no change to summer.
All in all I'd definitely recommend it to everyone who is doubting vanlife in winter. And don't forget the beautiful scenery in winter as well!