After Trondheim another pretty town that caught my heart! Again I wasn't expecting much and entered the city without any clue about sights or places that I have to see. I have spent three days in that lovely town and I guess that already reveals everything.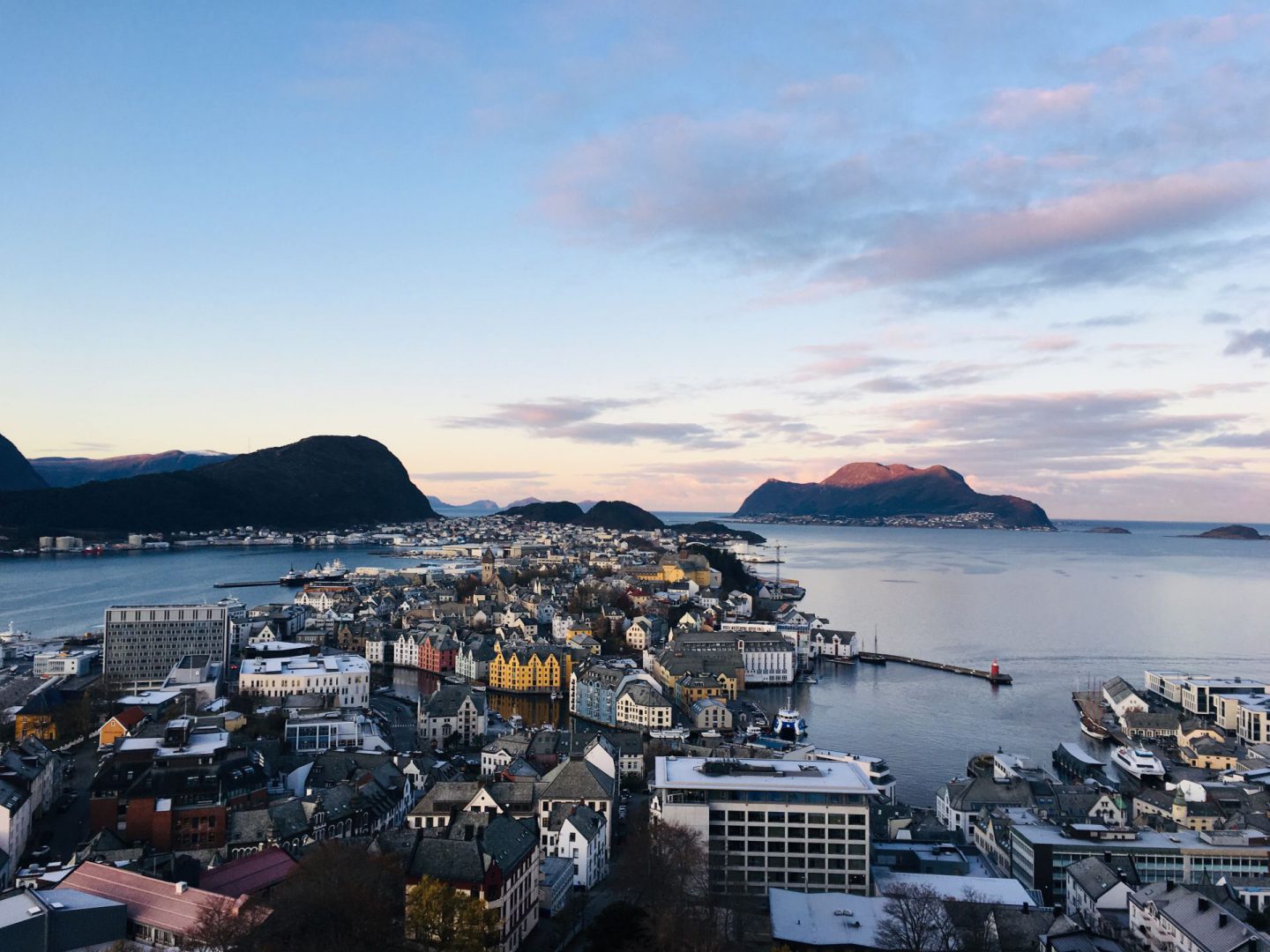 Ålesund is located on a isle and is surrounded by many other isles as well. Everything is surrounded by the sea which creates the maximum of a maritime flair. Nevertheless Ålesund is located on a few hills which makes it quite an exercise to walk around. But it also offers stunning views over the town. Especially the "fjellstua" with it's 400 steps highs right in the middle of the town gives breathtaking views.
So after I breathed in the atmosphere of the town I made my way to a coffee place called "Dråpe" which is brewing coffee from the local coffee roastery "Jacu". I've tried two different roasts – one from Brasil and one from Colombia and I loved them both. The cafe is a real relaxed place with a great offer of sweets and cakes as well as snacks and some warm food. Really good option for every daytime. One evening I even enjoyed listening to a concert from the local music school, which was just brilliant!
So back to my first day I continued strolling through town and found a small place with some cute food trucks (Kiperviktorget 1) and a good choice of snacks. I also admired the old VW Bulli which was located in front of the local fish monger "Fisketorget Delikatesse" and sold freshly made coffee. Also the fish monger had a really great choice if you prefer some fresh fish to prepare by yourself or snacks around seafood as well as sushi.
Other really cosy places for some lunch options are Lyst Cafe Bar, Let's eat Deli or the Racoon Coffee Place. I would recommend them all!
Later in the afternoon I made my way to the local beer brewery called "MOLO" where I've meet Daniel – one of the head brewers. Unfortunately the brewery was just under a few construction works so I could just take a glimpse into it. But that was already enough to get the dimension of their brewery – they might not be brewing a very large amount of beer but definitely many different sorts! The brewery actually hosts 25 different fermentation tanks! And so does the bar, which is directly in front of it, have 25 taps. They are always inventing new sorts and work on new creations. They don't have a canning or bottling machine because of space issues. That's why their beer isn't available in shops but a few bars in town. Actually the brewery belongs to some guys who are running a very famous music studio and own some other bars and event locations in town, too. They were actually livening up the small town and created a new vibrant nightlife. So does the brewery not just offer great beer, but fantastic burgers made of local meat as well as a huge area to relax. You can play boardgames, shuffle board or just hang out on one of those cozy couches. It's a really atmospheric place right at the harbour.
Talking to Daniel made clear, that he is very passionate about the beer he is brewing. He is very into the chemical connections and scientific aspects about brewing techniques and gains for beers with a very harmonious taste and a coherent body. So I've tried different beers and tasted many new flavors I've never experienced before. However, it didn't taste strange at all. It definitely widened my horizons regarding the flavors of beer! And it proved that understanding the chemical and physical background of a craft improves the product! Thanks to Daniel for the interesting chat and a great evening although you were suffering a (men-) flu 🙂