Actually it has been days…. and not just one… and thats because there was so much to discover, to eat and to learn. And this time I enjoyed the luxury of having a (culinary) tour guide as well!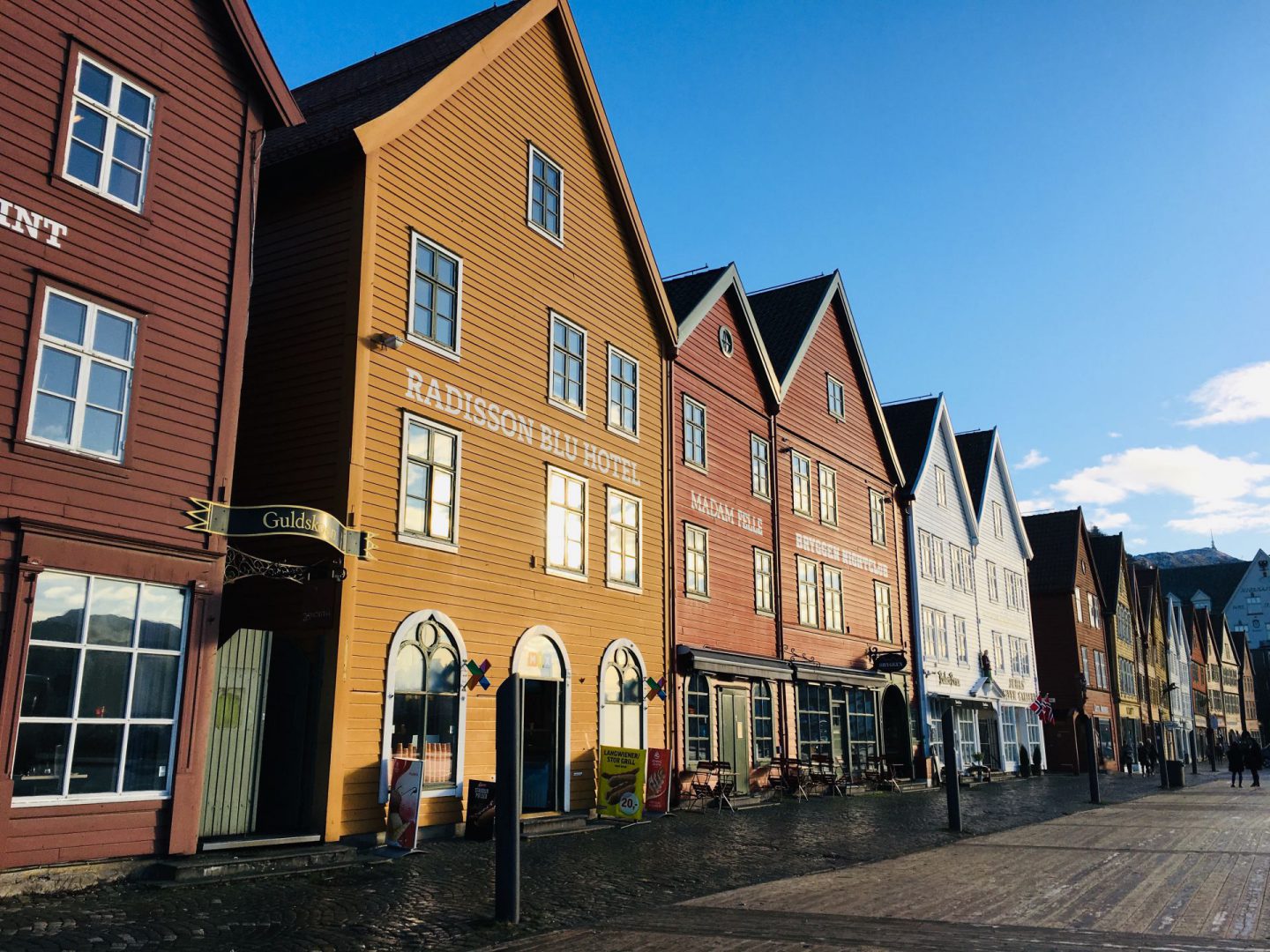 So I started my day strolling around town and of course admiring the world heritage "Bryggen" – a really old colorful wooden wharf which were built in the 14th century. There are loads of narrow streets around with very romantic white wooden houses, hidden corners and beautiful places. Right next to that is a more modern and vibrant part of the town with loads of shops and malls. I stopped over at a very nice Italian delicatessen shop called "Colonialen Fetevare" (Strandgaten 18, Bergen) and enjoyed a real nice Italian sandwich with serrano and parmesan. Great atmosphere for a bite for lunch! After that I made my way to the "Bergen Base Camp" to meet Victoria, who was supposed to guide me through culinary Bergen. We started right away with some classical food from the area and she introduced me to the most popular one – stockfish. In the beginning of every year the cod fish arrives in the north of Norway and some of them will be caught and hung up outside on wooden constructions. Because of the dry and cold climate it dries in a very slow way and produces a rich flavor within the fish. Drying fish has a very long tradition and was initially invented to preserve the fish. After it has been dried it can be stored for several years. It was then stocked in several layers and kept for years. Thats also how it got it's name.
Of course Victoria gave me some to try and I have to admit – it tastes much better than it smells! Like some favoury potatoes chips with a fishy note. But not bad at all! Next to that I tried some apple juice from Norway, which has a very long tradition as well. It is supposed to be very healthy food so many kings of Norway were actually eating it a lot. Nowadays there are just a few apple farms left in Norway. However, the juice was really good and sweet – you wouldn't expect it to be naturally sweet from a northern country like Norway. I also enjoyed a flat bread with brunost – a brown cheese made of cows and goats milk. The cheese is prepared with lots of sugar as well, which caramelizes during the processing and gives the cheese its typical colour. It tastes very rich and combines savory with sweet flavors in a very harmonic way. I liked it!
So after this culinary introduction to Norway we made our way to the Bryggen – the colorful wooden wharf which suffered a lot of fires and incidents in history. It's built in a very impressive and unique way and definitely deserves to be a worlds heritage. Victoria showed me around and told me lots of interesting background information. We walked through that area and ended up in a former bathing house which nowadays is a very cozy bar hosting the locals with proper home cooked food (Dr. Wiesener, Nye Sandviksveien 17A, Bergen). We enjoyed a very nice Norwegian soup made of local vegetables and lamb meat. On side some home baked bread with salted butter – sounds very simple but it was perfect on that cold day and tasted delicious!
After that we strolled through the narrow streets and Victoria showed me all the different kind of street arts in Bergen. So impressive! Many of them were embedded in the characteristics of the wall (like a scratch or a hole) and made them being part of the whole picture. I learned a lot about the architecture of the houses as well as the historical backgrounds of the streets and its names. Soon we entered a very unique cafe / bar which is covered with loads and loads of items, colorful objects and pictures (BarBarista, Øvregaten 12, Bergen). Every spot on the wall and the ceiling was covered with a piece which tells its own story. We enjoyed a home made waffle which was so creamy in the inside but had a delicious crust on the outside. It was served with creme fraiche and jam – just a perfect combination. While I was eating I was observing the whole place and found a new item with every glance. Great and unique place with mouthwatering waffles!
I have already been in a food coma back then – so many delicious stuff – and it was good we walked around for a bit. We were shortly entering the oldest coffee place in Bergen (Det lille Kaffee Kompaniet, Nedre Fjellsmauet 2, Bergen) which is probably the smallest one, too. Cozy little cafe which I entered later that day again. We were just stepping inside for a quick chat and continued walking through town. Victoria made every corner interesting with telling me loads of stories and pointing out unique characteristics. We walked back to the harbor and entered the local fish market with many delikatessen (Fisketorget Bergen). Nice place next to the waterfront! We got a fish cake to go and continued our way. The fish cake was very delicate and of a mild flavor. Perfect savory snack for in between! I was astonished by myself that I was already capable of eating again. But it was just sooo good. And even though I definitely ate my way through Bergen I was able to pass the tiniest street in town which just measures a few centimeters. We ended up in a very characteristic bar called "Frille"(Hollendergaten 7, 5017 Bergen) which has the oldest cellar of town. I enjoyed a very mild beer and a very fascinating story about it's origin. Writing that down would fill another page. But to summarize the main facts – it has something to do with a former prince, later king and his mistress (which means "Frille" in norwegian) and her mother. That king grew really old although he suffered a long time of his life in jail. They say that was caused by the beer he drank…. So I hope consuming the same kind of beer makes me living long so that I am able to join many more interesting and tasty guided tours like this! Thanks to Victoria for that great afternoon! (https://bergenbasecamp.no)
Later that day I drove a bit outside of town to meet Stian from "Mjøderiet" where he is the only one producing mead in Norway! Mead is an alcoholic beverage made of honey and has a very long history. The vikings were drinking it a lot in the old days. So I was happy to learn more about that drink which is neither wine nor beer. It's made of honey which is mixed properly with water (about 760kg of honey and 1000l of water) in the beginning. Then yeast is added in order to start the fermentation process. That takes up to 6 weeks until the sugar turned into alcohol. Of course Stian uses some secret ingredients as well as herbs and berries to create a delicious sweet mead in the end. It has a percentage of alcohol of 14% and tastes more like a juice then alcoholic drink. He already created different sorts of mead – for example with raspberry. Stian and four other guys are working on that project in their free time. So the production is very small but they are looking forward to expand it. After tasting their mead I can definitely encourage them to do so! Thanks for the great and interesting evening, Stian! (www.mjoderiet.no)