I am literally thirsty of widening my horizon when its about coffee since the revelation that the dark beverage is a fascinating topic with such a depths of knowledge and detail. What an incident that during my stay in Vienna the annual coffee festival was taking place!
And it was fabulous!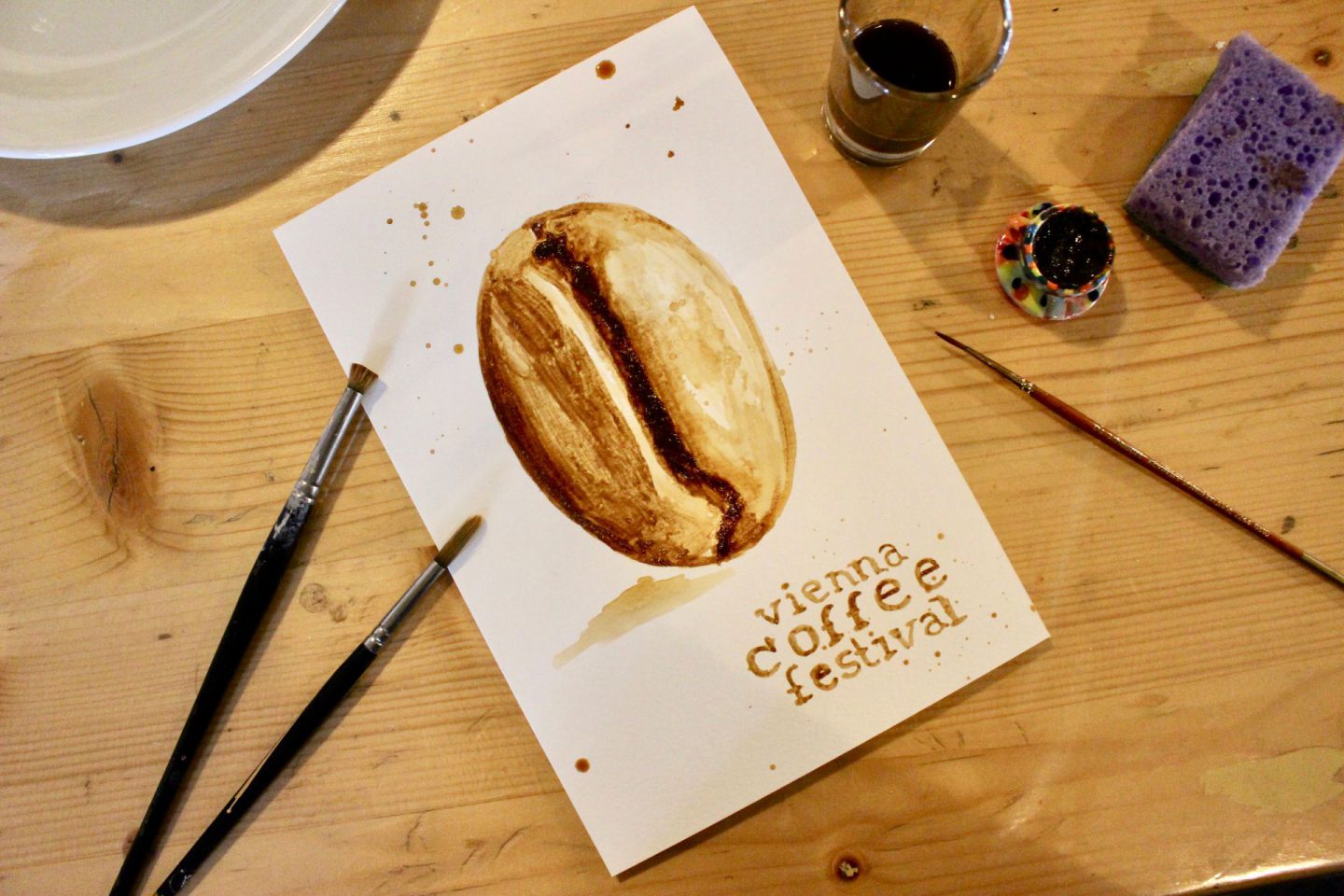 I have visited the Vienna coffee festival on Friday and was told that it might be the best time to explore it, as it is packed with people at the weekend. Even though there has been many people on Friday as well, It was still a pleasure to walk around and easy to have a chat with the different people at the various stalls. The whole festival took place in the "Ottakringer Brauerei" – an architectural impressive building which has an industrial shabby but still modern style. There were different areas in different levels of the brewery and each corner had a different focus on various topics around coffee. It was much bigger than expected and yet it had a cosy feeling with all the lightening and chill out areas. The team was very young but professional and created a great atmosphere.
I started my tour through the festival with a very creative stall, where people could draw pictures with coffee. I couldn't just pass that corner even though I have just entered the festival because I simply loooove these stuff. It's great to widen the topic of coffee and to address peoples creativity. So I took a seat and tested myself in drawing with coffee and was really happy with the result. It was real fun!
After that I walked through a gallery with an exhibition called "coffee notes" of Christina Karagiannis, which was really inspiring. It was leading to other areas where the Austrian coffee championship took place on different stages. It contains different tasks like brewing techniques and cup tasting. The main stage hosted the cup tasting where the attendees had to identify bad coffee of three cups for eight times within a certain time limit – exciting!
After that I made my way from stall to stall and tested different hand brewed coffees from for instance "Alt Wien Kaffee", "Röstwerkstatt" and "Hornig". I also admired the baristas and their skills of "Mumac Academy Austria" – who offer workshops around coffee. They were showing their skills by explaining different brewing techniques, describing aroma notes of coffee and by creating different pictures in coffee foam. I got a swan and they also created a bear and a peacock whilst I was admiring them! Really impressive.
I also talked to several roasters about their philosophy and roasting techniques. I had a very interesting chat with the team of "Röstraum" and learned a lot about the perfect milk for perfect coffee foam at the stall of "Die Milchmeister". It's been such an interesting afternoon and I learned a lot more about coffee!
All in all I enjoyed the festival a lot and finished the day with listening to live music at a smaller stage next to the food stalls. Just perfect! Thanks for inviting me!