After spending more then two weeks in nature reserves and national parks I was kind of relieved to be back in a bigger town again. Not that I didn't enjoy nature but from time to time I like to sit in a café with all those people around, hearing the babble of voices and drinking a coffee. So I was looking forward to a culinary day in Tromsǿ.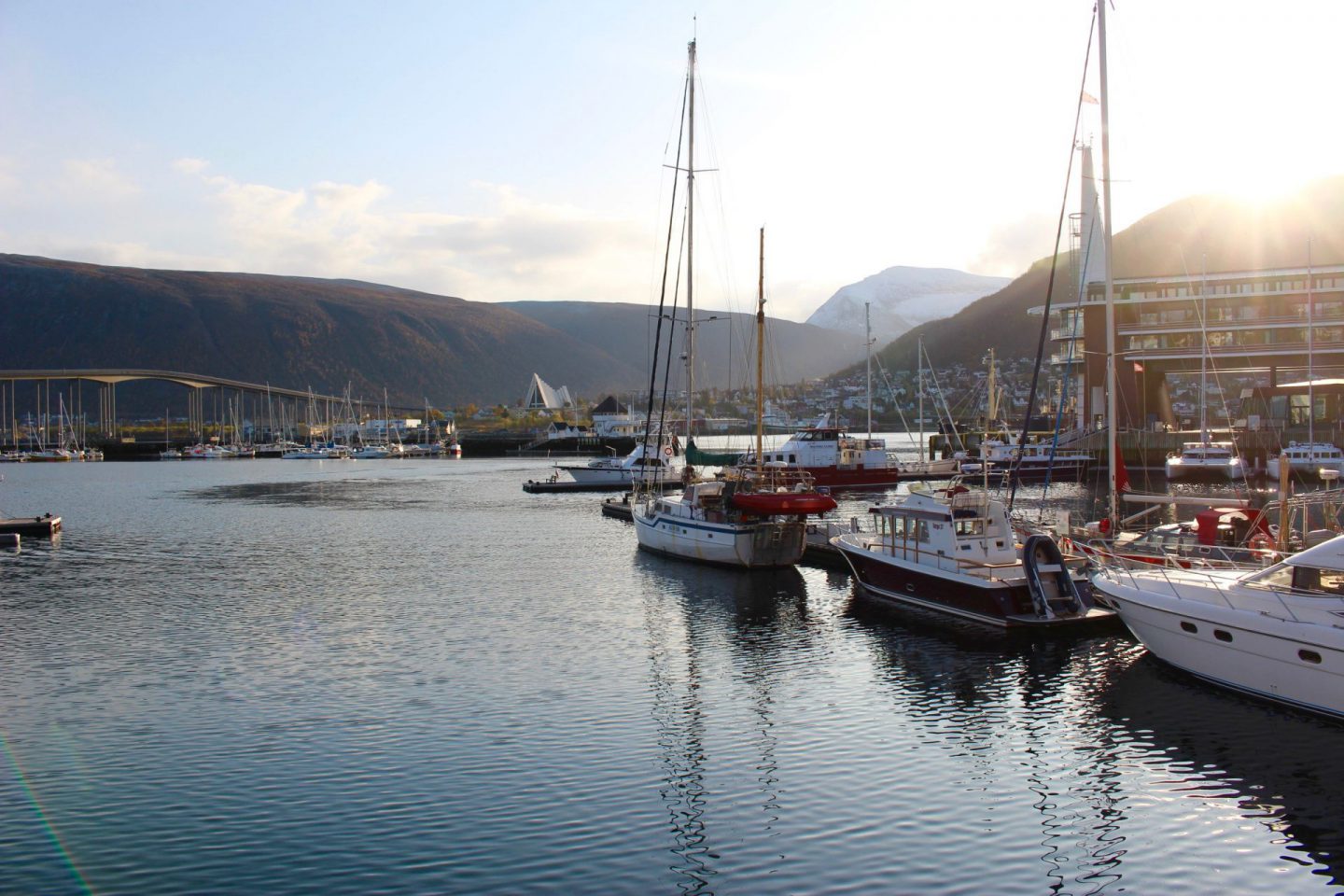 Of course I had to start my culinary day with a cinnamon roll. Therefore I have entered a really cute café called "riso mat & kaffebar" (www.risoe-mk.no) which has notes and drawings everywhere at the walls and ceilings. Fun to read those whilst enjoying a chai latte (which is for a change made of real tea!) and a cinnamon bun.
After that I was strolling through town and enjoyed those typical colorful houses at the center and the harbour. There were also many delicatessen-stores to discover, like "Helmersen Delikatesser & Vinbar" and "Sǿstrene Ingebrigtsen" and the "Mathallen". All of them offer (besides loads of local specialities!) a nice choice of bites for lunch or even dinner. After that I made my way through town and enjoyed the views from the harbor to the other side of the fjord where the arctic cathedral is located. It's framed by stunning mountains, too. Of course I crossed the bridge to enjoy the scenery from the other side as well. There is also cable car running up the mountain for an even better view of the town.
I walked back to the city center to enjoy a late lunch at the "Ra Sushi Bar". They don't just have a modern but cozy restaurant, but a great view over the harbor and an enormous fish tank in the middle of the place. And the sushi is just great! They offer many new creations like roasted almond, with cream cheese and salmon. I loved it!
After that I visited the "mack brewery" which is the northernmost brewery in the world. They offer guided tours every weekday – of course I had to join one of those. The guided tour is actually leading through the "Mack Microbrewery" which is a daughter company from "Mack" itself. In the past the actual Mack brewery was placed in Tromsǿ but moved some years ago to another bigger brewery. Nowadays the microbrewery is still located in Tromsǿ, which is a place of a long history.
Markus Mack was a German brew master, who was shocked by the excessive Norwegian drinking habits back in the 18th century. Back then it's been 5.000 inhabitants but 33 bars in Tromsǿ- which is really shocking! So Markus Mack wanted to produce a beverage with less alcohol and bought some land in 1877, which he used to build a brewery on. The people welcomed the beer he made so that the brewery got extended in 1890. Until 1921 everything was still produced by hand. There was also no cooling system at all so that therefore the beer only could be brewed in winter. They were also delivering their goods with coaches dragged by horses. After 1921 a major modernization took place and finally electricity was installed. After a fire in 1939 were more improvements following and the brewery was growing bigger and bigger. Soon it contained 17 different buildings to produce several sorts of beer, flavored soda and mineral water. Today the Mack brewery produces 60 different sorts of beverages from beer, cider to soft drinks and has an output of 15 Million liters per year.
The Mack microbrewery itself was found in the year 2000 to create new sorts of beer and to enter different markets for Mack. But through it's success it got an own brand and a daughter company. It has more then 100 beers to offer and publishes more and more each month. They have an output of 100.000 liters per year which is all brewed in Tromsǿ. Their philosophy and products go hand in hand with rock'n roll. Each beer is brewed with a certain playlist, which is mentioned on the label of each beer. The brewmasters are convinced that music makes the yeast happy and happy yeast brings good beer! Even the fermentation tanks do have names of big rockstars like Johnny Cash and Ringo. All in all it was a fun tour and it was very interesting to hear all about those modern creations.
Right next to the brewery is a bar called "Ølhallen", which was also founded by the Mack Brewery in 1929. It serves Norwegian beer out of 67 taps. The staff is very friendly and knowing and it's a cozy place to round off the day. They even have smaller glasses (170ml) for the customers to be able to try as many sorts as they want. I tried three of 67 so thats definitely a reason to come back some day!