What to do in Belgium from a (culinary) perspective? Of course there are Belgian chocolates, beers, waffles and fries to try as well as a visit of Brussel and Bruges.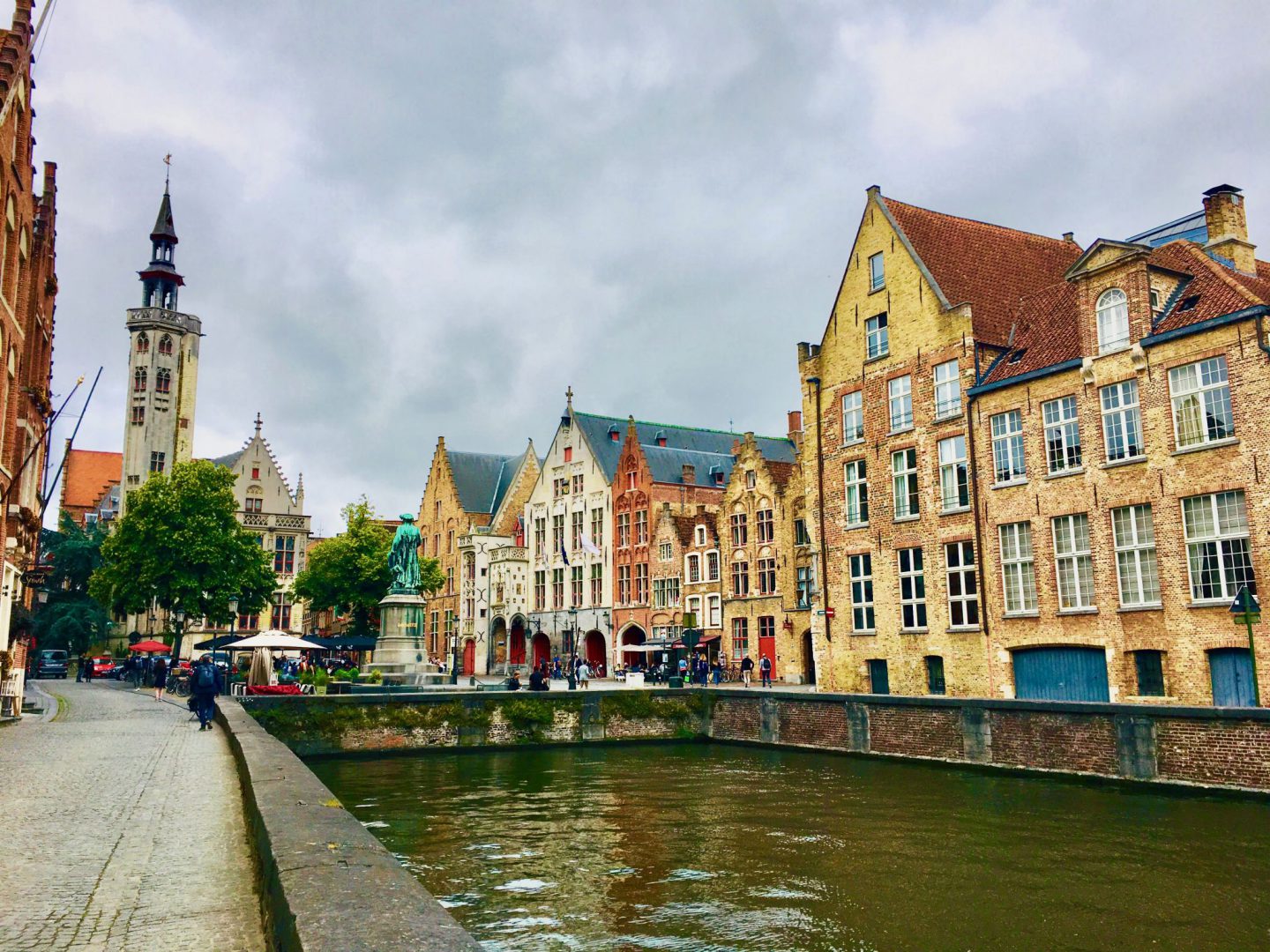 I've already seen Brussel in the past and I also try to avoid bigger towns with Spencer if possible – so I decided to spent a culinary day in Bruges.
Bruges has a very good reputation – everyone who's ever been there is raving about it and everyone who hasn't been there yet is sure that he or she needs to get there some day. It's a lovely small town streaked by canals and rivers with romantic old buildings and narrow streets. Bridges framed by flowers are crossing these canals and boats are shipping on them. It has a very individual atmosphere and loads of little stores. I brought myself a waffle and strolled through the streets. I experienced it to be much better to walk around without a specific plan following your mood and attracting ways. Bruges is perfect for that with all those tiny streets and romantic places to get lost… So I wandered around for quite a time and stopped by a cool cafe having a break observing the people passing by.
After that I made my way to the Bourgogne Brewery where I wanted to join a cooking class. We've been 9 people (with 5 different nationalities!) who were curious to learn how to make traditional Belgian fries and mousse au chocolate with high quality Belgian chocolate. After that we were supposed to have a beer tasting to finish the experience.
After we put on an apron and washed our hands we learned which sorts of potatoes are suitable to make fries. Generally spoken every potato is sufficient which contains a lot of starch to keep the fries together whilst frying them.
After we've peeled the potato we cut it into fries of the 1cm to 1cm over the full length of the potato. Normally the round ends of the potato are removed to have perfectly shaped fries. But we didn't want to throw any part away and wanted to eat as much of them as possible, too. So we kept all parts of our potatoes. So we washed and dried them for them not to splatter whilst frying in hot oil. Anne, our chef, explained the differences of oils which are suitable to fry fries. We used peanut oil and heated it up to 140 degree for the fries to be cooked in for about 5 minutes. In the meantime we prepared a mousse au chocolate as a dessert and also some homemade mayonnaise to serve it with the fries.
After that we fried the fries a second time at a temperature of 180 degree for another 5 minutes to make them crispy and of a golden colour. Anne even had typical bags to put the fries in. Soon we were all chewing delicious fries with homemade mayonnaise and sat outside to enjoy them with some different kind of beers of the brewery. There were six different ones from fruity, over hoppy to stronger beers. We also enjoyed our chocolate mousses with them and had another very fancy dessert! Anne showed us a newly invented tool to "sniff" cocoa powder in different flavors. I went for the raspberry cocoa one and was totally surprised by the strong "taste" within my nose. The aroma spread through me whole forehead and it was pretty cool experience!
As we were really getting along with each other we spent some more time having a few more beer in that brewery. It was a very fun experience and we all laughed a lot. Thanks to Anne for a great evening and all the other ones for having such a good time.